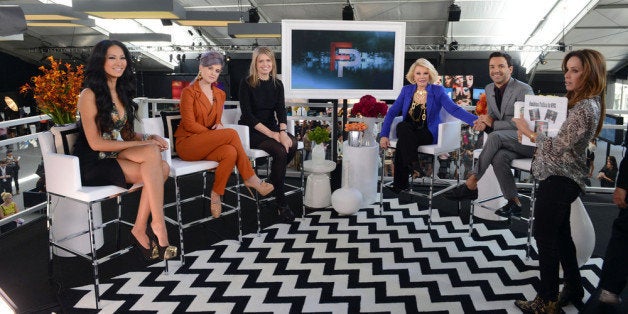 Keeping the original lineup of a hit TV show together? That's so last season.
Or at least it is for E!'s Fashion Police, whose stock has collapsed faster than a model on a slick catwalk. Nearly six months to the day of host Joan Rivers' untimely passing, the show is mourning another loss: Kelly Osbourne quit the show on Friday. With the departure of George Kotsiopoulos in the wake of Rivers' death, only Giuliana Rancic - who, from a fashion-savvy perspective, was the show's weak link to begin with - now remains as an original panelist for the network's iconic program, one that should now be carefully considering a future without her.
News of Osbourne's departure came just days after she threatened to walk following a widely criticized joke that Rancic made about 18-year-old actress Zendaya following the 2015 Oscars broadcast. But really, it was probably a matter of time before she left anyway. At the Fashion Police taping I attended in 2013, Osbourne walked onto the set mere moments before the show began, spoke to no one, and was disengaged throughout. In addition to ignoring the live audience, Osbourne also had nothing to say to any of her co-hosts when the cameras were not rolling; in between takes, she barely looked up from her phone. Despite the familial banter that made the show so charming for years, then, there appeared to be tension for some time, and so this latest shakeup should come as no surprise.
Since its reboot in January with new host Kathy Griffin, Fashion Police has become a sinking ship, with panelists donning couture life preservers and jumping off. Now, relying on a combination of new faces and one remaining co-host whose omnipresence on the network has made her the 2015 version of Ryan Seacrest, Fashion Police is at a crossroads. Already on a loose, as-needed airing schedule, the show will likely need to carve out an entirely new identity - which, quite frankly, it should have done when Rivers died - if it is to remain relevant.
In its four-year run with Rivers at the helm, the show outgrew both its 30-minute time slot and exclusive focus on Hollywood celebrities, routinely airing special episodes from major industry events and expanding to include elements of sports and popular culture. Today, though, while there is still a demand for fashion news, there may not be a demand for any remnants of the old Fashion Police, thanks in large part to what has happened to each of its original panelists in just six short months.
Joan Rivers. Though she was in her 80's, Rivers was hardly showing signs of slowing down when she passed last summer. In addition to flying across the country every single week to tape Fashion Police, Rivers also routinely performed stand-up comedy, hosted the popular In Bed with Joan web chat series, and for years did everything from hawk her wares on QVC to embark on exhausting book tours. A true showbiz professional, Rivers was not just a performer; she was a fearless leader, firmly taking control of, and responsibility for, everything she said and was involved in. Would she have made a crack about Zendaya? Yep. Would she have offered a lame, heavily scripted apology, then a few days later blamed the whole thing on a writer? Nope. If no one appreciated the presence and foundation that Rivers brought to the show when she was still alive, they do now.
Kelly Osbourne. Prior to her sudden departure, the 30-year-old Osbourne brought an invaluable millennial perspective (despite Rancic's often-desperate attempts to sound hip). Smart, camera-friendly and well versed on fashion, the often-boisterous and purple-coiffed Osbourne was still probably the least outrageous on the panel, so much so that one of her main faults was the extent to which she often seemingly bit her tongue for fear of hurting someone's feelings. Her habit of playing nice will likely pay off as she starts a new chapter, as she has burned few (if any) bridges in Hollywood and should have no problem finding the "other opportunities" that an E! statement claimed she was leaving to pursue.
Giuliana Rancic. When not trying to steal the spotlight, Rancic did an excellent job introducing segments and lobbing the ball to Rivers for comedic alley-oops. Oftentimes, however, she tried to out-joke Rivers and out-fashion Kotsiopoulos, and her reluctance to play a supporting role only grew after the show's return earlier this year. A graduate-school-trained journalist, Rancic worked for years to establish herself as the network's go-to celebrity interviewer and host, but an apparently unquenchable thirst to be the star - kept mostly in check for years in the presence of as strong a personality as Rivers - has made her a liability to the show in its current incarnation. E! could just hand her the show's reins, but would actually probably be better off replacing her altogether.
George Kotsiopoulos. Unlike Rancic, the acclaimed celebrity stylist understood that less can be more. Plenty charismatic, Kotsiopoulos was Ed McMahon to Rivers' Johnny Carson, laughing enthusiastically at her one-liners but not trying to out-do anyone, in spite of his impressive industry credentials. His comments during the show were highly informed and genuine, and while he was capable of being a TV personality, he never lost his credibility in an effort to be more entertaining. Though Brad Goreski has done a fine job of filling his shoes, Kotsiopoulos brought an understated presence to Fashion Police that nicely complemented the larger-than-life Rivers, and is now sorely missing.
Fashion Police is in the midst of a planned hiatus, and won't be back on the air until the end of March. It will need this time to find a replacement for Osbourne (Jaime Pressly proved repeatedly to be an excellent guest on the show, and would be a great candidate), but should also take advantage of the opportunity to hit the reset button altogether. When she was named the show's new host, Griffin vowed to keep the show's spirit intact while not simply trying to impersonate Rivers, but replacing Rancic would give her an all-new supporting cast, and more importantly breathe new life into a show stuck between the past and the future.
Because if there's anything that deserves a fresh spring look, it's the show that has made its name on fresh spring looks.
Related
Popular in the Community