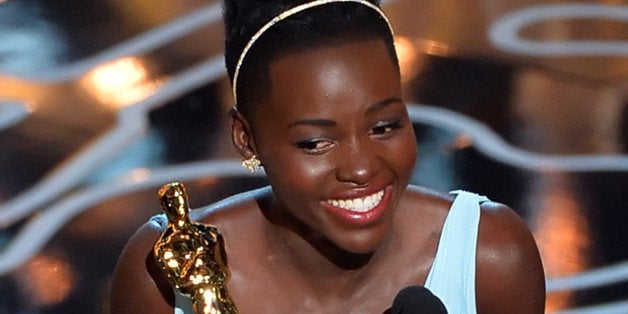 For those of us who displayed the ultimate stamina last night and braved three-and-a-half hours of glitzy ho-hum, here is a recap of those who distinguished themselves at the microphone while holding their Oscar:
The Miss Malaprop Award goes to Cate Blanchett for telling Daniel Day Lewis that receiving the award from him only "exacerbated" the honor. Perhaps a Thesaurus in the dressing room is in order.
The Freudian Slip Award goes to Alfonso Cuaron for calling the executives at Warner Bros. "wise guys" instead of smart men.
The Grace Under Pressure Award goes to Lupita Nyong'o for an articulate and enchanting speech in her very first time on the Oscar stage. It was a thing of beauty.
The Humility and Class Award goes to John Ridley for paying tribute to a female screenwriting mentor from years past for the editing she did on his sitcom scripts. His emotion was entirely genuine.
The Queasy Cutesy Award goes to the songwriters from Frozen who proved beyond the shadow of a doubt that synchronized acceptance speeches are truly a bad idea, especially when the audience isn't warned ahead of time and can't have an airsickness bag within reach.
The Blood is Thicker Than Sparkling Water Award goes to the Italian producers of the best foreign film, The Great Beauty, who instead of thanking their agents, as all Americans do, they thanked their brothers.
The Mangled Mess Award goes to Zach Efron who even though he had just four lines to say, got the script well in advance and also had it on the TelePrompter, still managed to make it sound incoherent.
The Global Grandiosity Award goes to Jared Leto who was humming along delivering a thoughtful, poignant and articulate acceptance speech when suddenly he decided to reference all those people struggling in Ukraine and Venezuela who can take comfort in knowing that dreams really do come true. Why do people in Hollywood assume that what they do is a source of inspiration that conquers all?
The Most Awkward Pause Award goes to Jamie Foxx who said "a great musical score will blow... " (long pause) "... your mind." Clearly too much spacing on the Teleprompter.
Overall some acceptance speech pet peeves: Don't bring crumpled pieces of paper up to the stage that have been folded a million times and try to read your speech off of those. The trembling of your hands shakes the paper something awful. And please refrain from doing shout-outs to your children unless you can couch them in something clever. And if you're the second or third recipient, don't begin speaking after the band has started playing the music. That's a losing proposition. Once again, the British put we Americans to shame when it comes to acceptance speeches, and it's not just the charm of their accents. It's there combination of wit, self-deprecation and brevity. And here I thought we were just falling behind the rest of the world in math and science.
REAL LIFE. REAL NEWS. REAL VOICES.
Help us tell more of the stories that matter from voices that too often remain unheard.