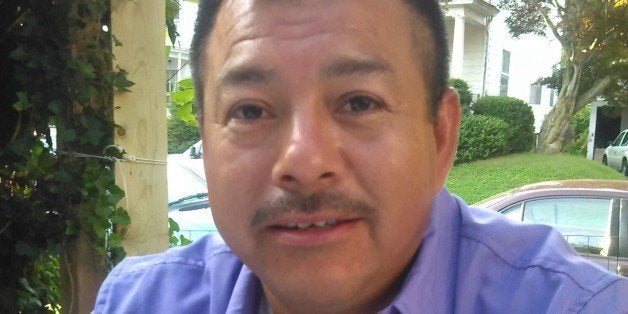 Oscar Campos received an unexpected Christmas gift from the Obama administration on Monday afternoon.
He was eating lunch with the other inmates at the Elizabeth Detention Contract Facility, a jail for undocumented immigrants near Newark, N.J., when an officer approached him and said, "You're free to go."
Campos, a native of Mexico who had lived a quiet life in the U.S. for more than two decades, was arrested earlier this month by federal immigration officers. They brought him to the Elizabeth lockup, which holds about 300 immigrant detainees, some of the hundreds of thousands of undocumented people the U.S. government detains each year while deciding whether to deport them.
Campos's family was worried, and confused. He had always paid his taxes and followed every law except the one that said he wasn't supposed to be here. He had built up a landscaping business from nothing and had raised three American-born children. His oldest child, Oscar Jr., is a college student majoring in criminal justice who hopes to join the New Jersey state police.
The one blemish on Campos's record was an outstanding order of deportation. Back in 1995, immigration authorities caught him trying to re-enter the U.S. after a visit to his parents in Mexico and sent him back across the border. After several months, he slipped back into the U.S.
According to Immigration and Customs Enforcement, that incident made Campos a "priority for removal." But a lot has happened since then. Two years ago, the Obama administration released a memo urging federal officers to avoid detaining and deporting otherwise law-abiding undocumented immigrants, especially young people and parents of children who are U.S. citizens.
Campos seemed to fit that description. As Derek DeCosmo, the immigration lawyer who took up his case, put it: "You have had three kids born here. You've started your business. It's a business you've paid taxes on. ICE might say he broke the law and is absconding, but from Oscar's perspective, that's out of line."
Last week, Campos's family and supporters held a prayer vigil and a small rally outside the Elizabeth detention center, and on Sunday, HuffPost published a story about his situation. The next day, Campos says, he was approached by a detention officer who told him, "I saw your picture on the Internet." A few hours later, he was standing outside the center, reunited with his family.
On Tuesday, as he recounted the experience, he paused to search for the correct pronunciation of a word we hear a lot this time of year: "I think that was a -- how you say -- miracle."
"This is the best Christmas present I have in my life," he added.
Harold Ort, a spokesman for the New Jersey branch of ICE, did not attribute Campos's release to divine intervention, or to the rally and media coverage, for that matter. "After evaluating his case, and reviewing the totality of the circumstances, ICE released Mr. Campos from custody yesterday," Ort wrote in an email Tuesday.
The agency also granted Campos a stay of removal, he said. Campos will be allowed to remain in the U.S. for at least a year, which should be enough time for him to make the case to the government that he should be allowed to stay for the rest of his life. In July, Oscar Jr. will turn 21 and become eligible to apply for permanent residency status for his father.
"I see so many people in my detention center," he said. "They suffer too."