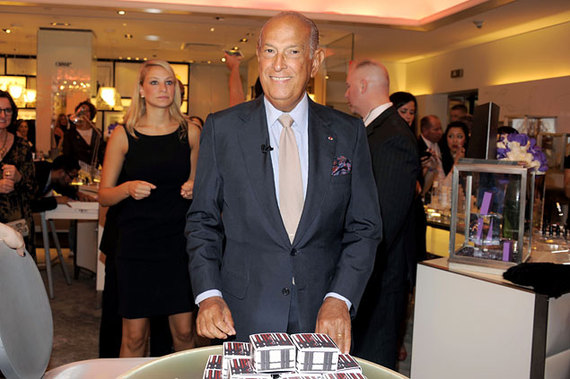 Legendary fashion designer Oscar De La Renta who spent half a century putting high society in his modern yet effortlessly feminine haute couture designs, died Monday evening in his home in Connecticut of complications from cancer. He was 82.
While the fashion industry will forever mourn the loss of one of its greatest talents, the world is undoubtedly mourning Oscar, the man.
Malcolm Forbes once wrote that " to measure the man, measure his heart," and those who knew Mr. De La Renta, knew he was nothing if not a man of heart.
It was his heart after all that made him the ultimate success story, as an immigrant from the Dominican Republic born into a patrician local family, he became a trailblazer for immigrants chasing the American dream through his journey from the Dominican Republic at 18 years old to the top of the fashion industry.
While De La Renta may have started his journey with only heart and determination, he rose by pure talent.
With his background in art and uncanny ability to move among the worlds of fashion and finance, De La Renta effortlessly navigated an industry that too often seems dominated by fleeting trends. Never one to follow the crowd, De La Renta stuck to what he believed in and created collection after collection of timeless gowns that women wanted to wear by lending romantic touches to elegant designs.
While De la Renta achieved fame by being a couturier to socialites and ladies who lunch he was without a shadow of a doubt the red carpet king capable of making a woman look like the best version of herself.
I will never forget when my love affair with Oscar de La Rentas designs began. I was working in Manhattan for Bergdorf Goodman when I had the privileged opportunity of seeing his latest collection. I was in awe that day of his revolutionary designs and the way in which they exuded an intense passion for femininity and elegance. Each were, above all else, an ode to women.
Each billowing tier, each ruffle, was a concoction of renaissance grandeur with a fairy-tale quality that were nothing short of ethereal.
Needless to say, I was without a shadow of a doubt in awe of Mr. De La Rentas work that day, but more than that I was in awe of him. The way he effortlessly captivated the room and exuded a confidence that could never be mistaken as arrogance. There was a kindness in his eyes, and a warmth to his smile that was a rarity in an industry that often had a "members only" mentality.
So to the artist, the visionary, to the legacy of passion, grace, and tenacity, but most of all to the man...to Mr. Oscar De La Renta, may you rest in peace. You will be dearly missed.