As curator of the Oscar de la Renta exhibition, now at de Young Museum of Fine Arts, in San Fransisco (closes on May 30th), it was a great privilege to illustrate in eight galleries, the comprehensive and profound depths of his career, from his early works in the Sixties, under the label Elizabeth Arden, to his own name, to the end of his life, when he died in October 2014.
The show includes 120 ensembles, curated from the best museums in the United States, including The Met, as well as Kent State University, and his friends, family and loyal clients. I hope the spectators come away with a sense of his passion for romantic embellishment, exuberance of color, deft and intricate textiles to convey opulence, and a sense of a firm foundation based on the rigors of fine tailoring and technique.
Here, I have selected 12 pivotal looks, which encompass his constant return to themes that he evolved in his work.
Look 1: Diana Vreeland's pale melon silk late day coat ( loaned from F.I.T.), one of the earliest pieces in the collection, shows his affinity to Balenciaga and the approach to modernity in simple, pure lines.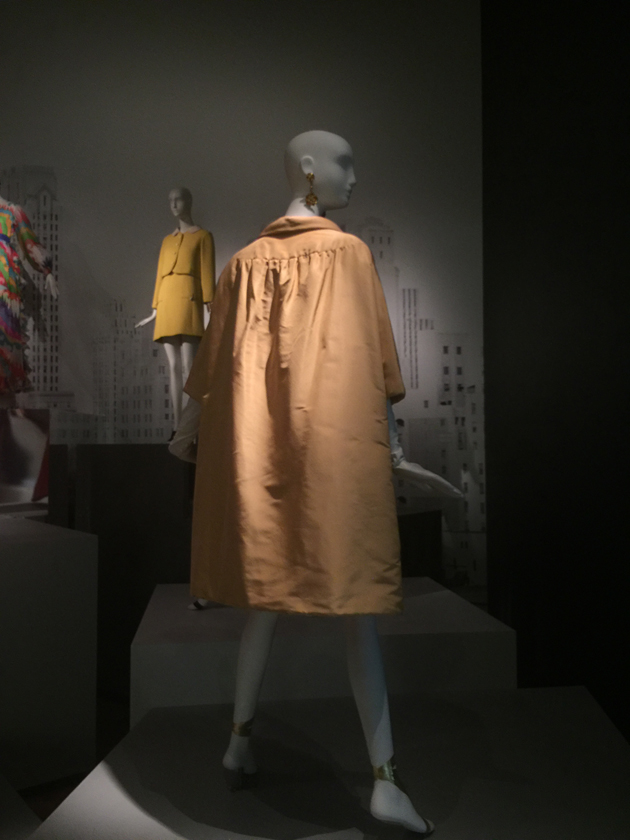 Elizabeth Arden by Oscar de la Renta
Evening coat
ca. 1964
Peach silk satin
Lent by The Museum at the Fashion Institute of Technology, New York, Gift of Diana Vreeland
Look 2: Lynn Wyatt's navy blue Balmain haute couture suit with white mother of pearl buttons -- its precision, its elegant, and timelessness.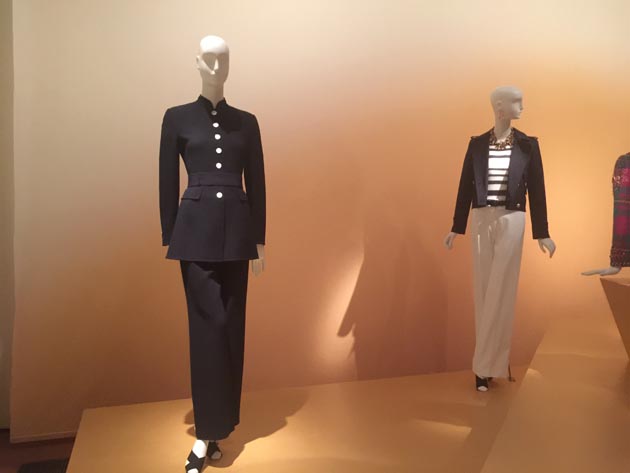 Oscar de la Renta for Pierre Balmain
Pantsuit
ca. 2000
Navy blue wool crepe
Collection of Lynn Wyatt
Look 3: Eliza Reed Bolen's embellished sweater and ikat printed Dirdnl skirt, street length, (courtesy of Bolen, the stepdaughter of de al Renta). It was a best-seller, in fact one of the best sellers of all times.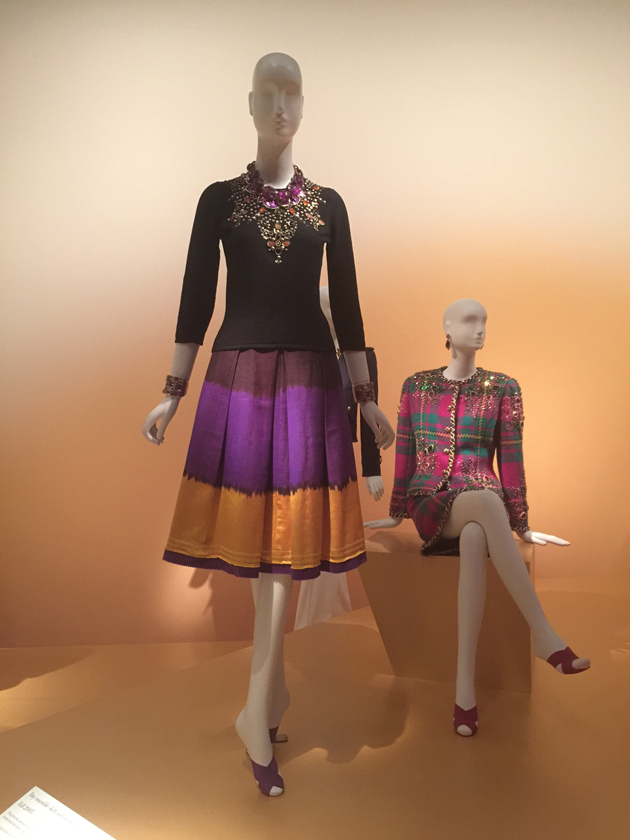 Oscar de la Renta
Day ensemble; skirt and sweater
Fall 2005
Black silk velvet with ikat print, sable, suede; green, violet, and gold silk with ikat print, felt; black cashmere, metal and stone embroidery
Oscar de la Renta Archive
Collection of Eliza Reed Bolen
Look 4: Former First Lady Laura Bush wore it: the gold cardigan jacket and long sequin skirt embellished with a teal satin ribbon belt was worn several times, from state dinners to White House indoor Christmas celebrations. Its just one of the 54 ensembles that shows the deep collaboration of the former first lady and de la Renta.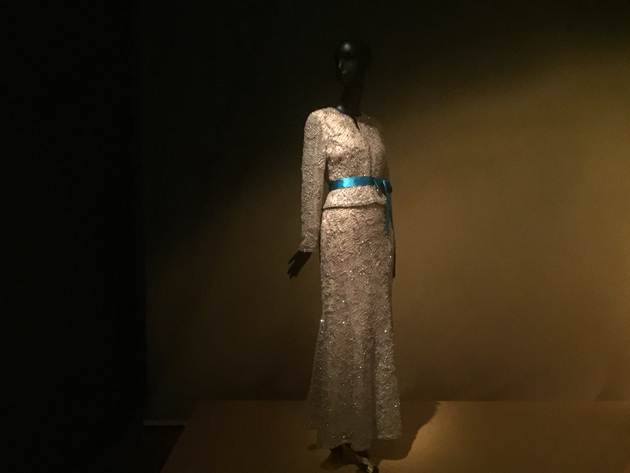 Oscar de la Renta
Evening ensemble; jacket and skirt
Spring 2002
Silk tulle, bead and sequin embroidery
Mrs. Laura Bush and George W. Bush Presidential Library and Museum
Worn by First Lady Laura Bush at the Poland State Dinner, 2002
Look 5: Annette de la Renta's flounced guipure lace evening dress. "Its my favorite dress, I've ever designed for my wife," said Oscar de la Renta. Annette, a member of the Best Dressed Hall of Fame, was the designer's favorite muse. He always questioned if his design was good enough for his wife to want to wear it. This bold, grand dinner dress is inspired by Velasquez.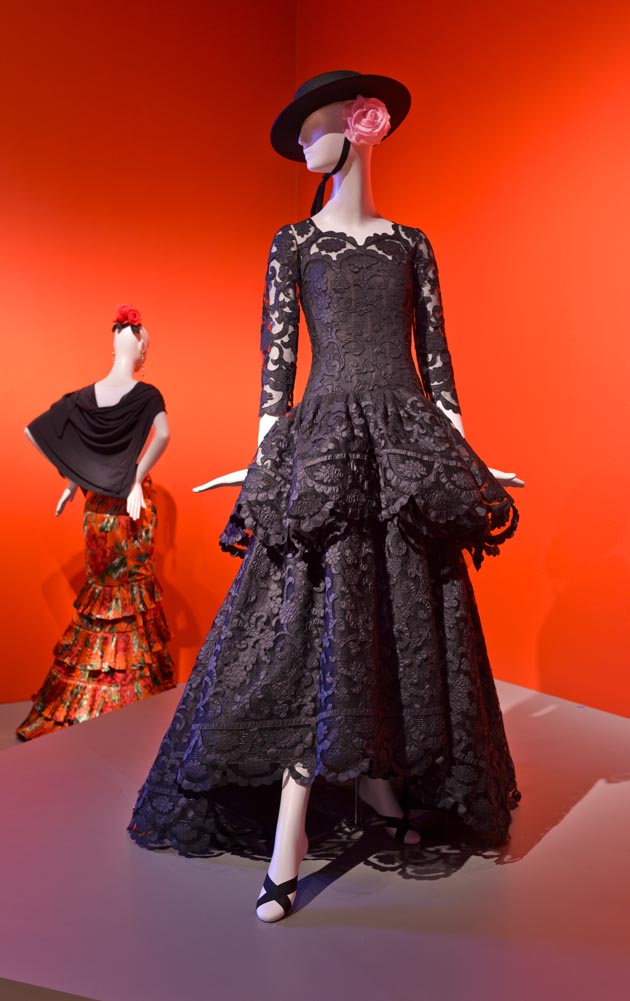 Oscar de la Renta
Evening dress
Spring 2005
Black tulle, black silk taffeta appliqué
Collection of Annette de la Renta
Look 6: The Balmain, black summer dance dress (courtesy of Annette de la Renta) is a strapless, black embroidered silk bodice, over a black pure raffia full skirt, festooned with two black silk tassels. The dress was brought to the museum by Mrs. de la Renta in a garment bag the day the exhibit opened. She had carried it as carry-on luggage, putting it in the overhead bin on her flight. She suggested she had worn it with a Cartier Art Deco brooch, pinned on the center bodice. We luckily had a full range of faux jewels, from the collection of ODLR, organized by Alexander Reyes, a longtime member of the de la Renta studio. I added the long white matte kidskin gloves and the black fan.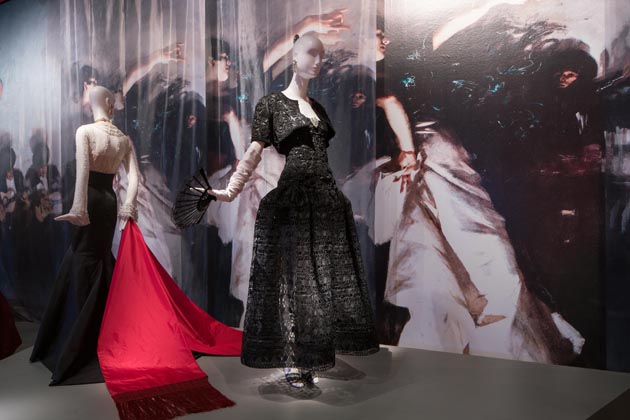 Oscar de la Renta for Pierre Balmain, Haute Couture
Evening ensemble; dress and bolero
Spring/summer 2004
Silk, jet beads, passementerie, natural raffia
Collection of Annette de la Renta
Look 7: The late Nan Kempner's velvet trousers fringed in Russian sable, and worn with an embroidered Chinese red tunic. This look is a WoW! It's a jaw-dropping stop as people walk through the exhibit. It's from Balmain's Fall/Winter haute couture. Boaz Mazor, who has worked at de la Renta since 1968 as international sales head, said of this look: "It was a best-seller. Because if you sell just one in haute couture, it's considered automatically to be a best-seller!"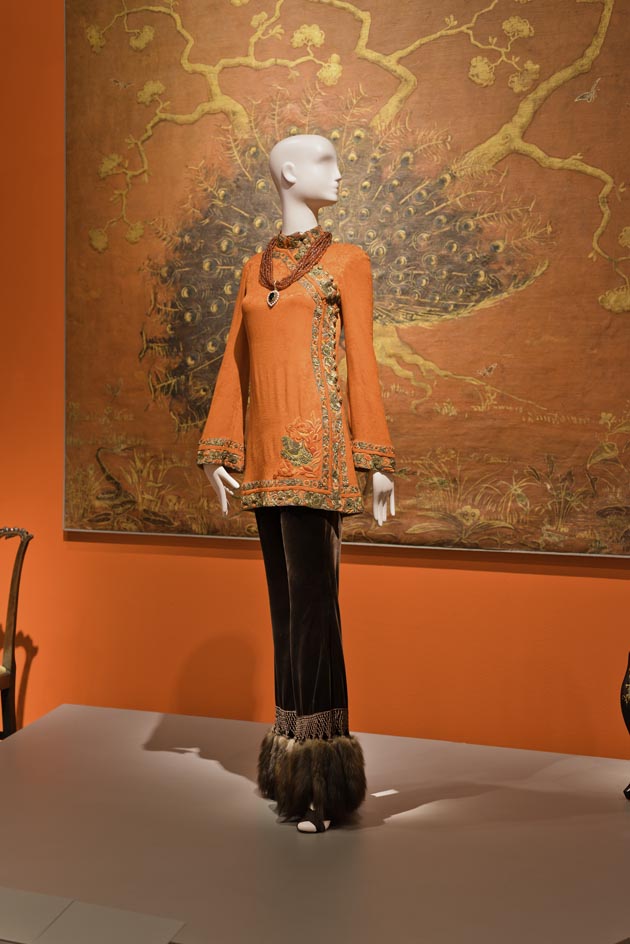 Oscar de la Renta for Pierre Balmain
Evening ensemble; tunic and pants
Autumn/winter 1999-2000
Red silk crepe de chine, silk and metallic embroidery; sequin and bead embroidery; black silk velvet, sable tails
The Metropolitan Museum of Art, Gift of Thomas L. Kempner
Worn by Nan Kempner
Look 8: The pale, pale blue and white ruffled dinner coat, with slim trousers and covered mules, embroidered with pearls (courtesy of Annette de la Renta). This
look from Balmain was also worn by Mrs. Charles Wrightsman. Both Mrs. Wrightsman and Mrs. de la Renta wore this to dinner at Chatsworth, the grand English state of the Duke of Devonshire.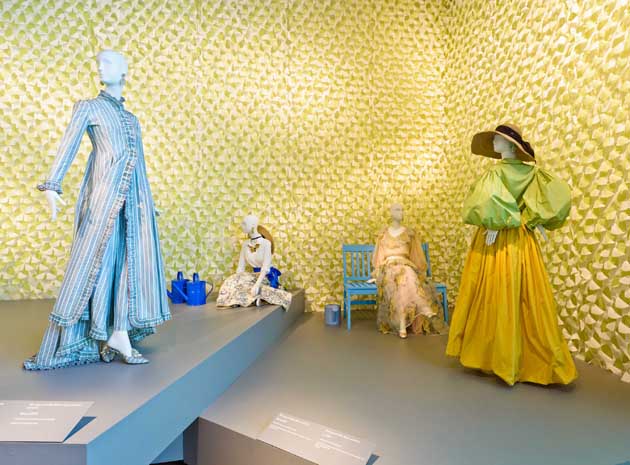 Oscar de la Renta for Pierre Balmain
Evening ensemble; overdress and pants
Spring/summer 1998
Sky-blue and white-striped chiné silk taffeta
Shoes by Manolo Blahnik
Collection of Annette de la Renta
Look 9: The pale, pale pink cloud of silk tulle and matching bow hat, covered in tulle, from Balmain, Spring/Summer couture. It's from the Balmain haute couture archives.
It's a frigate of a dress, and was shown as a romantic bride. I think Oscar thought of it as his Madame Bovary moment, from Flaubert's masterpiece, the first literary, gaudy consumer. I sat the mannequin in the garden room on a Bessarabian rug from the early 20th Century, which I purchased at the estate sale of the late Bunny Mellon, of Upperville, Virginia.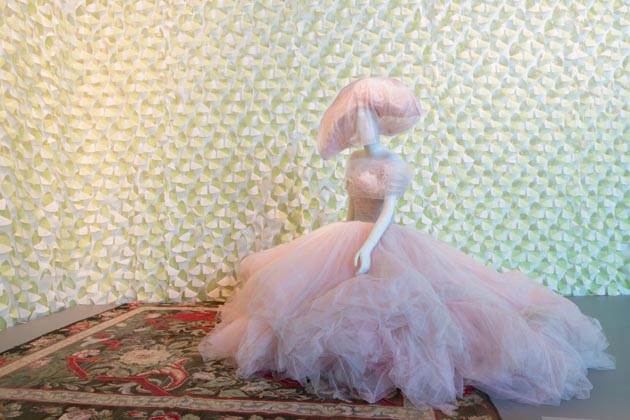 Oscar de la Renta for Pierre Balmain
Evening ensemble: dress, hat, and scarf
Spring/summer 1997
Pale-pink silk and silk tulle
Pierre Balmain
Look 10: The gold ultimate robe de style: Mrs. Mercedes T. Bass purchased this look; it was shown as a bride on the runway, and in exhibit, I accessorized it with silk lilacs, and gold tulle on the head. It took an entire weekend of hunting down the silk flowers in San Fransisco, and having the tulle arranged on the head before it became perfect and suggested a Russian bride. Notice the severe hourglass shape of the long dress.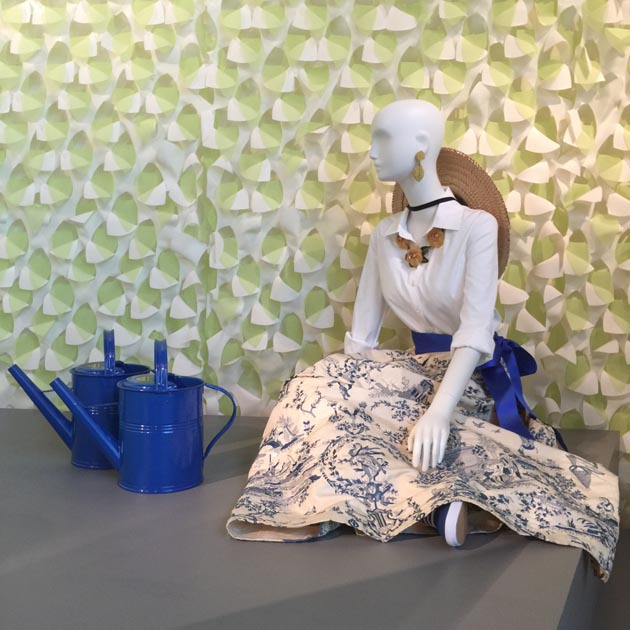 Oscar de la Renta
Evening ensemble: blouse (reproduction) and skirt
Resort 2002
Embroidered silk with sequins and beading
Collection of Alexandra Kotur
Look 11: Alexandra Kotur's blue and white sequin toile de Jouy long dinner skirt, worn with a white cotton shirt, designed by Peter Copping, the current ODLR designer. This shows Oscar's ultimate American versatility, the ability to turn a simple white button front oxford style shirt into a lavish dinner look. I showed the ensemble with flat navy blue Keds, ordered online, two watering cans from Rosedale Nursery, Hawthorne, New York, and a blue wheelbarrow from the Nederlands, dated 1890. The wheelbarrow was painted by Mark, a full time member of the de Young carpenter staff, to match the colors of the obelisk in the de la Renta, Kent, Conn. gardens, which are featured on a perfect day in June, 2015, on giant jumbotron screens.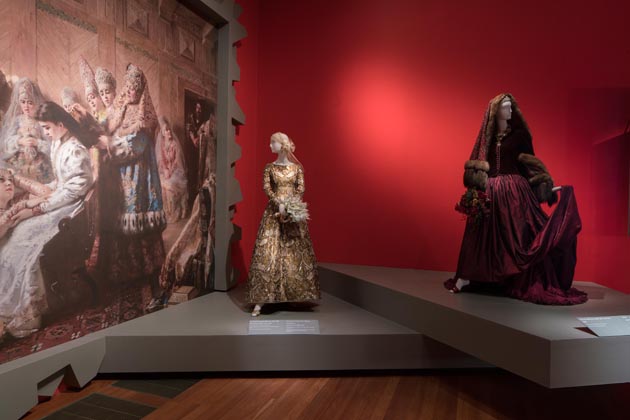 Oscar de la Renta for Pierre Balmain
Evening dress
Autumn/winter 1998-1999
Green silk taffeta; bead, sequin and metallic thread embroidery; chenille yarn
Texas Fashion Collection, University of North Texas, College of Visual Arts and Design, Gift of Mercedes Bass
Look 12: Taylor Swift's pale, pale pink slim long silk evening column, with a dramatic train. She was 25 when she ordered this dress and it, more than anything, shows how de la Renta could design for everyone from Rhianna, Sec. of State Hillary Clinton, and Nicky Minaj, to Sara Jessica Parker, Anna Wintour, and Anne Getty. The idea of a bustle is executed in a brilliant built up origami bow at the back of waist.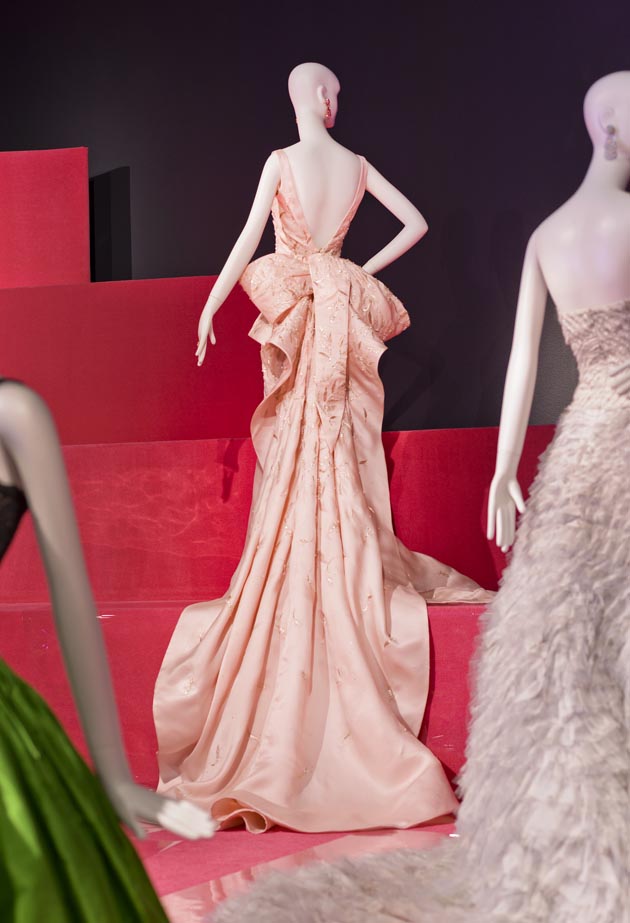 Oscar de la Renta
Custom evening dress
2014
Pink silk organza, silk and bead embroidery
Collection of Taylor Swift
Worn by Taylor Swift at the Charles James: Beyond Fashion Metropolitan Museum of Art Costume Institute Gala, 2014
Calling all HuffPost superfans!
Sign up for membership to become a founding member and help shape HuffPost's next chapter