Oscar de la Renta is still sounding off on Michelle Obama's wardrobe choices after bashing her State Dinner dress by Alexander McQueen last week, telling WWD, "My understanding is that the visit was to promote American-Chinese trade -- American products in China and Chinese products in America. Why do you wear European clothes?"
"This is an important issue. Some people did not get the point. It's not [intended] to be negative. Do you think Kate Middleton is going to be married in Marc Jacobs? Or you'd see Carla Bruni dressing in American clothes? This is a big industry in this country. Mrs. Obama does look great. She should take that and do something. She could do a great good for our industry. We need to create jobs here, create jobs on Seventh Avenue, too."

And the perfect opportunity to do good for American clothes? Why, the State of the Union of course. WWD points out that Michelle will likely opt for a homegrown designer:
History suggests that Mrs. Obama will wear American; at the President's last State of the Union address, she wore Isaac Mizrahi. She wears American clothes frequently; anecdotal Internet searches indicate they comprise the bulk of her wardrobe.
Watching the State of the Union? Meetup and watch it with other HuffPost readers and send your thoughts and photos to submissions@huffingtonpost.com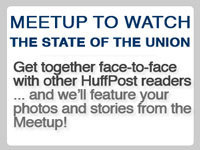 Related