A condensed version of this report will be published in the April 2016 issue of Avenue magazine.
Welcome to my 10th annual Oscar Diary.
After a year of global trekking to discover, nurture, nudge, prognosticate and congratulate all Oscar-worthy films, come April, I am left with the position of Monday morning quarterback.
I began chasing talent at the Cannes Film Festival in May and ended with gaining entrance to Guy Oseary's exclusive post-Oscar party on the floor of Alicia Vikander's SUV in February.
This is a tale of stamina, substance and insight into a contentious awards season and the tightest race in recent memory.
With the Academy membership of 6,291 consisting of 91% whites, 76% males and 3% African Americans, the battle cry for diversity exploded on January 14th (Oscar nomination day) and hung over the race like a heavy cloud. Swift promises were made to include members that reflect the population as the studios scrambled to media-train every contender to deal with #OscarsSoWhite.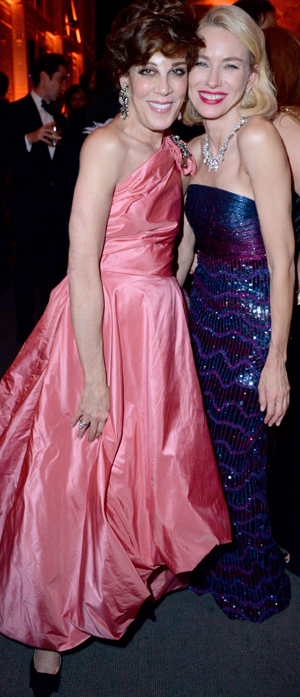 The author, Peggy Siegal, and Naomi Watts (Getty Images)
Before we get into the party hopping, here is a quick recap of some of the winners.
Warner Bros. Pictures' "Mad Max: Fury Road" premiered in Cannes to an astonishing endless standing ovation for a visually spectacular joy ride of road rage that went on to win six technical Oscars, the most of Oscar night.
A24's winner "Amy," about Amy Winehouse, also premiered at a midnight outing in Cannes. Pigheaded, I insisted to superstitious director Asif Kapadia, "Everybody cries. You just won the Oscar." Since his previous documentary, "Senna," failed to even get shortlisted, Asif spent months cringing every time he saw me.
Lastly from Cannes, Sony Pictures Classics showed up with "Son of Saul," the directorial debut by 39-year-old Hungarian Laszlo Nemes. Just when every cinema savvy Jew thought there was nothing new about the Holocaust, Laszlo blew away all competition for Best Foreign Language Film with the most original first-person descent into hell accentuated by mesmerizing shifts of focus. On the first frame he won.
The quietly devastating Open Road Films' "Spotlight," about the Roman Catholic Church's cover-up of sexual abuse by priests, debuted in Venice in August. The film went on to Telluride and Toronto and instantly became the front-runner for Best Picture. Enduring the longest campaign, employing an unadorned visual aesthetic, winning the top Screen Actors Guild ensemble award, and the Writers Guild best original screenwriting award, the film sustained a neck-and-neck race for Best Picture with "The Revenant."
"The Revenant" was not seen in New York or L.A. until Thanksgiving and star Leonardo DiCaprio was instantly anointed Best Actor on his fifth acting nomination. By New Year's I was able to tell Leo at Larry Gagosian's St. Barth's house, "It's time. It's your time. You win this year." This was actually more reassuring than new information, because his Oscar buzz began when director Alejandro G. Iñárritu screamed, "Action!" the first day on the set. As a campaigning aid, I taught Leo the vote-getting handshake. I grabbed his hand and elbow, looked deep into his eyes and whispered, "Thank you for seeing my film," squeezing his hand and elbow simultaneously. It's the double squeeze that sends chills.
Not to digress, but I tried this handshake on a high-ranking government official over Christmas lunch at a European country estate and he said, "Who taught you the double squeeze?" So I know it works.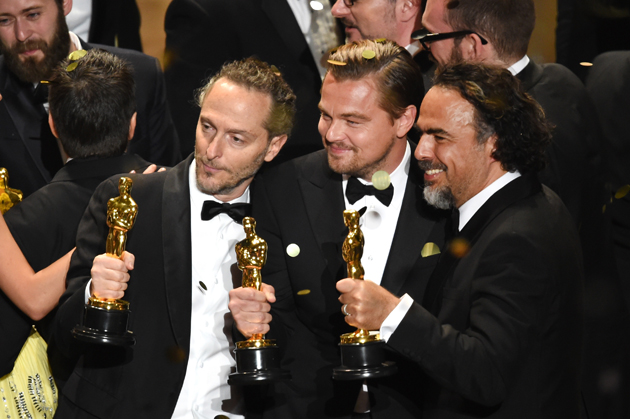 Emmanuel Lubezki, Leonardo DiCaprio, and Alejandro Iñárritu (Getty Images)
Back to "The Revenant." Set amid 19th-century American wilderness, the film was applauded for its epic nine months of shooting in barbaric conditions. Cinematographer Emmanuel "Chivo" Lubezki was always favored to win a historic third consecutive Oscar for using only natural light one hour and a half each day. When first screened, the film was not a slam-dunk win. It took the momentum of the Golden Globes, Alejandro's Directors Guild Award and $450 million globally at the box office to secure a front position.
Paramount's December entry, "The Big Short," the comedic explanation of the 2008 mortgage meltdown, scrambled to catch up. Genius writer/director Adam McKay approached every Academy outing as a madcap professor sent by Lorne Michaels from an 11-year tenure at SNL University, which was partially true (not the Lorne Michaels part). After winning the Producers Guild top prize, this Plan B and Brad Pitt-produced film shot up to "dark horse/could be spoiler" contender for a three-way Oscar race for Best Picture.
In Telluride, Brie Larson's gut-wrenching performance as an abuse victim imprisoned in A24's "Room" shrieked Oscar. In real life, this natural beauty charmed the pants off every voter on a six-month road show enlivened by a nine-year-old version of Bob Hope, her co-star Jacob Tremblay, who was also escorted by his hot cop dad, Jason. Director Lenny Abrahamson, an Irish Jew (this I could not make up), nabbed a nomination...probably away from Ridley Scott for "The Martian."
In Venice, Focus Features premiered Tom Hooper's "The Danish Girl" where ex-ballerina and Swedish stunner Alicia Vikander went toe-to-toe with last year's Oscar sensation Eddie Redmayne in more than 20 dresses. The press applauded her 11 films in three years, five in 2015 alone. Alicia had more screen time than transgendering Eddie, but won Best Supporting Actress. She also won the Lupita Nyong'o Best Dressed Nominee as paparazzi clamored to shoot her every move on the red carpet.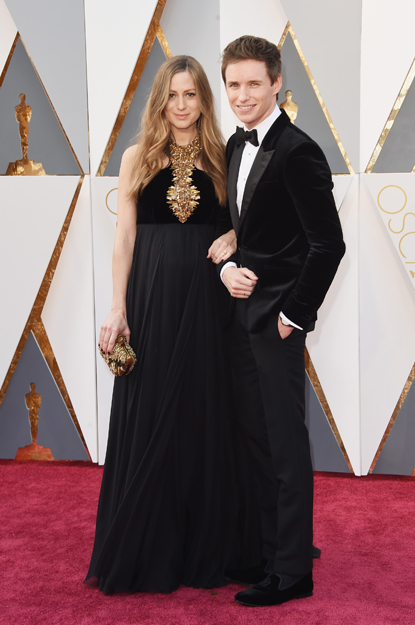 Hannah and Eddie Redmayne (Getty Images)
Disney brought Steven Spielberg's "Bridge of Spies" to the New York Film Festival with three-time Tony winner Mark Rylance playing a Soviet spy. Rylance gave an elegantly understated performance that popped off the screen and positioned him for the next two months to win Best Supporting Actor. Then "Creed" opened with Sylvester Stallone as the beloved Rocky Balboa, 39 years later. Sly became the sentimental favorite and was instantly christened the shoo-in.
After he received a standing ovation reserved for a champ at the Golden Globes, I told him, "Sly, you won the Oscar. Don't screw it up. You won." Sly's euphoria brought him to Oscar night on the red carpet, where Mark Rylance and Steven Spielberg congratulated him on his impending triumphant win. Then Mark won. A shocking but thrilling outcome.
A month later, I went to see Mark starring in "Nice Fish," at St. Ann's Warehouse in Brooklyn, where I bumped into my dear friend Amy Irving, Steven Spielberg's first wife. After the show we chatted up Mark and gushed about his performance. Mark was far more interested in Amy until I presented him and his wife, "Nice Fish" director Claire van Kampen, with a personalized gift: a pair of coffee mugs embossed with a photo of Mark looking ecstatic and holding his Oscar moments after he won.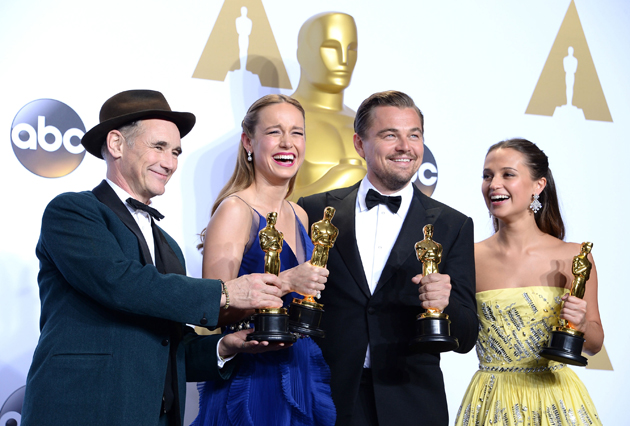 Mark Rylance, Brie Larson, Leonardo DiCaprio, and Alicia Vikander (Getty Images)
Desperate to milk this meeting, I asked, "Were you nervous and surprised when you won the Oscar?" Mark replied seriously, without skipping a beat, "No. I was just focused on saying everything I had to say in 45 seconds." I pushed on, questioning: "You never did any publicity?" Mark looked at me quizzically and deadpanned, "I never campaign."
Amy tried to inject a little humor to save me: "That's what Peggy does." Mark clearly had no idea what she was talking about. With a charming Cheshire-cat smile he thanked us profusely for coming to see his performance.

Mark's cool confidence proved that, in rare cases, you can hang out in Brooklyn, avoid the double handshake, and still win an Oscar.
I checked into the Sunset Tower Hotel, owned by Jeff Klein and home to Mark Ruffalo, Paul Dano, Emma Stone and Page Six's Ian Mohr for the week.
First off, I headed to a meeting for "The Light Between Oceans," directed by Derek Cianfrance and brought to the screen by uber-producer David Heyman, who oversaw the entire Harry Potter series. Set in Western Australia, the new film stars Alicia Vikander and Michael Fassbender, who met and fell in love in front of the camera. On the way, I ran into Steven Spielberg in the Amblin parking lot. He told me he had read my recent New York Times Sunday Style profile on the plane returning from the BAFTAs and said, "I heard your voice and loved it." Knees knocking, I emailed Times publisher Arthur Sulzberger, Jr. to share the close encounter.
After the meeting, I made my way over to the Costume Designers Guild Awards honoring Cate Blanchett to discuss her private actors' gathering in London on May 8th spotlighting European refugees who barely have a shirt on their backs. Flame-haired costume designer Sandy Powell, a 12-time nominee and three-time Oscar winner, told me her two nominations this year, for "Carol" and "Cinderella," would cancel each other out. Excellent hunch.
I ran to Mastro's Steakhouse to see David O. Russell honored for his mentoring at the Ghetto Film School, which was started in the Bronx and recently opened in L.A. Other diversity devotees included David's best friend Colleen Camp, James Bond producer Barbara Broccoli, director Marc Forster, Mike Medavoy and Jamie Foxx. Whoopi Goldberg, Helen Mirren, Tony Bennett and SAG-AFTRA will host a dinner to honor David's mentoring on March 30th at Aby Rosen's new hotel, 11 Howard, in New York.
Lifelong feminist Diane von Furstenberg and Universal Pictures' Chairman Donna Langley hosted the third annual Women's Oscar Lunch. Thirty-three of the 51 female nominees showed up. Twenty-four percent of the Academy is women. Diane said: "there have to be more stories about women...told by women...and now Donna will make sure with her big studio that you are green lighted. Lots of green lights." Diane highlighted Donna's contribution to Universal's green $6.7 billion box-office year.
Also dreaming green lights were Cheryl Boone Isaacs and Dawn Hudson, President and CEO of the Academy, Warner Bros. Pictures' star executive Sue Kroll, past winners Patricia Arquette and Marisa Tomei, this year's nominee Jennifer Jason Leigh, Ellen Burstyn and DVF's daughter Tatiana von Furstenberg with her aristocratic friends Coco Brandolini and Ginevra Elkann.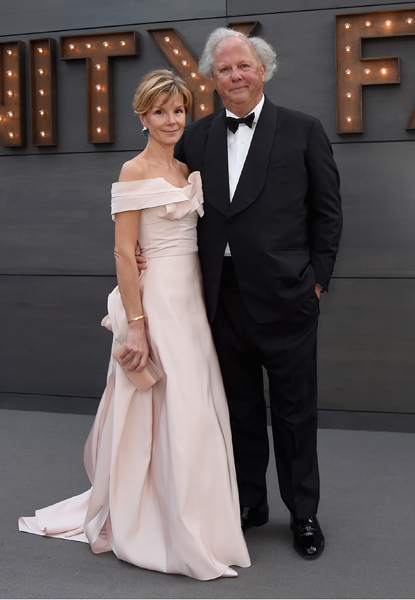 Graydon and Anna Carter (Getty Images)
Media king Graydon Carter, keeper of the keys to every important Oscar party, hosted an intimate dinner at the Chateau Marmont for "Spotlight" and The Boston Globe's reporters depicted in the film. Jane Sarkin and I arrived early and found Brian d'Arcy James sitting alone on the empty pool patio and begged him to serenade us. Apparently he only sings when he gets paid loads of money, like inside a Broadway theater.
Graydon and Anna Carter arrived and welcomed nominee Mark Ruffalo with his real character Mike Rezendes, Rachel McAdams with her journalist Sacha Pfeiffer and Ben Bradlee, Jr. Director and co-writer Tom McCarthy, co-writer Josh Singer, Liev Schreiber and producer Michael Sugar anxiously analyzed their six Oscar nominations, especially Best Picture. They wondered if their life-changing storytelling or "The Revenant's" epic cinematic style would prevail. Open Road CEO Tom Ortenberg assured them that "Spotlight" would win. (Producer Steve Golin would go home with gold either way, as the Herculean producer of both "Spotlight" and "The Revenant.")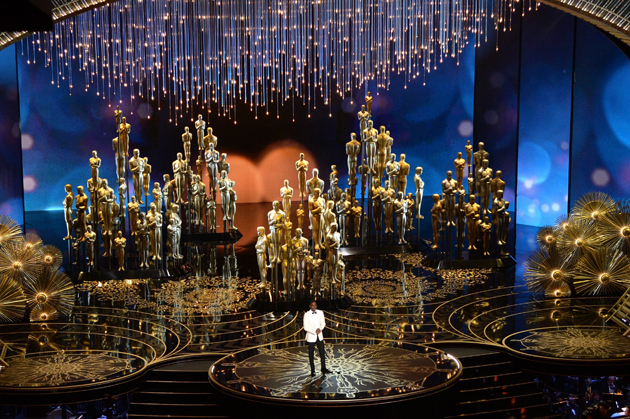 Chris Rock (Getty Images)
I went to see Russell Simmons at his inaugural All Def Movie Awards, the #OscarsSoWhite corrective, hosted by Oscar host Chris Rock's brother and look-alike, Tony Rock, at a dive called Lure in deepest Hollywood. This fun-loving event honored actors of color and invented a new definition for diversity. There was none. I was one of three white chicks and the only one with concealed cleavage and butt crack on the black carpet.
I needed a rest after all that culture shock, so I decamped to a pajama party hosted by social confidant Derek Blasberg back at the Chateau. Dolce & Gabbana, fans of embracing innerwear as outerwear, dressed and welcomed sexy Naomi Campbell, Jennifer Meyer and Camilla Belle. Jessica Alba, Joan Smalls and Poppy Delevingne climbed onto a bed with Derek, keeping that high school tradition alive of co-ed pillow fights. It did not take long for night crawler Leo DiCaprio to arrive and send the girls into a sleepy time tizzy.
I was driven to an NPR radio interview in the morning. I am still astonished people listen to my predictions.
After wrapping my interview, I found the historic Frank Lloyd Wright-designed Ennis House in Los Feliz. Here, Zac Posen, Demi Moore and Jacqui Getty hosted a lunch for Zac's new MAC makeup collaboration. Demi and Zac's super manager Jason Weinberg fussed like a mother hen over Dita Von Teese, Selma Blair, Gina Gershon and Demi's daughters Rumer and Scout Willis. The competitive conversation centered on who had gotten invites to Graydon, Elton and Guy's Oscar parties.
I later stopped by the Gagosian Gallery as crowds of kids jockeyed for position to study huge laser-printed canvases that depicted quintessential Angeleno settings, sourced on the Internet by artist Alex Israel. Bret Easton Ellis wrote text channeling L.A.'s slick celebrity society, which mirrored the aspirations of the opening night. The show was sold out as collectors snapped up billionaire-affordable art like movie posters. Dinner, hosted by Larry Gagosian, was served at Mr. Chow's to artists Michael Chow, Richard Prince, Adrien Brody, and collectors Eli Broad, Dasha Zhukova, Maria and Bill Bell and Nicolas Berggruen (new father of twins). Other art devotees included Elton John, Robbie Robertson, Jean Pigozzi and Diana Picasso.
I dashed to Malibu to Universal Vice Chairman Ron Meyer's star-studded party for Graydon Carter in a clear tent overlooking the Pacific. I was lucky to be invited as the only token publicist -- yes, a nod to diversity. I can tell you nothing except the obvious. Barbra Streisand, Martin Short, Sly Stallone, Les Moonves, Louise Grunwald and Andre Bishop were just a few floating past the endless Nobu food stations.
The Net-A-Porter lunch, Women Behind the Lens, back at the Chateau Marmont featured Amber Valetta and Amber Heard in nearly matching outfits. Amanda de Cadenet, Sam Taylor-Johnson and Emily Ratajkowski were there. Alicia Vikander, who was staying at the Chateau, stopped by on her way to her fourth fitting for her yellow Louis Vuitton Oscar gown. (Cate Blanchett also had four fittings for her ethereal blue organza confection from Armani Privé.)
The Film is Great reception at Fig & Olive was hosted by Eddie Redmayne OBE and British Consul General Chris O'Conner. Endearing funnyman James Corden was emcee. Eddie arrived with his mother Patricia, who looks exactly like him in "The Danish Girl," and wife Hannah, who was five months pregnant. When asked the sex of the child, both parents announced, "Gender fluid."
I ran back to the Sunset Tower Hotel to change for the round of talent agency parties. Dimitri Dimitrov, maître d' of the Sunset Tower Bar, gently guided me into the oh-so-hot restaurant, where at one table I fawned over Nick Pileggi, Meg Ryan and Martin Short. Also dining were directors Michael Mann and Jason Bateman, and beauties Sandra Bullock, Jennifer Aniston and Jennifer Lawrence (complete with a hovering bodyguard).
Meanwhile, Livia Firth hosted a dinner for Eco-Age in the Terrace Room of the Sunset Tower with guests Julianne Moore, Kevin Bacon and Kyra Sedgwick, Mark Ruffalo, Emily Blunt and Livia's debonair husband, Colin Firth. I reminded him it's been five years since we worked on "The King's Speech" win and those 53 red carpet appearances. Colin gave me a half wince, half smile.
Off to the United Talent Agency party hosted by Jim Berkus at his Spanish hacienda in Beverly Hills. I ended up at the kitchen table chatting with Ethan Coen and his costume designer girlfriend Peggy Schmitzer about how much I loved "Hail, Caesar!" and how to get tickets for "Hamilton" (through producer Jeffrey Seller). I also chatted with Max Perkins biographer Scott Berg about his new film "Genius" starring Colin Firth. Berkusʹ additional guests included super producers Jerry Bruckheimer, Judd Apatow, Mark Johnson and Plan B Entertainment/"The Big Short's" Jeremy Kleiner. Sublimely stylish home designer Sandy Gallin, Seth Rogen and "Pitch Perfect 2" director Elizabeth Banks circled around Jennifer Lopez in her second-skin sheath, as Cody Horn, the willowy actress/daughter of Disney honcho Allen Horn, looked on.
The last stop of this grueling schedule was another agency party. Much like the Vanity Fair Oscar shebang, organizers staggered arrival times for the less important guests. I fell into the last category of "she gets the make-believe invite" with an arrival time of 11:30 p.m. Any normal person knew this 11:30 p.m. arrival was synonymous with socializing with the clean-up crew.
I stayed much later than expected at the UTA party, making me right on time for the next stop. Since the steep road was impossibly narrow, only the powerful brought their chauffeured cars to the "undisclosed location." I arrived on an empty shuttle bus. Entering the tent was like swimming against the current. Once inside I pretended I had been there all night and chatted up the three people I knew: Bennett Miller, Jared Leto and artist/director Harmony Korine. Harmony asked me for a ride home and since I was too mortified to tell him I had just arrived, I said sure.
Barry Diller and Diane von Furstenberg hosted their annual lunch for Graydon Carter. This year, the list was slashed to 400. Barry commandeered the day by greeting family friends of 30 years barefoot in shorts marching over Moroccan rugs and pillows and through picnic tables adorned with bright zinnias.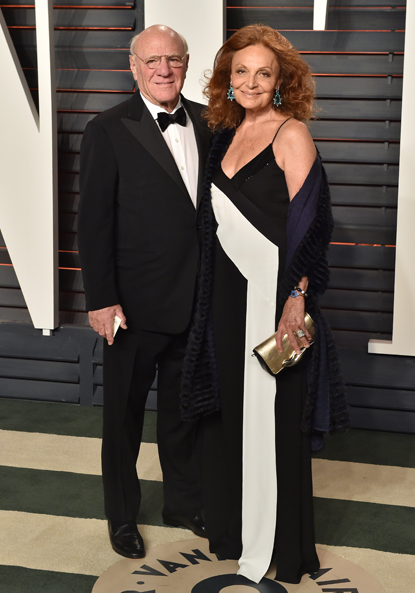 Barry Diller and Diane von Furstenberg (Getty Images)
I arrived with British director Simon Curtis, who fell into conversation with David O. Russell and shortly after we were sharing a picnic table with David, Bradley Cooper, Julianne Moore and Bart Freundlich. At the next table was Bette Midler, Fran Lebowitz, Rupert Murdoch and fiancée (now wife) Jerry Hall, blinding us with her ring.
The lunching titans included Norman Lear, Mike Ovitz, Michael Eisner, Sir Howard Stringer, Paul Allen, Tom Freston, Oprah Winfrey, Larry Gagosian and Henry Kravis. Every studio head was there, including Jeffrey Katzenberg, Jim Gianopulos, Philippe Dauman, Brad Grey and Ron Meyer. Football team owners Robert Kraft and Steve Tisch huddled with Gayle King, Jim Brooks, George Stevens, Jr., Sandy Gallin and Allen Grubman. Also on the lawn were Nancy Reagan's pals Denise Hale, Lynn Wyatt and Wendy Stark along with Bob Balaban, Jon Patricof and Nate Parker -- the exemplar for diversity with his upcoming film for Fox Searchlight, "The Birth of a Nation." Jason Blum brought baby Roxy who crawled between Barry's legs.
As the plutocrats on Barry Diller's lawn were figuring out how to stop Trump's potential trump of Hillary, a thousand earnest democrats were boozing it up in a seaside tent in Santa Monica at the Independent Spirit Awards. The pleas for diversity were answered as Abraham Attah, the teenager from "Beasts of No Nation," won Best Actor, to a standing ovation and unanimous roar. Hysteria continued for Idris Elba's win for Best Supporting Actor and Mya Taylor, the transgender star of "Tangerine" for Best Supporting Actress, sending a message to the beleaguered Academy. I do wonder how many of these independent filmmakers will end up being part of the new generation of Academy members.
"Spotlight" went on to sweep the awards, winning Best Feature, Director, Screenplay, Editing and the Robert Altman Award. As rapturous as this team was, they were still nervous about Oscar night.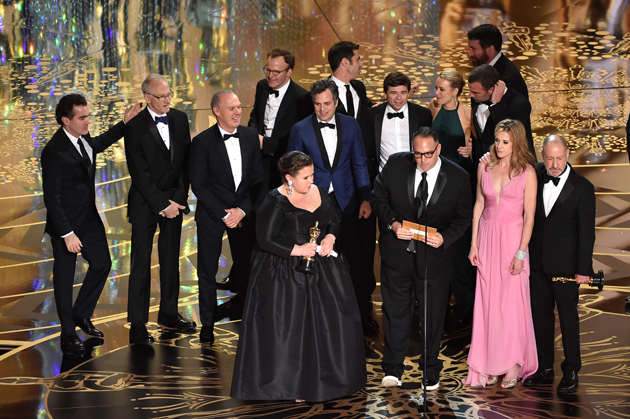 The cast of "Spotlight" (Getty Images)
Next stop was the Giorgio Armani cocktail party for Leo at the Rodeo Drive store. Invitations stipulated no press, no cameras, no questions and no selfies. Leo, suffering from a cold, was ushered through the back door by large bodyguards and stood behind a pillar as he posed for the agreed-upon publicity shot with Roberta Armani. I chatted up Leo's mom Irmelin Indenbirken, only to find out she didn't have a matching handbag for Oscar night so I sent the store manager scurrying for a complimentary purse. At one point diminutive Irmelin toyed with the idea of wearing a tuxedo to the Oscars until I convinced her that being photographed next to her tall handsome son in matching outfits was not the way to go.
"The Revenant" money men Arnon Milchan, Brad Weston and Brett Ratner, along with Leo's best friend Tobey Maguire, Antonio Banderas, Fisher Stevens and Christoph Waltz managed to slip through the security to plant mafia-like kisses on Leo's cheeks before he disappeared out the back door. Moments later, Cate Blanchett arrived through the front door and embraced a very pregnant Anne Hathaway.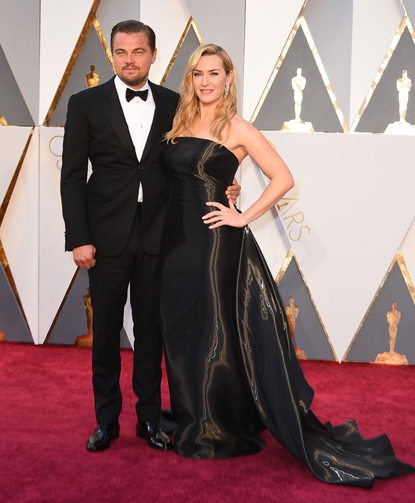 Leonardo DiCaprio and Kate Winslet (Getty Images)
I went on to Charles Finch and Chanel's eighth annual pre-Oscar dinner at Madeo. Every girl was more beautiful than the next and this was one of the chicest dinners all week. Girl gazing consisted of Dakota Fanning, Dree Hemingway, Kristen Stewart, Rosie Huntington-Whiteley, Kate Bosworth, Zoe Kravitz and the nubile cast of Cohen Media's sexually charged "Mustang."
The loyal regulars were Julianne Moore, Diane Kruger, Anjelica Huston, Danny Huston, Oliver Stone, Tom Hooper and Joan Collins. Nominees included Brie Larson seated next to Eddie Redmayne, who would be handing her the Oscar Sunday night in a custom-made Alexander McQueen tuxedo. (The original suit, stuck in L.A. customs, had to be copied by a team of tailors waiting in his room for a midnight fitting.) Other nominees sighted were Rooney Mara and Charlotte Rampling with her sons David and Barnaby. Charlotte's hunks were at my table with John Crowley, the director of "Brooklyn." Charles Finch is so cool he even managed to sneak in Pharrell Williams.
Two hotel housekeepers poured me into my pink taffeta gown complete with a pink fox stole, sent by Monse designer Fernando Garcia (former assistant to Oscar de la Renta).
At the red carpet I shuffled past security inches away from Alicia Vikander's family, posed as a relative and made my way to the interview area saved for nominees and loved ones. I planted myself in front of the ABC camera at a flattering angle to make sure I was in the background shot of nominee interviews, while kissing every passerby for an hour.
Chris Rock's searingly funny opening monologue did exactly what comics are supposed to do: wrap the truth in irresistible jokes, making fun of everybody. So how did "Spotlight" triumph in the end? The film conveyed the greatest social significance and emotional experience. Story and sentiment won Best Picture.
The Vanity Fair Oscar party has long been recognized as the toughest ticket in town (unless you are friendly with Graydon's gatekeepers Beth Kseniak and Matt Ullian), where a swirling hurricane of fame erupts, showering the exalted with attention. As always, winners and nominees came to show off their Oscar or drink away their bruised egos. Lady Gaga and Elton John held court on a couch and uncoupled couple Ben Affleck and Jennifer Garner whispered in the corner. Meanwhile, Don Rickles was still insulting a thousand famous faces from his wheelchair.
At 1:00 a.m. Alicia Vikander and Michael Fassbender invited me to the second-toughest ticket, Guy Oseary's dancing 'til dawn party. If you're not A-list enough to be invited, your only hope is to arrive in an Oscar winner's car. Friends of Alicia and Michael needed three SUVs. One block before Checkpoint Charlie we condensed into two vans, forcing myself and others to lay on the floor, unseen. As we arrived at the security check, flashlights scanned the interior and our muffled giggles went unheard. Once inside, I was terrified of being spotted by Guy Oseary, who ejected me two years earlier for the sin of being a publicist. I hid on the dark dance floor in iridescent pink until 4:00 a.m., surrounded by Hollywood royalty letting off steam -- a perfect setting for the closing credits of a hotly contested Academy season.
Calling all HuffPost superfans!
Sign up for membership to become a founding member and help shape HuffPost's next chapter