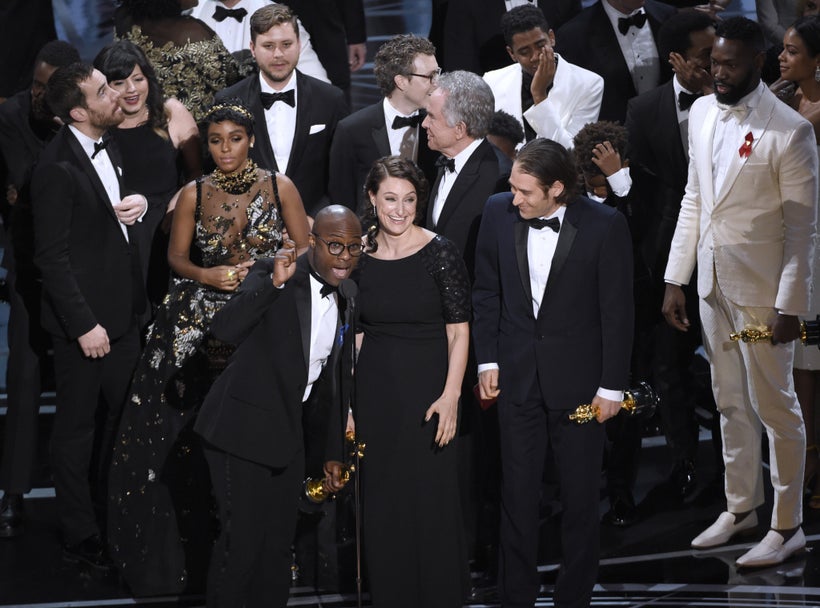 Three months ago, I watched Moonlight in a suburban movie theater by myself. The film was transcendental—forcing me to reflect on my own dreams, losses and traumas. With tears streaming down my neck, I tweeted out my initial reactions:
This past Sunday, I watched the 89th Academy Awards ceremony with bated breath. For the first time, I had a deep emotional investment—Moonlight was on my mind the entire show. I was thrilled when Mahershala Ali became the first Muslim actor to win an Oscar for his performance in Moonlight. His would be among several other Oscar firsts—good and bad.
For her performance in Fences, Viola Davis became the first black actress to win a Tony, an Emmy and an Oscar (her personal first). She made a beautiful speech about how playwright/screenwriter August Wilson "exhumed and exalted the ordinary people."
There were also historical firsts among presenters. Katherine Johnson, one of the first black female NASA "computers," joined the cast of Hidden Figures on stage to present the Best Documentary award.
The first Iranian to go into space, Anousheh Ansari, accepted the Best Foreign Film Oscar on behalf of Asghar Farhadi, director of The Salesman. Asghar Farhadi did not attend the Oscars to protest the U.S. ban on travelers from Muslim-majority countries.
The same ban denied entry to Syrian cinematographer Khaled Khateeb—who could not attend the ceremony to accept the award for Best Documentary Short.
The Oscars are not new to protests. In 1973, Marlon Brando boycotted the Oscars to protest Hollywood's treatment of Native Americans. On his behalf, Native American activist Sacheen Littlefeather refused the Best Actor award for his iconic role in The Godfather. Just last year, Spike Lee (who won an honorary Oscar) boycotted the Academy Awards ceremony to protest #OscarsSoWhite. Besides Asghar Farhadi's boycott this year, actor Gael García Bernal took the opportunity—as a presenter—to protest the current administration's immigration stance.
I watched with bated breath as the final Best Picture category was announced. I knew that the main contenders were La La Land and Moonlight. When La La Land was announced for Best Picture, I was despondent. Numb, I watched the entire La La Land crew go on stage. When it was revealed that Moonlight was the actual winner in the worst flub in Oscar history, I screamed like Janet Leigh in Psycho. I edged up right against the TV screen as the dazed Moonlight crew took the stage, mirroring their smiles as reality set in.
Moonlight's win meant several historical firsts. It became the first Best Picture film to feature an all-Black cast and the first to carry an LGBTQ story. It was also the lowest-budgeted Best Picture winner (adjusting for inflation) of all time. Director Barry Jenkins became the first African American director of a Best Picture winner and second black director (first was British black director Steve McQueen for 12 years a Slave).
Since Moonlight was robbed of its moment of Oscar glory, I hope we can trumpet its win. A film like Moonlight can affect viewers deeply—making them ponder their own lives and the lives of others. Moonlight showed me how authentic connections between people can heal wounds and revive dreams. I hope that the "worst flub in Oscar history" will lead more people to see Moonlight and be transformed through film—perhaps for the first time.
REAL LIFE. REAL NEWS. REAL VOICES.
Help us tell more of the stories that matter from voices that too often remain unheard.
This post was published on the now-closed HuffPost Contributor platform. Contributors control their own work and posted freely to our site. If you need to flag this entry as abusive,
send us an email
.