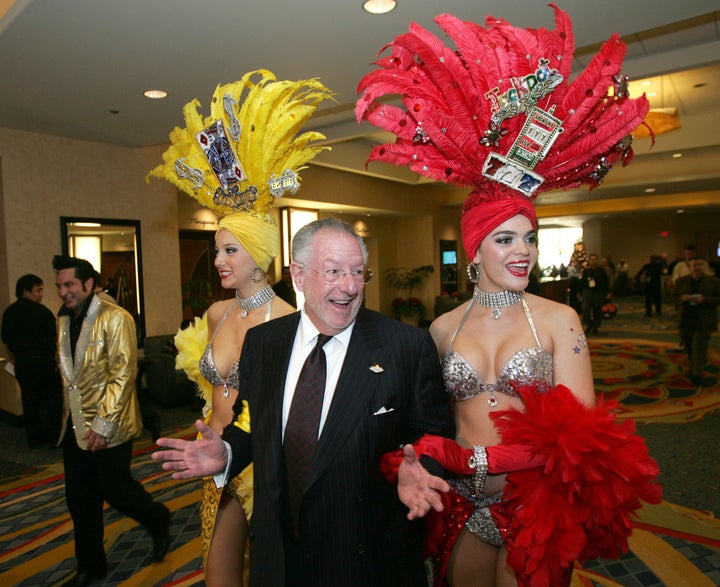 Las Vegas Mayor Oscar Goodman, who is leaving his post later this year after serving Sin City for more than a decade, discussed his habit of appearing alongside showgirls in a recent interview with the New York Times.
"Basically I have one showgirl who's virtually with me at all appearances and then a second one who's almost always there," explained the Democrat-turned-independent when asked about the matter.
Goodman told the Times that one of his female companions appears in an actual show; however, he added, "That's not why we refer to her as the 'mayor's showgirl.'" When asked to explain what a showgirl is if she doesn't participate in a performance, he said, "They're usually very bright, very statuesque, wearing plumage and a very skimpy, shall I say, outfit. They take my arm; they hold my gin."
The Las Vegas Sun reported in 2009 that when Goodman was asked by a fourth-grader in his home state what he would bring with him if were stranded on a desert island, he said, "A showgirl and a bottle of Bombay Sapphire Gin." According to the U.K.-based Times, Goodman has long maintained a sponsorship deal with the alcohol company.
The New York Times asked Goodman if he believes "it's dated to treat a woman as a trophy." His response: "I hope my wife believes I'm a trophy." (Click here to read more from the interview.)
Last month, the Sun reported that Goodman is considering making a run for governor in the Silver State after he exits his current post in July:
Goodman said it was a tough decision to make to run a campaign throughout the state and, if he won, would mean moving to Carson City.

"I love my wife. I love my family. I love Las Vegas. I love the warmth of my home. I love my bed. I love looking up in the morning when I'm having a cup of coffee and seeing my wife smile at me. I love opening up the stupid newspapers and reading the stupid things that are in them," he said, smiling. "There are a lot of good things that are indigenous to Las Vegas."
Popular in the Community