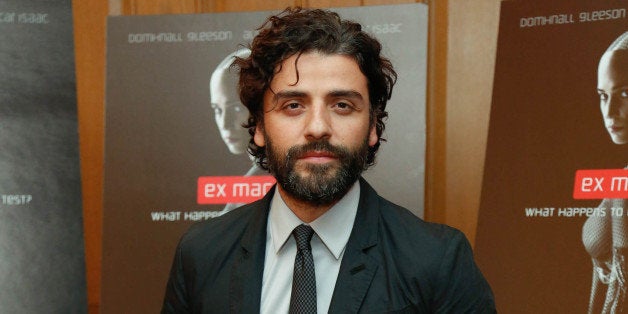 Oscar Isaac is a name that's become more familiar over the past several years. You likely first noticed the actor in 2010's "Sucker Punch" or as Carey Mulligan's boyfriend in "Drive." Since then, Isaac has earned a Golden Globe nomination for "Inside Llewyn Davis," received high praise for his performance alongside Jessica Chastain in "A Most Violent Year" and is appearing in J.J. Abrams' upcoming "Star Wars: The Force Awakens."
While the actor has said little about his "Star Wars" character, X-wing pilot Poe Dameron, The Huffington Post still asked him about the franchise while he was in New York promoting his latest film, "Ex Machina." As a fan of the space opera series, what classic "Star Wars" scene would Isaac want to be in? The cantina scene from "Episode IV." "I could be one of the musicians in the background," Isaac said as he imitated playing a set of bongos.
The actor's musical abilities are far from news, though. Isaac showcased his singing and guitar skills when portraying fictional folk singer Llewyn Davis in the Coen Brothers' 2013 film. Now, Isaac is unveiling another talent in Alex Garland's "Ex Machina" during a scene that is at once unnerving and wildly fun: disco dancing.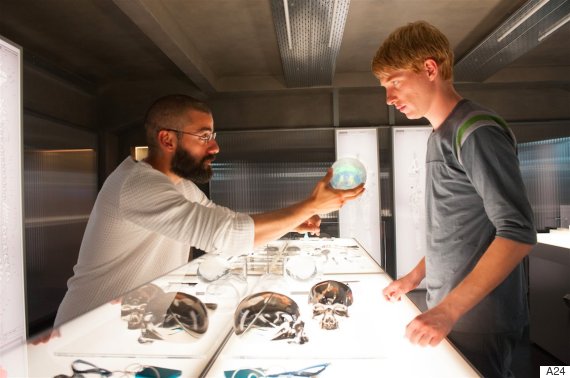 In the film, Isaac's Nathan, a reclusive tech genius, has built an artificially intelligent robot, Ava (Alicia Vikander). He invites one of his company's coding employees, Caleb (Domhall Gleeson), to his home to conduct a Turing Test on Ava, which in layman's terms is to determine whether or not Ava can fully think like a human. During his week-long visit, Caleb gets into drunken philosophical discussions with Nathan about consciousness (the most fascinating part of the script for Isaac), grows close with Ava, and gets swept into watching Nathan and his female companion break out into a full-on choreographed dance (watch it here) to Oliver Cheatham's "Get Down Saturday Night."
"That was just Alex [Garland] being smart as far as keeping everybody off balance," Isaac said of the disco non-sequitur. "That was a moment, from a rhythm standpoint, that you needed to get a complete 180. But completely logical if you think about this guy who's been [in his home] for years without any human beings and makes these robots and fucks these robots. What else is he gonna do with them? Dance with them!"

Image via Tumblr
That's exactly what Isaac does, or as Nathan puts it in the film, "I'm going to tear up the fucking dance floor dude, check it out." The choreography only lasts for less than a minute in "Ex Machina," but Isaac told us that the dance was originally twice as long. It did take him a couple weeks to learn, though. "Not a natural disco dancer," Isaac said with a laugh. Maybe we'll see Isaac's pilot teach the Mos Eisley band some dance moves in "Episode VII," if we're lucky.
"Ex Machina" is now playing in select theaters.
REAL LIFE. REAL NEWS. REAL VOICES.
Help us tell more of the stories that matter from voices that too often remain unheard.