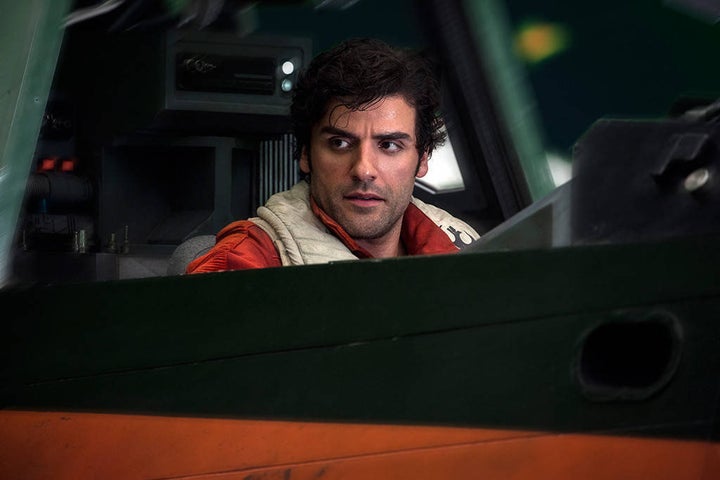 When it comes to Poe Dameron's love life, there's a galaxy of possibilities, says Oscar Isaac.
The actor, who's currently starring in the Nazi thriller "Operation Finale," recently spoke with HuffPost about his highly venerated "Star Wars" character and the fan community's penchant for speculating about his potential love interests.
As io9 uncovered by way of Pablo Hidalgo's Star Wars: The Last Jedi ― The Visual Dictionary, the official guidebook to the film, Poe's character wears a ring given to him by his mother, which he's "waiting to share... someday with the right partner."
Fans jumped on the gender-neutral term "partner," with many using it to 'ship a romance between Poe and John Boyega's character, Finn ― a pairing lovingly dubbed FinnPoe.
We asked Isaac, who's been supportive of Poe's possible LGBTQ identity, about his character's ring and the use of the term "partner" in the guidebook.
His coy response: "I'm all about keeping it as fluid as possible."
"There are a lot of interesting people in the galaxy, it'd be a shame to cut off 50 percent," he said. "I think Poe's open to any kind of adventure."
So it seems like Poe might be taking the Lando Calrissian approach to love. Still, as much as people want those "adventures" to include Finn, it doesn't seem likely.
"I don't know if that's going to happen," Boyega told us earlier this year when we asked about the possibility of FinnPoe. He added that Finn's complicated feelings for Rey (Daisy Ridley) — as well as his kiss with Rose Tico (Kelly Marie Tran) — probably put a future with Poe to rest.
"I mean, just so many [love interests]. They need to all leave me alone, man. I'm trying to just be handsome and sexy on my own, and they're interrupting," he joked.
In contrast to Finn's plethora of romantic options in "Star Wars: The Last Jedi," Poe's love life hasn't really been explored. (Unless you're willing to look very deeply into that time he gave his jacket to Finn in "Force Awakens," or the very casual lip bite captured in GIFs shared across the internet. See below!)
But it could be addressed in the upcoming "Star Wars IX." 
Maybe there is a "partner" out there for Poe somewhere, even if it's not Finn. But if so, could someone please tell that to his lip bite?
Calling all HuffPost superfans!
Sign up for membership to become a founding member and help shape HuffPost's next chapter
BEFORE YOU GO
PHOTO GALLERY
'Star Wars' Postage Stamps