"I've always had an up-and-down career," admits actress Elisabeth Shue.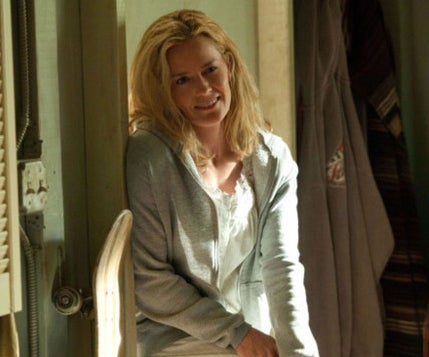 Shue got her big break in The Karate Kid, playing the pretty, uptown love interest of a young Ralph Macchio. She followed with cult favorite Adventures in Babysitting and box office smash Cocktail, opposite Tom Cruise. 
Being cast against public perception  in Mike Figgis' unexpected 1995 hit Leaving Las Vegas proved a tipping point for Shue. As a prostitute in a doomed relationship with a suicidal alcoholic (played by Nicolas Cage), she earned a "Best Actress" nomination at the 1996 Academy Awards. 
Though Susan Sarandon picked up the trophy for Dead Man Walking (with Cage winning "Best Actor" for Leaving Las Vegas), it  seemed Shue was ready to embark on a career as a serious dramatic actress. According to the Delaware native, that didn't happen quite as anticipated. 
In the meantime, Shue started a family with husband and documentarian Davis Guggenheim. Together they have three children, including teen daughters. Despite quality roles being scarce for the better part of a decade, "the balance was right," the Oscar nominee stated.
"I really love being a Mom, and I would have hated so much to miss out on any of their moments," said Shue of lulls in her Hollywood career. "I'm really grateful I could just plug along and barely stay in [acting]."
Pressure to contribute financially to the household — "I was putting that burden on my husband too much," Shue admitted, "It was pretty unfair" — eventually prompted her to find "something [she] could both make a living at and where [she] really respected the people involved." An ongoing role on televised  drama Crime Scene Investigation: CSI did both.
"I adore Ted Danson," Shue gushed about her costar and CSI series lead. "The cast members in that show are just top-notch, and the crew, the producers are just really, really hard-working, lovely, lovely people."
After more than three seasons on the ratings powerhouse, Shue moved on. On Sept. 22, she returned to select  Silver Screens with a film she places next to Leaving Las Vegas in personal  significance — Battle of the Sexes.
The historical bio-pic recounts the  monumental 1973 tennis match between the world's female best Billie Jean King and former great and self-declared "Male Chauvenist Pig" Bobby Riggs. It opens nationwide Sept. 29. 
Battle of the Sexes explores more than simply the tumultuous social climate for women at the time. King, played by Oscar-winner Emma Stone, leads a charge for gender pay equality in the sport as the production simultaneously delves into the private lives of all involved.
"People don't realize how rare it is to be in movies you really care about and you're proud to be in," said Shue of the role as Riggs' wife Priscilla, as reported in a previous article. "I'm grateful I got to be in another film that means as much to me" as Leaving Las Vegas.
WATCH: Battle of the Sexes Trailer
A key component of the film, of course, is King's struggle with her own sexuality. As Bobby (Steve Carell) and Priscilla's marriage crumbles amid his gambling addiction and push to remain relevant as a storied pro career fades in the rear view, Billie Jean is coming to terms with her lesbian identity — despite being married at the time herself.
However, Shue opines the film has "evolved past" the "pigeonhole" of being strictly a "movie about gay people." Though King has grown into an icon for both feminism and the LGBTQ community, like the tennis legend herself, the film's message is far more "universal" than just her lesbian identity.
"I don't see her that way — at all — zero part of me sees her that way,"  Shue said of King. "I know my daughter doesn't." 
To that end, for Shue, a testament to the film's power came after attending its premiere with her children. Her 16-year-old daughter, the actress said, "became very emotional" at the movie's climactic end. 
Though self-proclaimed "tennis fanatic" Shue recalls "The Battle of the Sexes" and King, her daughter has no connection to either beyond the film. Yet she was deeply impacted by a scene showing Stone sobbing privately in the spectacle's aftermath.
"She said, 'I feel like she is crying for all of us, whenever we feel less than,'" Shue recalled.  "Here I am, a woman who is pretty evolved and relatively brave — could be more brave when it comes to speaking out," she shared. "And here my daughter, who I have hopefully raised as a powerful woman as well, knows inside there might be something 'less than' in her...just because she's a girl." Shue sighed audibly thinking about the messages society sends each of us, whether based on gender, sexuality or more. "We think we're stupid or we're overweight or..." she trails off. "There's a million ways people feel 'less than.'"
Like Battle of the Sexes, though, Shue is optimistic that — while reality lags behind the ideal — progress is being made.
"I think our younger generation is incredibly more evolved even than my generation and the generation before," she stated.
"I know in my heart, things are changing for the better," Shue concluded. "It's just so slow and annoying that there are still people out there who are small-minded and fearful and take their judgments out on other people because they really don't like themselves."
Battle of the Sexes starring Emma Stone, Steve Carell, Elisabeth Shue, Bill Pullman and Sarah Silverman opens nationwide Sept. 22.
LISTEN: Elisabeth Shue discusses Battle of the Sexes, Ross Mathews talks RuPaul's Drag Race on Party Foul Radio.
Calling all HuffPost superfans!
Sign up for membership to become a founding member and help shape HuffPost's next chapter