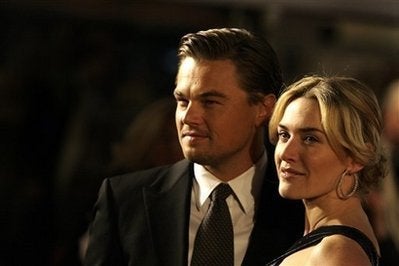 Who was robbed in Thursday's Oscar nominations?
Sally Hawkins: Winner of the Golden Globe and the New York Film Critics Circle awards for Happy-Go-Lucky, Hawkins gives the year's best performance - brave, funny, touching. Working with Mike Leigh, she carved the role out of her own feisty, life-filled spirit. It's an amazing creation, delivered by the tiny, towering Hawkins - the portrayal of a lifetime. But she's not nominated - and Angelina Jolie is? For the overwrought, overheated, overacted Changeling? Obviously, tears count for more than smiles at the Academy. And apparently the subtlety, the complexity and the sheer imagination of Hawkins' work was overlooked in favor of Jolie's shamelessly tear-stained performance. Or maybe they just were overwhelmed by her skill on roller-skates. It's telling that Happy-Go-Lucky was also overlooked in all major categories except original screenplay.
The Wrestler: Yes, Mickey Rourke and Marisa Tomei received acting nominations. But the movie itself - one of the fiercest, most moving, most resourceful independent entries of the year - was shut out in the major categories. No nomination for best picture, none for Darren Aronofsky as director or for Robert Siegel's script - not even a nod to Bruce Springsteen for his song. No love for the Boss? And two best-song nominations for Slumdog Millionaire?
Revolutionary Road: Yes, I know, I'm one of the few critics who sees this film for the gripping, sorrowful masterpiece of Eisenhower-era malaise that it is. Still, it deserved better than it got, which was the single major nomination for Michael Shannon (who has no shot in the supporting actor category, because the Oscar will serve as the final step in the canonization of Heath Ledger). But nothing - not even adapted screenplay.
Cate Blanchett and Kristin Scott Thomas: Both could easily have been best-actress nominees, for Benjamin Button and I've Loved You So Long, respectively. Unlike Hawkins, who I believe was overlooked because voters didn't "get" the Mike Leigh film, Blanchett and Scott Thomas fell victim to that rare occurrence: an abundance of strong female performances.
WALL-E: Someday, the Academy will recognize that an animated film can also be the best picture - and not just the best animated picture. But hey - The Simpsons has been on TV for 20+ years and it's never been Emmy-nominated for best comedy. Short-sighted.
Richard Jenkins and Melissa Leo: These marvelous character actors, hard-working and underappreciated for years, are absolutely underdogs for best actor/actress - but the fact that they were nominated at all is a delight - and so well-deserved it seems positively miraculous.
In Bruges: I was glad to see playwright Martin McDonagh's hilariously grisly gangster movie nominated for original screenplay (and to see Colin Farrell win a Golden Globe). This was an underrated gem that will absolutely become a cult item on home video.
For reviews, interviews and commentary, visit www.hollywoodandfine.com.
REAL LIFE. REAL NEWS. REAL VOICES.
Help us tell more of the stories that matter from voices that too often remain unheard.