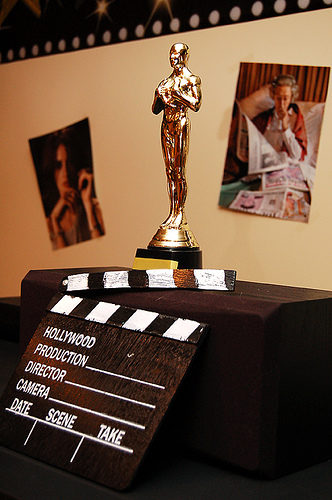 This weekend, millions of viewers will tune into one of the most glamorous, celebrity-stuffed evenings on television. The Academy Awards highlight some of the greatest films of the year, calling for a fabulous party to celebrate. With so many glamorous stars and award-worthy films as inspiration, the party possibilities are endless. Since films are the main event, opt for snacks and embellishments that are reminiscent of those you might find at the movie theater. Below are some easy ideas to create a cozy, casual Oscar-viewing environment for your guests.
Food
The Candy Bar
Everyone has a favorite movie theater candy choice. Whether it was when you were a little kid, or today as an adult, it is likely that something under the glass counter tickled your fancy. Bring that special treat back for your Oscars party by creating a "Candy Bar." Using large glass jars or bowls, fill them up with candies like Sour Patch Kids, M&M's, Reese's pieces and licorice. Provide scoops and bags so your guests can pick and choose their favorite candy to snack on during the show.
Hot & Spicy
Other movie theater staples include nachos, big pretzels and of course, popcorn. Fortunately, these are all easy to replicate, aside from the scary nacho sauce that is supposed to resemble cheese. Create a couple plates of nachos piled high with shredded (real) cheddar cheese, sour cream, guacamole and salsa. You could even toss on some pickled jalapeño slices if you're feeling dangerous. For the pretzels, you can find the frozen variety at most grocery stores, or you can make your own. Serve with homemade dipping sauces that are a little different. For example, a nice plum sauce would be a great way to add an Asian flare. Other options could be honey-mustard sauce, Sriracha or classic cheese. For the popcorn, you can add flavor to microwave popcorn by making a spice mixture such as this one. Serve the popcorn in cones made of newspaper or in brown paper bags. Guests can refill as needed if the popcorn is served in a large bowl with a scoop.
Beverages
Rather than serving sugar-laden sodas at your Oscars party, go for creative cocktails with movie titles in the name. You could create your own cocktail bar where guests can serve themselves using recipe cards that are displayed for them to follow. (For more details on creating a DIY cocktail bar, see this article.) Also, provide the classic standbys like wine, beer and juice or water for those who would rather not drink alcohol.
Decor
Decorations for the party can be kept relatively simple. To give the feeling of a real movie theater, create a way to display award nominees. Simply go to a craft store and buy a piece of black foam board (one for each award category). Using a white marker, write the name of the award on the top and the names of the nominees below. Display the boards throughout the party and as the winners are announced, place a gold star (simply cut out of yellow or shiny gold paper) next to the name.
Create the feeling of walking in a movie theater by making your own track lighting. Keep the lights low and use strings of white lights to show the way to the food, beverages and "exits" to the restroom. Keep it simple and make sure guests are able to safely maneuver their way around the space.
Games
It is fun to play games before and during the Oscars. Oscar Bingo is perfect for guests to play as the winners are announced throughout the evening. Another fun way for guests to predict the winners is to have them write the award and the name of the winner on a piece of paper. Provide labeled containers for each award and at the end of the night, announce which guests correctly chose the winners. Send the winners home with a small prize like a personal-sized bottles of champagne or a gift card for the local movie theater.
These simple but creative ideas will create a memorable atmosphere for you and your guests to relax and enjoy the 2012 Academy Awards. You're the director here, so add your own twists to make the party uniquely yours. Share your other creative Oscars party ideas in the comments!
Rachael White is an American foodie living in Tokyo. For two years, she and her husband have been exploring the ins and outs of the fascinating food culture of Japan. Rachael's blog "Tokyo Terrace" chronicles her experiences creating dishes and drinks that use new and exciting flavors in accessible ways. She has been published in Tokyo's Daily Yomiuri Newspaper and contributes to JapanEats.tv. Originally from Minnesota, Rachael creates recipes that reflect Midwestern comfort food with a modern, Asian twist.