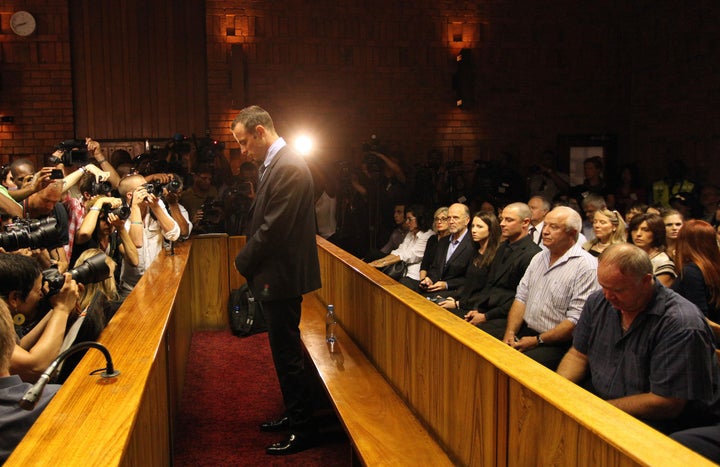 When Dick Traum, the first amputee to ever run a marathon, learned of Oscar Pistorius' murder charge, he was devastated.
"I felt like I was punched in the stomach. It really, really hurts," said Traum, whose right leg was amputated in 1965 after it was crushed between two cars.
After the "Blade Runner" allegedly killed his girlfriend on Valentine's Day, friends and family of Reeva Steenkamp mourned a stunning model and vehement domestic abuse activist. And 1 billion people living with disabilities saw the squeaky-clean pioneer who proved that a disability doesn't preclude stardom -- fall from grace.
"He was a perfect role model," said Traum, 72, founder of Achilles International -- a nonprofit that encourages disabled people to exercise. "You have a youngster losing his legs and you can say 'some day you can be in the Olympics.'"
While mainstream sports is no stranger to tragic scandal, the stakes are just different. For every Ray Lewis, there's a Dwyane Wade, whom the President of the United States has praised for his athleticism and character. For every O.J. Simpson, there's a Tim Tebow -- a tireless advocate whose foundation makes dreams come true for kids with fatal illnesses. (Read: He took a 10-year-old diehard fan with a rare tumor out on her first date ever.)
But in the world of adaptive sports, there was just one household name. There was just one amputee who won the right to compete on the world's greatest sports stage. There was just one icon in Sports Illustrated who could inspire the Iraq War vet whose body was maimed by an IED. There was just one Olympic sprinter whom Ellie May Challis, a girl who lost her hands and legs to meningitis, could point to on television and see a star who looked like her.
"It was so cool...that other people could realize what I've known for a while," Andy Yohe, a Paralympic gold-medal winning sled hockey player, told The Huffington Post, of watching Pistorius.
I had the opportunity to learn firsthand from Yohe, 34, what it means to push a broken body into becoming a buff competitor. When he was a daredevil teen in Iowa, who dreamed of going to the Olympics, Yohe jumped on a moving train as a stunt, lost his balance, fell under and both of his legs were sliced off.
I met Yohe three years ago when I covered the Chicago Blackhawks sled hockey team for a graduate school assignment. The group of hyper competitive, trash-talking guys with disabilities can't skate on two legs, but refuse to give up on hockey. They play the adaptive sport while sitting on a sled and steering and scoring with two shortened sticks.
For me, there was something so thrilling about watching a man who was paralyzed by a stray bullet climb out of his wheelchair and soar across the ice, something so inspiring about seeing a guy whose body is gradually getting taken over by multiple sclerosis check the crap out of his opponent.
But while I became something of a groupie as I covered the team's major tournaments, I was usually the only journalist at the rink. One time, I had to plead with a local Chicago paper to run the story they had assigned me, but threatened to pull at the last minute.
But, thankfully, awareness and media coverage has evolved since then. Attendance soared for the Paralympic Games in London when a record 2.2 million tickets were sold, according to ESPN. While the U.S. was criticized for its paltry coverage of the Paralympics, it did see some improvement. NBC paid nearly $1.2 billion for the rights to the London Olympics, planned more than 5,500 hours of coverage, according to the Associated Press, but aired no live coverage of the Paralympics. It showed just four hour-long highlights and one 90-minute round-up.
So undeniably, in the months leading up to his murder charge, Pistorius' career, and his impact on the disabled community, were just heating up at a critical moment in adaptive sports. And the historic runner didn't shine only when the cameras were rolling on the track.
"Oscar was always a man of great humility with a desire to help others," Mike Kendrick, the charity's founder, wrote in an email to The Huffington Post earlier this month.
To be sure, a murder charge, and even a conviction, cannot undo the boundaries that Pistorius has forever pushed.
Yohe said that people no longer assume he's referring to the Special Olympics when he talks about training for the Paralympics, as some did early on in his career. Ben Simmons, who had his left leg amputated above the knee as a child, said strangers often comfortably approach him to chat about prosthetic technology. Traum said that when he jogs in short pants in Central Park, people no longer gawk as they once did.
While activists agree that Pistorius was critical in bringing disabled athletics into a brighter spotlight, they say they're not concerned about what could happen to the movement if the "Blade Runner" is forced out of sports. For them, Pistorius has left his mark, but it's the grassroots advocacy and technological advancements that will drive it to the next level.
"The awesome part is, [Pistorius] already did it," Yohe told The Huffington Post. "The coming out party was in London, for all amputees out there... I guess somebody else has to step up to the plate."
Calling all HuffPost superfans!
Sign up for membership to become a founding member and help shape HuffPost's next chapter