As Mark Harris wrote for Grantland, this week's wave of Oscar nomination warm-up acts -- The Gotham Awards, New York Film Critics Circle and National Board of Review -- don't amount to a hill of beans.
They are not "precursors" (a word I'd like to see banished from discussions) and their value is idiosyncratic rather than predictive. No movie can be considered to be on an Oscar track because it won something this week, or labeled as "in trouble" because it didn't.
Indeed, Harris is correct, especially with The Screen Actors Guild and the Golden Globes set to announce nominees next week. Yet as the great Lt. Frank Drebin once said, this is our hill. And these are our beans.
Ahead, four observations from the last week in Oscar.
Ryan Coogler could be this year's Benh Zeitlin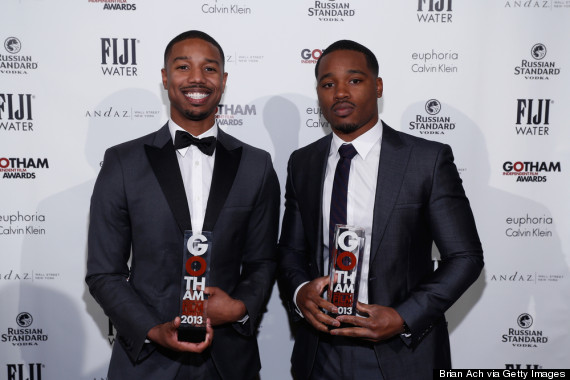 Coogler, the writer-director of beloved Sundance Film Festival debut "Fruitvale Station," won Breakthrough Director from The Gotham Awards, Best First Film from The New York Film Critics Circle and Best Directorial Debut from The National Board of Review. If that illustrious run of praise looks familiar, it's because Zeitlin took home similar honors last year for "Beasts of the Southern Wild," including the same awards from The Gotham Awards and NBR. In the end, Zeitlin was a surprise nominee for Best Director at the Academy Awards, besting big-name filmmakers such as Ben Affleck, Kathryn Bigelow and Quentin Tarantino for a slot in the final five. Like last year, Best Director is tight -- Steve McQueen and Alfonso Cuaron are presumed locks, with David O. Russell, Alexander Payne, John Lee Hancock, Martin Scorsese, Paul Greengrass and Joel and Ethan Coen in a scrum for the final three nods -- but don't be surprised if Coogler makes the cut over many of those bigger names.
Will Forte is probably going to get an Oscar nomination If one subscribes to the notion that Alexander Payne's "Nebraska" is going to be a huge Oscar contender in multiple categories, then it makes sense that Will Forte might wind up as an unlikely Best Supporting Actor nominee. (He won the award from The National Board of Review on Wednesday.) In the former "SNL" star's favor: He's acting opposite two surefire nominees, Bruce Dern and June Squibb, and they have done nothing but praise him on the circuit. More grist for the mill: Forte has a great story -- from "MacGruber" to Oscar! -- much like Jonah Hill had during his "Moneyball" run. The good money is on Jared Leto, Michael Fassbender, Tom Hanks and Hill making up 80 percent of the supporting actor Oscar category, but that last spot is up for grabs. Enter Forte, whose boat should rise with the tide of "Nebraska" support.
Octavia Spencer might get one too Octavia Spencer is a great actress and past Oscar winner who is very good in "Fruitvale Station," but does she really deserve a nod for Best Supporting Actress over her co-star, Melonie Diaz? Maybe not, but that probably doesn't matter. Spencer won Best Supporting Actress from The National Board of Review, and as Best Supporting Actress coalesces into a race between Oprah Winfrey, Jennifer Lawrence, Lupita Nyong'o and June Squibb, the fifth slot might wind up in Spencer's hands. Here's The Wire's Joe Reid doing a great job of explaining why: "There's a phenomenon where Oscar winners (especially those who came from out of nowhere) get a follow-up nomination shortly thereafter, for a performance that's maybe not as flashy/impressive/memorable, but it kind of backs up the win as not a fluke. [...] Anyway, that's what this 'Fruitvale' nod for Octavia feels like."
Emma Thompson is your future Best Actress winner? Apologies to the great Cate Blanchett, but Thompson -- who stomps through "Saving Mr. Banks" with a devilish delight -- is turning into a freight train of momentum, the likes of which hasn't been seen since ... well, since Jennifer Lawrence during last year's awards season. Thompson is crushing it on the campaign trail, all while "Saving Mr. Banks" continues to play very well with voters. Blanchett's performance is one for the ages -- and she won Best Actress from The New York Film Critics Circle -- but there's a chance she peaked too early, if only because of the fact that "Blue Jasmine" came out in July. That might as well be five years ago in awards time.
PHOTO GALLERY
Gotham Awards 2013
REAL LIFE. REAL NEWS. REAL VOICES.
Help us tell more of the stories that matter from voices that too often remain unheard.