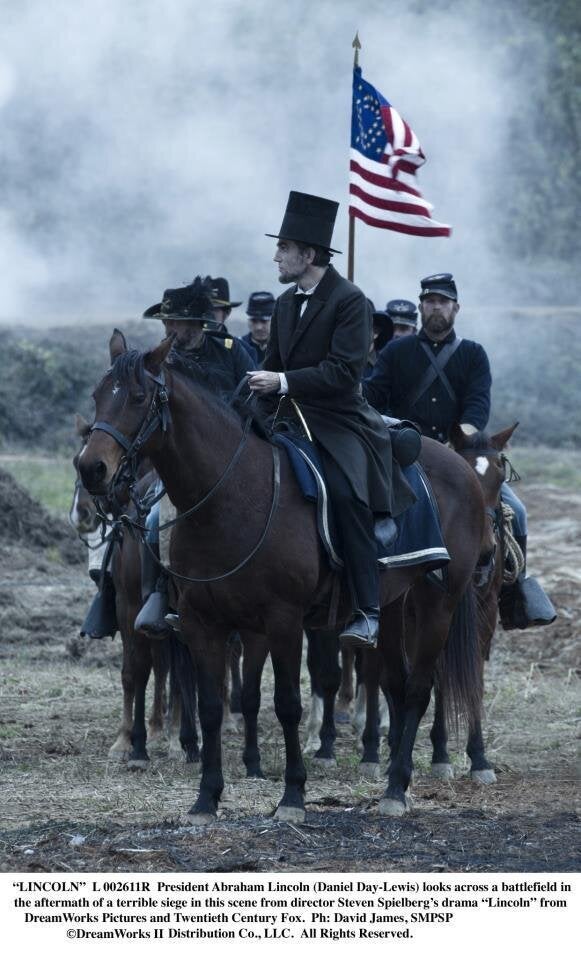 Welcome to For Your Consideration, HuffPost Entertainment's weekly breakdown of all things Oscar. Between now and Feb. 25, 2013, executive arts and entertainment editor Michael Hogan and entertainment editor Christopher Rosen will chat about awards season and which films will make the most noise at the 85th annual Academy Awards.
Rosen: It feels like we started these Oscar chats four score and seven years ago, but according to my basic knowledge of how a calendar works, it has only been four weeks. Time flies during awards season? Of course, pulling a muscle to make that joke about Abraham Lincoln is only a prologue to the week's big news: That Disney has decided to premiere "Lincoln" at the New York Film Festival on Monday night. You and I weren't lucky enough to receive tickets to this soiree -- a "surprise" screening that was spoiled last week by Deadline.com's Nikki Finke; I might resort to sneaking in through the service entrance at Alice Tully Hall -- but many others did. By late Monday night, the stovepipe hat will be lifted off this potential Oscar contender's head once and for all.
What to think of this bold move, which comes on the heels of the excellent new trailer for "Lincoln" that aired during last week's presidential debate? Well, either Disney knows "Lincoln" is legit and has no qualms about screening the film earlier than expected, or the studio executives are panicking. With "Argo," "Life of Pi," "Silver Linings Playbook" and "Les Miserables" already garnering an absurd amount of early buzz -- the latter film without even having screened -- "Lincoln" risks getting left behind before it even debuts. (It's a fate that befell "J. Edgar" last year.) This film has to get in the game, and what better time than right now to do so -- especially with the aforementioned "Argo" set to debut around the country on Friday.
So, not to put too fine a point on this, but: The New York Film Festival debut of "Lincoln" is clothed in immense power.* For the sake of Spielberg, Disney and Daniel Day-Lewis, let's hope the film is the Oscar contender we've been waiting for. After all, you can never have too many front-runners.
*P.S., Can we talk about how that fantastic one-liner -- which, as Mark Lisanti noted for Grantland, is the catchphrase of Oscar season -- sounds edited together? Like Day-Lewis as Lincoln says "I am the President of the United States of America" during one part of the film, and then later says, "clothed in immense power"? Is it just my ears hearing this? [UPDATE: Having just seen "Lincoln," it was. The line is in the film, lock and stock.]
Hogan: Yes, we are certainly seeing a trend here, as yet another Oscar contender decides to debut in a warm, fuzzy festival environment. I suspect Disney saw the collective orgasm that erupted among bloggers invited to the early NYFF screening of "Life of Pi" and thought, "We want to go to there." But to quote Honest Abe, you can't fool all of the people all of the time. If "Lincoln" doesn't deliver, a chorus of oohs and ahs from the friendliest bloggers free drinks and hors d'oeuvres can buy won't help it vanquish the forces arrayed against it.
What that chorus can do, though, is make "Lincoln" even more of a must-see movie for Academy members who are going to have a very short period of time to screen this year's crop of contenders. With its Nov. 16 release date, "Lincoln" has an advantage over films like "Zero Dark Thirty" (Dec. 19) and "Les Miserables" (Dec. 25). But everyone's going to be scrambling, now that the ballot deadline for nominations has been moved up to Jan. 3, 2013. One well-placed insider assures me that many if not most Academy members have no idea (a) that the deadline has been moved up and (b) that they are going to be forced to vote online this year, and the studios seem extra-motivated to make an early case for the unmissability of their titles. I can only imagine that Disney will stock this screening with as many Academy members as they can, which might explain why you and I got frozen out.
So let's talk about that second "Lincoln" trailer, which premiered during Wednesday's real-life presidential debate. First off, I agree with you that the "immense power" line sounds hacked together, and if the director were anyone other than Steven Spielberg, I would guess that some overzealous trailer editor got excited and chopped up the dialogue to create an admittedly awesome kicker. But something tells me people don't do stuff like that to the director of "Schindler's List," so maybe the line is really in the movie. (If it isn't, they should add it now.) I'm not as hot on the trailer as you are: Daniel Day-Lewis' voice still bugs me, much as I admire his allegiance to history (apparently the real Lincoln spoke like a pipsqueak, too), and I'm not seeing overwhelming evidence of serious big-screen action. We've got a battle scene; a visit to a smoking, bloody battlefield (speaking of "Four score and seven years ago"); a pretty riverboat set piece; a burning-building thing; some kind of White House crowd episode; and then lots and lots and lots of shots of old white guys scheming and shouting at each other. Mostly, it's Lincoln, saying stuff that sounds like it should be embroidered on Obama's rug in the Oval Office. The most intriguing moment is when Sally Field says, "God help us for trapping you in a marriage that's only ever given you grief," followed by a shot of Lincoln throwing a temper tantrum. For a minute, it had me wondering, "Wait, did Lincoln have a fascinatingly troubled marriage?" But then I realized that Field is playing Mary Todd Lincoln, Abe's wife, so she's clearly talking to someone else -- presumably Joseph Gordon Levitt, as Abe's eldest son, who shows up for about one second in the trailer.
Here's the part where I admit that it's completely unfair of me to judge the movie based on a TV commercial. And then here's the part where, nevertheless, I point out that the movie's central conflict appears to pit Lincoln, who wants peace and an anti-slavery amendment to the Constitution, against all those who say he can have one or the other -- or neither. That's important and interesting from a historical perspective, but I'm wondering if it will sustain what I can only imagine will be a 150-minute Spielberg epic. But you know me, Chris: I prefer Spielberg's action movies to his "important" ones.
But enough about "Lincoln": let's talk about "Argo". Care to venture a guess as to how much it will make when it opens this coming weekend? Is there a number it has to hit to retain its front-runner glow?
Rosen: The thing neither of us can sleep on, no matter how "Lincoln" plays for the lucky bloggers and Academy members on Monday night, is that this film is all but locked-in for a Best Picture nomination. Not to slag "War Horse" -- which I actually quite liked -- but if that film can land on the short list for Oscar, you better believe "Lincoln" will. The only debate is in the number of nominations: Does "Lincoln" go house and earn in the double-digits or sputter to five or six?
As for "Argo," Warner Bros. is probably hoping it replicates the opening weekend of "The Departed." Martin Scorsese's future Best Picture winner opened with a better-than-expected $26.8 million on Oct. 6, 2006, en route to winning the gold. Ben Affleck's own "The Town" is another yardstick; it earned $23.8 million after opening on Sept. 17, 2010, but fell short of the Best Picture lineup. Both of those films, however, were crime thrillers with boisterous trailers. Affleck's film is a tough sell for audiences: A period drama about hostages, but also Hollywood and bad hair? "Argo" will probably come close to $20 million for its opening, and could hit $80-$90 million by the time the Academy Awards air on Feb. 24, 2013. (As we know, the dirty secret of how box office affects the Oscars is that it doesn't until it does.)
You mentioned the short voting window, which makes me wonder if a film like "Anna Karenina," out in early November, will make some major noise this year at the expense of something like "Les Miserables." Joe Wright's adaptation is sort of like "The Artist": An old-fashioned story told in a modern way. This version of "Anna Karenina" is set on a giant stage and performed like a musical without the music. Keira Knightley is fantastic (lock her down for a nom), Jude Law is sneaky affecting, and Wright has had success before with "Atonement" and "Pride and Prejudice." Could Leo Tolstoy's epic of Russian oligarchy be the film that surprises everyone with 10 nominations? Could Knightley, in a weak category, win her first Oscar?
One more thing: Anthony Breznican wondered if "Looper" could find itself as an Oscar nominee for Best Original Screenplay, like both "The Usual Suspects" and "Eternal Sunshine of the Spotless Mind" did previously. Those films won the award, so should Rian Johnson start getting his acceptance speech ready?
Hogan: OK, "Lincoln" may indeed be a lock for a Best Picture nomination, since there are so many to give away, but the real question is will it get a nod for Best Director. There are still only five slots there, and it's effectively unthinkable that a movie would get locked out of that category and go on to win Best Picture.
One potential problem for "Argo" is the awkward concurrence of Mideast mission movies this year. No one has seen Katherine Bigelow's "Zero Dark Thirty," which dramatizes the successful hunt for Bin Laden, but everyone assumes it will be amazing. And in terms of sheer topicality, it's going to be hard for Affleck's Iranian Hostage Crisis movie to stand up to Bigelow's "We Whacked Osama" picture. Do you think Team Argo has to worry about becoming the "Buried" to Bigelow's "127 Hours"?
Regarding "Looper," I'd like to caution you against getting your hopes up too high. You were the first to compare it to "Drive," and I think the comparison is apt. This is a movie that inspires a lot of people under 40 but may not make a lot of sense to those over 50. An original screenplay win for Rian Johnson sounds a bit optimistic, but I suppose it's possible, given how many of this year's contenders are adaptations. (Even "Argo" is based on a Wired magazine article.)
We keep talking about the same movies, and meanwhile Americans across the country have voted with their pocketbooks -- for the critically annihilated "Taken 2"! Ever get the feeling we're living inside a Chris Rock routine?
Rosen: That sound you just heard was everyone at Warner Bros. bursting into tears when you compared "Argo" to "Buried." How do you even remember "Buried"?! Wonders never cease, I guess!
I don't think Team "Argo" should worry about Team Bigelow just yet, but the film's setting could be cause for concern. Time and again, audiences have ignored movies set in and around the Middle East. (It seems people don't want to their escapist entertainment to mirror the nightly news. Weird.) None of that mattered for "The Hurt Locker," which won Best Picture despite earning less than $20 million, but that could come into play if "Argo" flops. Again, I don't think it will -- Affleck's film is apparently an audience friendly thriller and not "In the Valley of Elah" -- but it's probably in the back of someone's mind.
Right now, I might leave Spielberg off the Best Director list. The field is entirely too strong this year, with Bigelow, Tom Hooper, David O. Russell, Affleck, Quentin Tarantino, Ang Lee and Paul Thomas Anderson among the many vying for one of those five nominations. Speaking of which, remember when everyone -- including you and I -- were doing cartwheels over "The Master"? One month and just over $10 million in ticket sales later, it almost feels like a distant memory. Did P.T. Anderson peak too soon? Let's hold off on pushing that panic button until next week.
As for "Taken 2" and America's infatuation with watching Liam Neeson break necks, call me a relentless optimist, but I think the movies we're talking about have tremendous audience potential. "Argo," "Les Miserables," "Life of Pi," "Lincoln" and "Silver Linings Playbook" -- which just picked up another audience awards at the Hamptions Film Festival -- are all films that I could see breaking $100 million at the box office. In that regard, the lineup reminds me of 2010, when "The King's Speech," "The Fighter," "The Social Network," "True Grit," "Toy Story 3," "Inception" and "Black Swan" all earned Best Picture nominations. The old "Field of Dreams" line is right: If you build it, they will come. On paper, this year's crop of Oscar contenders has built it; now it's time to watch the audiences come.
It's either that or twiddle our thumbs until "Taken 3."
Popular in the Community