 Welcome to For Your Consideration, HuffPost Entertainment's weekly breakdown of all things Oscar. Between now and Feb. 25, 2013, executive arts and entertainment editor Michael Hogan and entertainment editor Christopher Rosen will chat about awards season and which films will make the most noise at the 85th annual Academy Awards.
After months of speculation -- have we really been doing this since September? -- and endless rounds of red-carpet foreplay, it's almost time to hand out a new set of naked metal guys at the 85th annual Academy Awards. Will Ben Affleck's "Argo" manage to sneak a Best Picture envelope past customs? Can anyone challenge Daniel Day-Lewis and Anne Hathaway? Will Jennifer Lawrence pull a Sharpie out of her decolletage, sign her statuette and hand it over to a fan, Terrell Owens-style? We'll find out for sure on Feb. 24, when ABC broadcasts the Oscars live from the Dolby Theatre, in Los Angeles.
Until then, all we can do is bet money on the outcome. So before you fill out your Oscar pool, check out our picks below. We've spent far too much time and energy thinking about this, so you might as well reap the benefits.
I'll admit it: I've been gunning for "Lincoln" ever since the movie opened, and I thought its league-leading 12 nominations meant certain victory. But "Argo" has absolutely torn up the precursor awards, winning Best Picture equivalents at the Golden Globes, the PGA's and the SAG's, to name just a few. I don't know if people are pissed that Affleck got snubbed for Best Director or if they just really, really like the movie (its Rotten Tomatoes score stands at 97%), but I have a feeling they'll be partying in the embassy on Oscar night.
It's always dangerous to put too much stock in the Oscar precursors, but the momentum that "Argo" has at the moment feels like a legitimate movement. But should we even be surprised? "Argo" was always the mainstream movie that everyone could agree on -- it's not "boring," like "Lincoln"; it's not controversial, like "Zero Dark Thirty"; it's not a comedy, like "Silver Linings Playbook." The only bump in its road to Best Picture was Affleck's unforgivable Best Director snub. That's the anomaly here. To one-up your hack "Argo" reference: "Lincoln" is stuck at the gate.
Hogan's Pick: Steven Spielberg, "Lincoln"
I always thought Affleck was going to win this category -- until he got snubbed, along with Kathryn Bigelow and Tom Hooper. You might almost say it was an honor not to be nominated for Best Director this year. Still, I think Spielberg deserves credit for (a) hiring Tony Kushner, (b) casting Daniel Day-Lewis, Sally Field, Tommy Lee Jones and the rest of the amazing cast and (c) making a movie that earned 12 freaking nominations.
Rosen's Pick: Michael Haneke, "Amour"
Record scratch! This pick is straight-up insane, and I have nothing to base it on except this: "Amour" had a surprisingly strong showing with the Academy for a foreign film, earning an almost unheard-of five nominations, including Best Picture, Best Actress and Best Original Screenplay. The support for "Amour" runs deeper than we might assume. Which means, in a weak category that managed to ignore Affleck, Bigelow and Tarantino, Michael Haneke could sneak in and steal the trophy. Your pick of Spielberg obviously makes sense -- as would Ang Lee -- but both of those guys are boring. More important, they've won and they'll be here again. Who's to say when Haneke will have another shot?
Hogan's Pick: Jennifer Lawrence, "Silver Linings Playbook"
I held out for so long. I picked Jessica Chastain before even seeing "Zero Dark Thirty." Then, when I saw it and realized Chastain doesn't do anything but glower for three hours (it's exquisite glowering, I should add), I changed my vote to Quvenzhané Wallis of "Beasts of the Southern Wild." But J-Law won a Globe and the SAG, and I think she's dancing all the way to the Dolby podium. Who's cutting the gif of Naomi Watts' B-face?
Rosen's Pick: Jennifer Lawrence, "Silver Linings Playbook"
Hogan's Pick: Daniel Day-Lewis, "Lincoln"
Is the sky blue? Is the Earth round? Does Harvey Weinstein keep a voodoo doll of Daniel Day-Lewis in his desk drawer, right next to the "Fruitvale" marketing deck? Will DDL win anyway? Yes, yes, yes and yes. A thousand times yes! Next category!
Rosen's Pick: Daniel Day-Lewis, "Lincoln"
Four score and seven years ago, we all picked Daniel Day-Lewis to win Best Actor. Today, we still are.
Hogan's Pick: Anne Hathaway, "Les Misérables"
I get why people hate on Anne Hathaway -- it might be a little too obvious how badly she wants this Oscar. But I, for one, respect the fact that she's in it to win it and actually cares about this whole ridiculous carnival that (have I mentioned this?) I've spent a sizable portion of the past six months thinking and writing about. Sure, she's being rewarded for a single musical number -- but what a number! And what else are you going to do? Give Sally Field her third Oscar?
Rosen's Pick: Anne Hathaway, "Les Miserables"
Perhaps we're not giving enough credit to Hathaway: In an iffy year for supporting actresses -- where two nominated actresses, Helen Hunt and Amy Adams, arguably gave lead performances -- Hathaway has been the front-runner since August. That she lived up to all that advance hype is a minor miracle. She deserves this award more than every other actress in this category combined.
Hogan's Pick: Tommy Lee Jones, "Lincoln"
He's cranky in the movie. He's cranky on the awards shows. At least he doesn't wear a ridiculous wig on the awards shows. And he's already got an Oscar -- but so does everybody else in this category. At the end of the day, though, Tommy Lee Jones gives a soulful performance as Thaddeus Stevens, a wily old abolitionist who puts his ideals on the back burner for the greater good. I say give him the damn trophy so he can go home and take a nap.
Rosen's Pick: Robert De Niro, "Silver Linings Playbook"
Best Supporting Actor is the one acting category still relatively up for grabs; you could make an argument for any of the five actors winning here. My argument goes for De Niro, who gives his best performance in a decade in "Silver Linings Playbook" and hasn't won an Oscar since 1981. (Paging Meryl Streep ...) He's not necessarily due, but rewarding De Niro, at the very least, might keep him from co-starring with 50 Cent in another movie. (A boy can dream.) This story appears in the special Oscar issue of our weekly iPad magazine, Huffington, in the iTunes App store, available Friday, Feb. 8.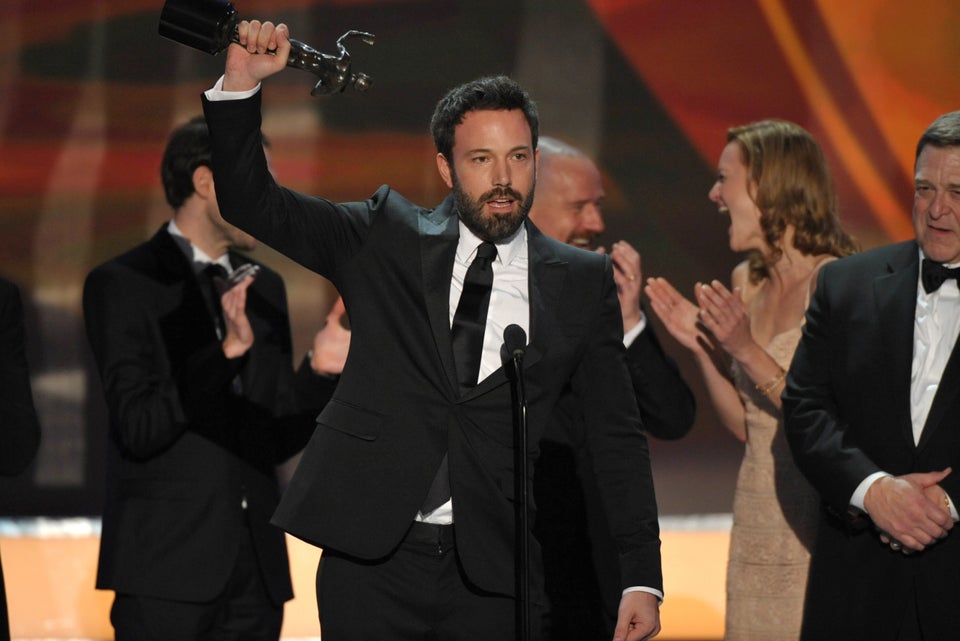 SAG Awards 2013