 I created my Oscar predictions in real-time, because real-time movement is an important part of my basic research into predictions, not because I thought the Oscars would provide an interesting domain for movement; I was wrong. In category after category significant movement in the likely winner provides a window into the power of certain events that occurred on the road to the Oscars. These events include regularly scheduled events, such as awards shows, and idiosyncratic events, such as prominent commentary on certain movies.
Every prediction I do is in real-time for two reasons. First, real-time predictions provide the most updated prediction for the end user whenever that user needs them. For example, it is easy to see with economic or financial predictions that knowing the likely outcome is an important part of major decisions that happen continuously. Movement is a good thing in predictions, because it demonstrates that predictions are absorbing new information that affects the outcome we are predicting. Second, real-time predictions provide a granular track record to explore when/why movements occur (i.e., what things actually impact the final outcome). Granular predictions allow me to judge the value of a debate or big advertisement buy or vice-presidential choice or an awards show, something that cannot be isolated with less regular indicators.
The most obvious movement has been in the best picture category, where Lincoln's original lead has collapsed as award show after award show favored Argo. Shortly after the nominations were released, Argo was in a distant second place to Lincoln at just 8 percent likely to win. Yet, all of these wins brought Argo to 93 percent.
This theme carried into the adapted screenplay category, where a commanding lead by Lincoln is now a tight proxy fight with Argo. Our data are demonstrating a strong positive correlation between the outcomes of these two categories. Lincoln started off with a smaller lead, 70 percent likely to win to best adapted screenplay. And, the change has not been as dramatic with Argo leading slightly at 57 percent.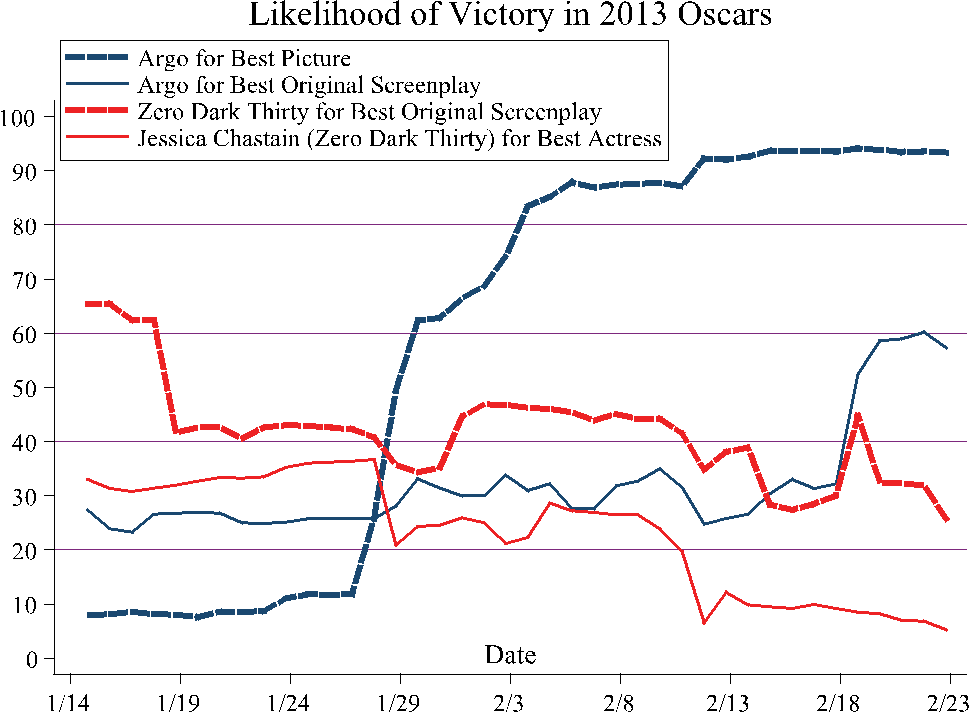 Sources: Betfair, Hollywood Stock Exchange, Intrade, WiseQ (detailed at PredictWise.com)
Zero Dark Thirty's likelihood has fallen in nearly every one of its strongest categories including best actress and original screenplay. The implication is that the increased scrutiny of Zero Dark Thirty's depiction of torture will hurt it with the voters. Just after the nominations were released, Zero Dark Thirty's Jessica Chastain was a viable 28 percent to win best actress, but that has plummeted to 5 percent in the last few weeks. Similarly, Zero Dark Thirty was 65 percent likely to win for best original screenplay. Amour and Django Unchained were distant second and third at about 13 and 17 percent likelihood. Today we have Django Unchained leading with 47 percent and Zero Dark Thirty nearly tied with Amour around 25 percent.
By the time this Oscar night concludes we will have a much richer understanding of the value of the awards show and the cost of negative publicity.
Popular in the Community