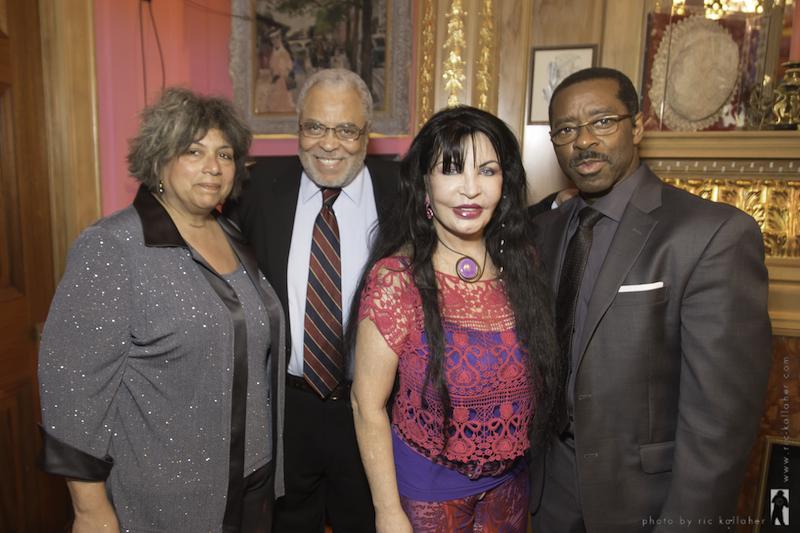 Linda Earle, President of Inclusion in the Arts, Honoree James Earl Jones, Host Loreen Arbus & Presenter Courtney B. Vance.
Congratulations to James Earl Jones, the true Alpha Dog. What is an "alpha dog?" By definition, an alpha dog is someone who is seen as brave, confident, strong and successful in his or her own right. An individual who exudes this alpha personality while overcoming obstacles and paving the way for change in the world for the better is James Earl Jones.
As a veteran army ranger and multi-award winning icon, Jones has dazzled and inspired audiences with his incomparable talent and passion both on and off the stage. Participating in such shows as Field of Dreams, The Hunt for Red October and The Lion King, he has demonstrated his grand power.
James Earl Jones has become one of America's most distinguished and versatile actors in history. His experience spans from theater to featured films to television shows. Jones has received countless awards, like an Honorary Academy Award, Eugene O'Neill Theater Center Monte Cristo Award and Marian Anderson Award, just to name a few.
With experience in well over a hundred and fifty acting roles and having already received countless awards for his efforts, it comes to no surprise that Jones was the recipient of the Inclusion in the Arts' Champion of Diversity award.
Inclusion in the Arts is a non-profit group based in New York City that bestowed its first ever Champion of Diversity award to Mr. Jones. As Vice-President and Co-founder, Joanna Merlin stated, "Throughout James Earl Jones' creative life, he has expanded the artistic possibilities of theatre, film and television. In the process, he has opened doors for countless artists of color and forged the path for generations to come."
Merlin was not the only individual singing the praises of Jones; there are many public figures who followed suit. Loreen Arbus, television producer and president of the Loreen Arbus Foundation stated, "Jones resembles, to me, a German Shepard alpha dog. He is incredibly intelligent and handles his responsibilities with elegance and charm."

Courtney B. Vance, 2013 Tony Winner, presented the Champion of Diversity award to James Earl Jones. Along with the award, Vance delivered a beautiful song that exemplified Jones. The song, "Old Dog Blue," from the Broadway show Fences, is symbolic of a right of passage from Jones' character to Vance's character:
'Old Dog Blue'

I had an ole' dog his name was Blue
You know Blue was mighty true
You know Blue was a good ole' dog
Blue treed a possum in a hollow log
You know from that he was a good ole' dog.
Hear it rang! Hear it rang!!

Blue treed a possum out on a limb
Blue looked at me and I looked at him
Grabbed that possum and put him in a sack
Ole' Blue stayed there till I came back
Ole' Blue's feets was big and round
Never allowed a possum to touch the ground.

But Ole' Blue died and I dug his grave
I dug his grave with a silver spade
Let him down with a golden chain
And every night I called his name,
'Go on Blue you good dog you!'
'Go on Blue you good dog you!'

Blue laid down and died like a man
Blue laid down and died like a man
Now he's treeing possums in the Promised Land!
I'm gonna tell you this to let you know:
Ole' Blue's gone where the good dogs go.
When I hear ole' Blue bark,
When I hear ole' Blue bark,
Blue treed a possum in Noah's Ark,
Blue treed a possum in Noah's Ark!

'...That's the way that go!'
"James Earl Jones is like a great dane alpha dog, he is kingly and majestic, that is what draws you to him," Vance professed. "Old Dog Blue" does not only pertain to the play, but is relevant to James Earl Jones' real life as well. Jones is a leader whose success will forever be remembered and passed on as an inspiration to others. His contributions have made up the fabric of change for the past generation.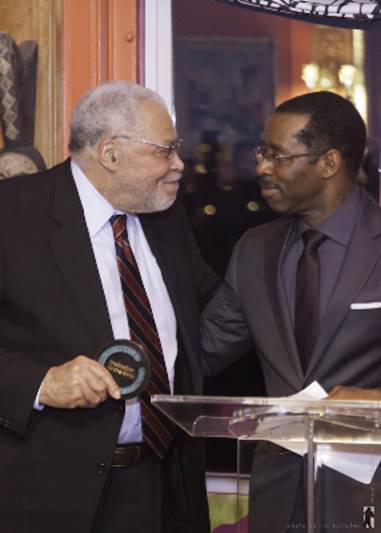 Oscar Winner James Earl Jones receives the Inclusion in the Arts Champion of Diversity Award presented by 2013 Tony Award winner Courtney B. Vance.
Seen as one of the first black actors of his time, Jones graced the stage with confidence and bravery for the first time in 1955 as Othello in Othello. During this time, black actors were a spectacle to which audiences were unaccustomed. As Jones performed on stage, he inspired not only the black community, but also others who identified as being different or at a disadvantage.
Linda Bove, a deaf Sesame Street cast member noted, "You did not see actors of a diverse background. There were not many individuals to look up to with any obvious disadvantages or of various backgrounds that strayed from the norm." Inspired by James Earl Jones, Bove used what she believed was her disadvantage and put it to good use. As thousands of children watched her on Sesame Street, she taught them how to use sign language as another form of communication.
Like Bove, James Earl Jones struggled, especially in his younger years, with speaking. As a young man Jones developed a stutter that eventually resulted in him becoming mute until high school. Jones was able to vault over this hurdle by relearning how to breathe properly.
"Breathe. That was the only one thing that helped to combat stuttering," Jones explained. "Breathing was the way to get to a natural rhythm of language."
In addition to relearning how to breathe, James Earl Jones discussed how an unlikely source also helped him to recover. Jones said, "A teacher helped me with poetry, and poetry has a rhythm to it that is quite natural, even to the heartbeat. Iambic pentameter in Shakespeare is like a heartbeat. If you connect with that, speaking is much easier." This poetry is what guided him to the theater and later an icon.
Aside from theater and film, James Earl Jones also accredits himself as a veteran and places himself in alignment with our purpose at Animal Fair because of our mutual concern with soldiers affected by PTSD, post traumatic stress disorder. Although Jones claimed that he never had any signs of PTSD after fighting in the Korean War, he admitted to having panic attacks.
Mr. Jones stated, "I had plenty of panic attacks in the army. I will never forget them." Jones struggled emotionally while serving his country, but was able to exercise strength and demonstrate remarkable courage by becoming a crucial part of society as an actor, performer and role model to a generation.
One might say that James Earl Jones has "worked like a dog" and has played a tremendous role in today's society. Jones has been a tireless fighter while inspiring change through his arts and actions as a veteran. If one had to categorize his role in theater, particularly with respect to those who needed an anchor and role model, he would be characterized as the Alpha Dog of the era. Congratulations Mr. Jones, the award is well deserved! You have bow-wowed us.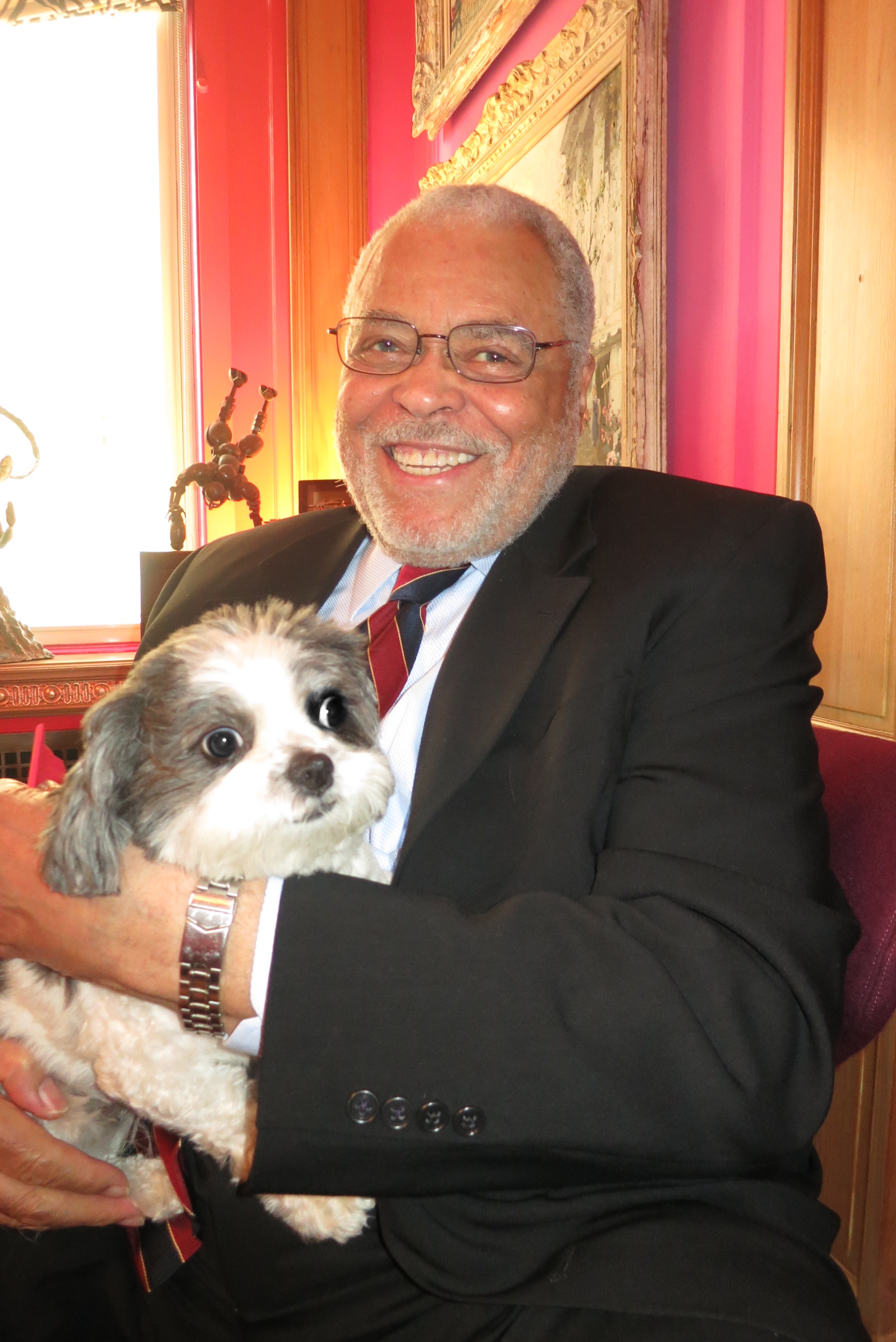 Baby Hope poses with James Earle Jones.
To learn more or help bring awareness to those affected by PTSD, click here.
Click here to learn more about the Inclusion in the Arts Program.
Related
Popular in the Community