In the history of film, Kevin Brownlow is unique. The British documentary filmmaker, preservationist and author is the first and only film historian to have won an Academy Award.
Last year, the Academy of Motion Picture Arts and Sciences honored Brownlow for his lifetime achievement alongside Jean-Luc Godard, Eli Wallach and Francis Ford Coppola. That's pretty good company for someone who works behind the scenes and is little known to the movie going public.
"Mr. Brownlow is a giant among film historians and preservationists, known and justifiably respected throughout the world for his multiple achievements," wrote Martin Scorsese in his nomination letter. Scorsese, well aware of film history and the artists who preceded him, has just released Hugo, his own valentine to early filmmaking.
Last week, Brownlow gave two presentations in Washington D.C. The film historian spoke at the National Gallery of Art about his decades long effort to restore Abel Gance's epic 1927 film, Napoleon. The following day, Brownlow gave a talk at the Library of Congress about his many other efforts to preserve the cinema of the past. And on December 1st, the film historian spoke at Emory University in Atlanta, Georgia.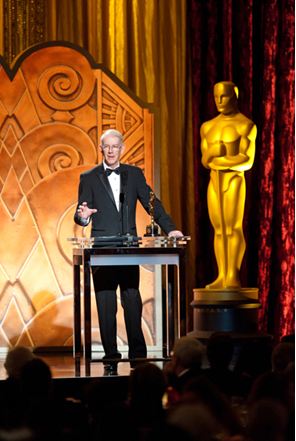 As a film historian, author, documentary film maker, preservationist, and long-time champion of the silent cinema -- Brownlow's importance cannot be overestimated. His 1968 book, The Parade's Gone By, helped shape film history as well as a generations of film scholars and enthusiasts. And his 1979 television series, Hollywood, which aired to great acclaim on both the BBC and PBS, set the standard for every serious film documentary which followed. It runs more than 12 hours, and is smart, stylish, compelling, and very good. Despite its epic length, it never seems long and leaves you wanting to see every film it highlights.
[Pictured right: Kevin Brownlow accepting his Oscar® Photo courtesy of Academy of Motion Picture Arts and Sciences]
Brownlow's other documentaries -- some of which first aired on either British or American television -- include Abel Gance: The Charm of Dynamite (1968), Unknown Chaplin (1983), Buster Keaton: A Hard Act to Follow (1987), Harold Lloyd: The Third Genius (1989), D.W. Griffith: Father of Film (1993), Cinema Europe: The Other Hollywood (1996), Lon Chaney: A Thousand Faces (2000), Cecil B. DeMille: American Epic (2004), Garbo (2005), and I'm King Kong!: The Exploits of Merian C. Cooper (2005). There are others as well. Each is excellent.
Brownlow has authored a number of significant books besides The Parade's Gone By. They include The War, the West, and the Wilderness (1979), Hollywood: The Pioneers (1979), Napoleon: Abel Gance's Classic Film (1983) - regrettably out of print, Behind the Mask of Innocence (1990), David Lean: A Biography (1996), and Mary Pickford Rediscovered (1999). Last year, UKA Press in England issued The Search for Charlie Chaplin.
Two other books, How It Happened Here (1968) and Winstanley Warts and All (2009), are Brownlow's behind the scenes account of the making of his own indie films; each was shot in the 1960's, and in recent years each has found release on DVD.
There is more. Brownlow has also been intimately involved in the restoration of a number of landmark films. Among them are Rex Ingram's 1921 blockbuster The Four Horsemen of the Apocalypse, King Vidor's sublime The Crowd (1928), and the Douglas Fairbanks' gorgeous fantasy The Thief of Bagdad (1924). There are nearly two dozen others as well, including the original Ben-Hur (1925) and the first film to win an Oscar, Wings (1928).
Now in his seventies, Brownlow first saw a fragment of Gance's Napoleon while a teenager in Britain. He was wowed. Since then, he has made it his life's work to restore this mutilated masterpiece; to that end, Brownlow has spent years and traveled the world in search of missing elements from the much heralded work. The current version, which Brownlow will speak about at Emory and which will premiere in the United States next year, now stands at an epic 5 1/2 hours.
This summer, the San Francisco Silent Film Festival announced it will present Napoleon in its complete restoration in four special screenings at the Paramount Theatre in Oakland, California on March 24, 25, 31 and April 1, 2012.
Next year's presentation at the 3,000-seat, Art Deco Oakland Paramount will be accompanied by a symphony orchestra playing an original score by Carl Davis - and climaxed by the film's finale in "Polyvision" -- an enormous triptych employing three specially installed synchronized projectors that will dramatically expand the screen to triple its width. Each screening will last approximately 8 hours, and will include three breaks.
The logistics and expense of properly screening Napoleon with full orchestra and special equipment have made it especially difficult to mount. Despite its legendary status, the French epic hasn't been screened theatrically in the U.S. for nearly 30 years -- and there are no plans to repeat the event in any other American city -- or to release it on DVD.
When Brownlow's original restoration (shorter and less refined than the current version) of Napoleon played in selected cities in 1979, movie goers lined up around the block. In New York City, thousands turned out at the massive Radio City Music Hall. Because of demand, additional shows were added time and again. And each sold out.
Then, Napoleon was the film event of the year. History, it's expected, will repeat itself in 2012.
Thomas Gladysz is an arts journalist and early film buff. He is also the founding director of the Louise Brooks Society, and online archive and international fan club devoted to the legendary silent film star. Gladysz has organized exhibits, contributed to books, appeared on television, and introduced the actress's films around the world. In 2010, he edited and wrote the introduction to a new "Louise Brooks Edition" of Margarete Bohme's The Diary of a Lost Girl.
Popular in the Community