Patricia Arquette remembers a time when Hollywood icons spoke their mind. There was Jane Fonda, blacklisted for years over outcry against the Vietnam War, and Marlon Brando, who infamously sent activist Sacheen Littlefeather to decline his Oscar for The Godfather in protest of big screen stereotypes of Native Americans.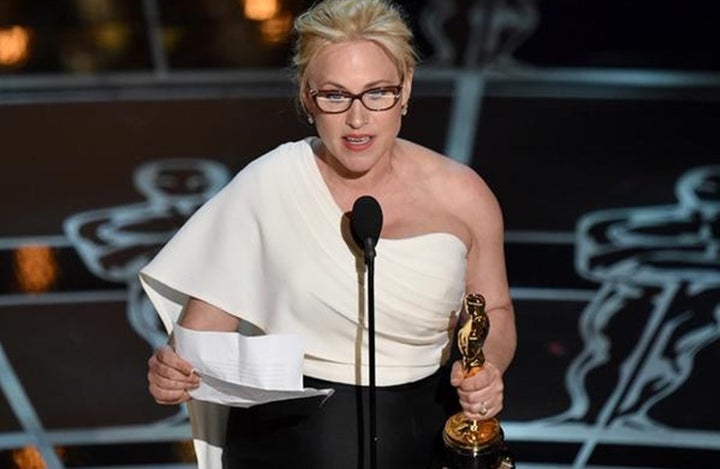 Arquette stepped into the realm of such legends at the 2015 Oscars, where she was honored for her role in multiple nominee Boyhood. After rattling off the expected list of platitudes, the "Best Supporting Actress" victory became her platform to address the gender-based pay gap in America.
"To every woman that gave birth, to every taxpayer in this nation, [women] have fought for everybody else's equal rights," Arquette famously declared as she clutched her newly-won statuette. "It's our time to have wage equality, once and for all, and equal rights for women in the United States of America."
The choice likely cost her future roles, the star admitted. However, she stated emphatically: "I don't care."
"I've had a great career, and I'm very grateful for it, but I'm not going to not be a human being," Arquette told Podomatic's No. 1 LGBTQ Podcast. "I'm not going to not notice what's happening to my brothers and sisters all over the place. I can't ignore that."
During her lifetime, Arquette says, the movie industry has changed dramatically. She has watched Tinseltown transition from stand-alone "movie companies" to "giant, worldwide conglomerations."
Now with celebrities answering to companies like Sony – which produces everything from home electronics to feature films – far fewer are willing to rock the boat politically. She fears the shift toward silence on politics is going to increase as time marches forward.
"It's only going to get worse – that artists are going to be less and less verbal because there will be ramifications," she maintained. "Even if it's unspoken, they will happen."
Stars once used their power to call attention to injustices in the world, Arquette recalls. Now the number "willing to be really vocal political activists" has dwindled enough to be counted "on your hand," she said. Certainly, the award-laden actress ranks among those.
"I definitely see myself at odds in certain situations because of that, but I'm ok with it," she said, noting: "I'm also in a really privileged position to be able to even say that. I've been successful for a long time."
A quick glance at the Emmy Award-winning Medium star's social media proves exactly how aware Arquette is of the state of today's world. Her Twitter feed (@PattyArquette) is filled with politically-charged subjects as far-ranging as outrage over the President to information about people of color who have gone missing with limited media coverage.
WATCH: Patricia Arquette's Oscar Acceptance Speech
"We're in a really critical time," she said. "And, for me, I don't feel correct not speaking up and being political."
Of particular interest to Arquette, of course, are issues relating to the queer community. Younger sister Alexis Arquette came out first as gay, then transitioned in the public eye before tragically passing away in 2016 as the result of complications of AIDS.
During an often raw 45-minute interview, the first in a powerful two-part series the podcast plans for the star, Arquette seamlessly moved from laughter one moment to tear-inducing recollections of her younger sister's life the next. She recalled how Alexis was embraced by siblings Rosana (Desperately Seeking Susan), David (the Scream franchise) and Richmond (The Curious Case of Benjamin Button) each step of the way.
"I really think Alexis' personal journey of finding herself exposed our whole family to the LGBTQ experience," said the elder Arquette, who will discuss the AIDS-related passing of her sister in-depth on the broadcast set for release Oct. 4.
Though she is certain she "would still have empathy" for the queer experience, her long-standing interest in and commitment to the community would have been different without Alexis, Arquette admits. "It's different when it's someone you love," she said.
"It's one thing when you read about a 'political agenda,'" Arquette admitted. "But when you're hearing about someone being discriminated against by a nurse or a doctor or trying to get a cup of coffee?"
During her sister's life, Arquette says she either witnessed first-hand or heard of "thousands" of such experiences Alexis faced. It opened her eyes in ways which would have been otherwise impossible.
"All of these whittling away, dehumanizing experiences you see your loved one go through really educate you to how it is to be LGBTQ in America -- or how it has been," she stated.
"I think it is changing…for the better, but every time you turn around, there's some new governmental push to take away basic human civil rights for the LGBTQ community and silence them," Arquette acknowledged. "It's pretty terrifying."
To that end, Arquette feels an obligation to continue to use her celebrity to shine the spotlight on causes of significance. Whether in interviews or via social media, she takes every opportunity to raise awareness, share information and inspire like-minded individuals .
"Unless things change radically, I think we're at the tail end of real free social expression," Arquette concluded. "I want to experience it and be part of it as long as possible."
LISTEN: Patricia Arquette Discusses Queer Rights, Politics, Evolving Hollywood, Transgender Sister Alexis on Party Foul Radio.
REAL LIFE. REAL NEWS. REAL VOICES.
Help us tell more of the stories that matter from voices that too often remain unheard.