1. Supporting Actor: Christoph Waltz, "Django Unchained."
2. Animated Short Film: "Paperman."
3. Animated Feature Film: "Brave."
4. Cinematography: "Life of Pi."
5. Visual Effects: "Life of Pi."
6. Costume: "Anna Karenina."
7. Makeup and Hairstyling: "Les Miserables."
8. Live Action Short Film: "Curfew."
9. Documentary (short subject): "Inocente."
10. Documentary: "Searching For Sugar Man."
11. Foreign Language Film: "Amour."
12. Sound Mixing: "Les Miserables."
13. Sound Editing (TIE): "Skyfall," "Zero Dark Thirty."
14. Supporting Actress: Anne Hathaway, "Les Miserables."
16. Production Design: "Lincoln."
18. Song: Adele, "Skyfall."
19. Adapted Screenplay: Chris Terrio, "Argo."
20. Original Screenplay: Quentin Tarantino, "Django Unchained."
21. Director: Ang Lee, "Life of Pi."
22. Actress: Jennifer Lawrence, "Silver Linings Playbook."
23. Actor: Daniel Day-Lewis, "Lincoln."
Jean Hersholt Humanitarian Award: Jeffrey Katzenberg
Honorary Award: Hal Needham
Honorary Award: D.A. Pennebaker
Honorary Award: George Stevens Jr.
Award of Merit: Cooke Optics
The Academy Awards was set to include a tribute to James Bond, performances from Adele and Barbra Streisand and a host of other goodies. More from the Oscars is available in the live blog below.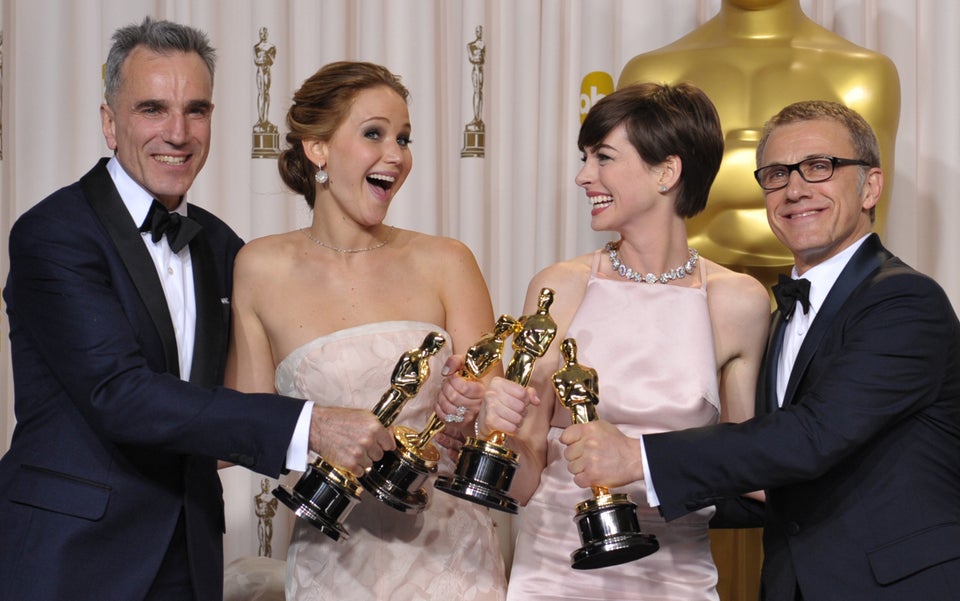 Oscars 2013: Winners' Press Room