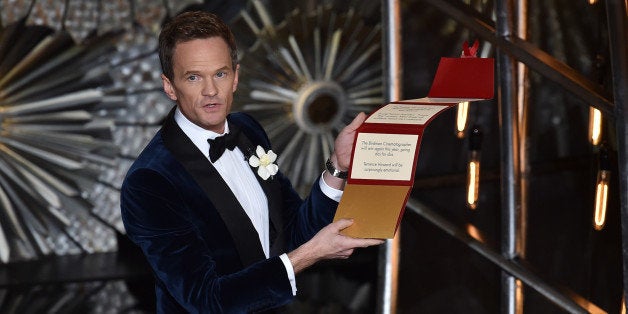 It took Richard Linklater 12 years to make "Boyhood," and it felt like it took 13 to get through the Oscar ceremony that snubbed his movie. We made it out alive by the skin of Neil Patrick Harris' lame jokes. Snark aside, a handful of Oscar moments did distract from the epic length of Sunday's awards. Below, the best and worst.
BEST: The opening number. We won't waste our breath bemoaning the cliché of A) musical numbers about the year's nominees or B) Neil Patrick Harris singing at award shows, because that is useless. Instead, we'll praise the clever opening, which got the #OscarsSoWhite and #CumberbatchGonnaLose jokes out of the way within seconds and rapidly segued into chirpy appearances from Anna Kendrick, Jack Black and a few Stormtroopers (via a song composed by "Let It Go" writers Robert Lopez and Kristen Anderson-Lopez, no less).
Grade: 7
WORST: NPH's recurring joke about the lock box. Octavia Spencer didn't understand what was going on either.
Score: 4.5
BEST: "Ida" director Paweł Pawlikowski's speech. He ignored the music cues and continued talking for a full minute, and we didn't complain once. It's Poland's first Academy Award in the category!
Grade: 7.5
BEST: "Everything Is Awesome." If you said to yourself after about an hour, "This would be so much better on acid," then you were probably quite pleased with the raucous performance of this "Lego Movie" sensation. The Lonely Island! Tegan and Sara! Questlove! And, far more importantly, Oprah holding a Lego Oscar.
Grade: 8.5
BEST: Emmanuel Lubezki's second consecutive Best Cinematography win. The guy has shot what feels like every beautiful movie of the past 20 years, and it took him five nominations ("A Little Princess," "Sleepy Hollow," "The New World," "Children of Men" and "The Tree of Life") before he finally won last year for "Gravity." His "Birdman" victory is equally deserved.
Grade: 8
BEST: Meryl Streep quoting Joan Didion during the In Memoriam intro. Seriously, these shows should be renamed the Streeps.
Score: 7
WORST: Joan Rivers and Elaine Stritch's omission from In Memoriam. Rivers not only revolutionized the red carpet; she also wrote and directed 1978's "Rabbit Test" and notched credits in a handful of other titles during her long career. Elaine Stritch shared screentime with Rock Hudson ("A Farewell to Arms"), Ellen Burstyn ("Providence"), Woody Allen ("Small Time Crooks"), Winona Ryder ("Autumn in New York") and Jane Fonda ("Monster-in-Law"), among others. Somehow's the Academy's In Memoriam panel deemed them unworthy.
Score: 2
WORST: The reminder that Jennifer Aniston and David Oyelowo were snubbed. They presented Best Documentary together. It still hurts. (Especially when the host can't pronounce your name. Did Brad Pitt teach you nothing, NPH?)
Score: 4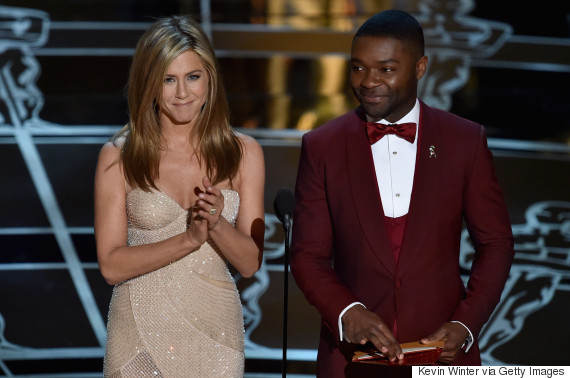 BEST: John Legend and Common's "Glory" performance and win. The ballads that preceded it (Adam Levine's "Lost Stars," Tim McGraw's "I'm Not Gonna Miss You," Rita Ora's "Grateful") were a snooze, but the duo brought out a choir and melted the room with a stunning speech about the ongoing struggle for equality.
Score: 9.5
BEST/WORST: Lady Gaga's "Sound of Music" tribute. She was good, but let's process the fact that, at 11:15 p.m., with seven awards left to go and 15 minutes until the show's slated end, a pop star sang a tribute to a movie that is 50 years old.
Score: 5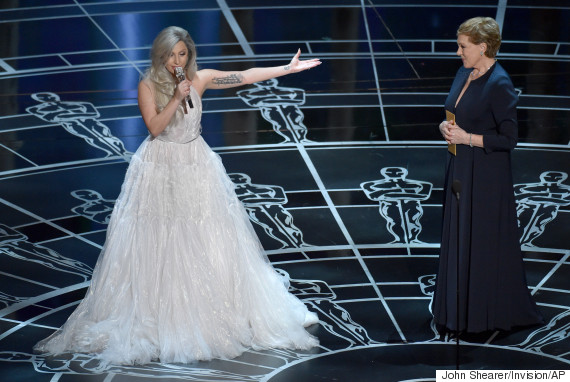 WORST: John Travolta's Adele Dazeem callback. Cute idea, but did he have to grope Idina Menzel so much?
Score: 4.5
BEST: Julianne Moore's speech. "There's no such thing as Best Actress." But there is: It's you, Julianne. It's always you.
Score: 8
WORST: NPH's Oscar predictions (or whatever that was, exactly). We were 30 minutes over schedule when this silly gag with the lock box returned. #FreeOctavia.
Score: 4
WORST: "Boyhood" lost Best Picture and Best Director. Congrats, "Birdman," but Richard Linklater will still be the most popular person at the after-parties.
Score: 5
WORST: The length. Boy, do we love us some Oscars. But this telecast lasted more than three-and-a-half hours so Neil Patrick Harris could chuckle at his own jokes? No thanks.
Score: 2.5
Calling all HuffPost superfans!
Sign up for membership to become a founding member and help shape HuffPost's next chapter