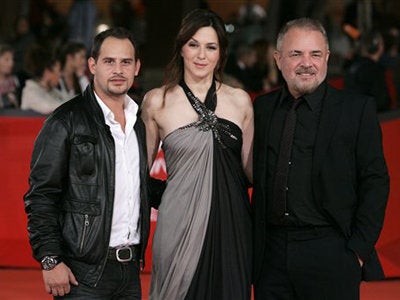 The biggest movie event of the year, The Oscars, is fast approaching, airing on February 22. Now is that time when movie aficionados flock to the theaters to view the big-name films that have been nominated for an Oscar. Here is a roundup of the films nominated for Best Foreign Language Film.
*** Scroll down to vote for your pick.
With their short skirts and long legs, leather jackets and muscle cars, for the Baader Meinhof gang sex was as much a weapon as Molotov cocktails and machine-guns. It was also, through countless no-frills, no-ties couplings with hairy strangers in grubby squats, coopted as a political act.

With its initial emphasis on fast cars and faster women, political rhetoric and posing, it's perhaps not surprising that The Baader Meinhof Complex... has been accused of glamorising terrorism. But this is not the case. Eichinger's screenplay scratches under the surface of the key players in the Red Army Faction (RAF) and finds unexpectedly little.
The Class Country: France Director: Laurent Cantent A New York Times review from September explains how the running themes of civil unrest and French identity are displayed through school children:
The young bodies crowding "The Class," an artful, intelligent movie about modern French identity and the attempt to transform those bodies into citizens through talk, talk, talk, come in all sizes, shapes and colors. With their cellphones and pouts, these bored, restless junior high students look pretty much like the fidgety progeny of Anytown, U.S.A. One difference being that these African, Arab and Asian Parisians live in a country that insists its citizens have only one cultural identity, even if it is an identity-- as France's smoldering suburbs vividly suggest -- many of these same young people don't feel welcome to share.
Departures (Okuribito) Country: Japan Director: Yojiro Takita The film won the top prize at Montreal film festival. Read Variety's analysis of the award winning film:
Crushed at the breakup of his Tokyo orchestra, for which he'd just spent a fortune on a new instrument, guilt-ridden Daigo Kobayashi (Masahiro Motoki) retreats to his picturesque northern Japan hometown with adoring wife Mika (Ryoko Hirosue, sparkly) in tow.

He responds to an ad for a job, and is shocked to discover "working with departures" refers not to a travel agency, but to "niche market" firms hired by morticians to perform "encoffinments." Having never seen a dead body, but offered a great deal of money as salary by his eccentric new boss (Tsutomu Yamazaki, deadpan), Daigo takes the job but is too ashamed to tell Mika. Ick factor aside, Daigo's discovered his true calling.
Revanche Country: Austria Director: Goetz Spielmann Variety wrote a review of the film at the Berlin Film Festival where Revanche won the Europa Cinemas Label for best Euro film in Berlin's Panorama sidebar:
Two couples -- one from the city, the other from the countryside -- are bound together by fate in Austrian writer-director Goetz Spielmann's taut thriller "Revanche." Elegantly spinning primal elements of guilt, revenge, faith and redemption, helmer's gripping fifth feature is prime fest material that's likely to rate Euro arthouse exposure, with further viewers in ancillary. Like his previous "Antares," it also contains scenes of graphic sexuality.
Waltz With Bashir Country: Israel Director: Ari Folman This Golden Globe winner gets a rave review from Rolling Stone, which describes the animated film as a "potent and profound document of war":
Folman, a former Israeli soldier who served during the 1982 Israeli-Lebanese war, has repressed his memories of the invasion of Beirut -- more specifically, the massacre of Palestinian civilians at the Sabra and Shatila refugee camps. Though the killings were committed by the Christian Phalangist militia as payback for the murder of their leader, Bashir, the Israeli army stood by and reportedly sent up flares to aid the slaughter of men, women and children. In the years since, Folman cut off ties to the men he served with. The movie is his attempt to make some kind of sense of what happened by interviewing those involved. Folman took a graphic-novel approach because, in his words, "animation functions on the border between reality and the subconscious."
Calling all HuffPost superfans!
Sign up for membership to become a founding member and help shape HuffPost's next chapter