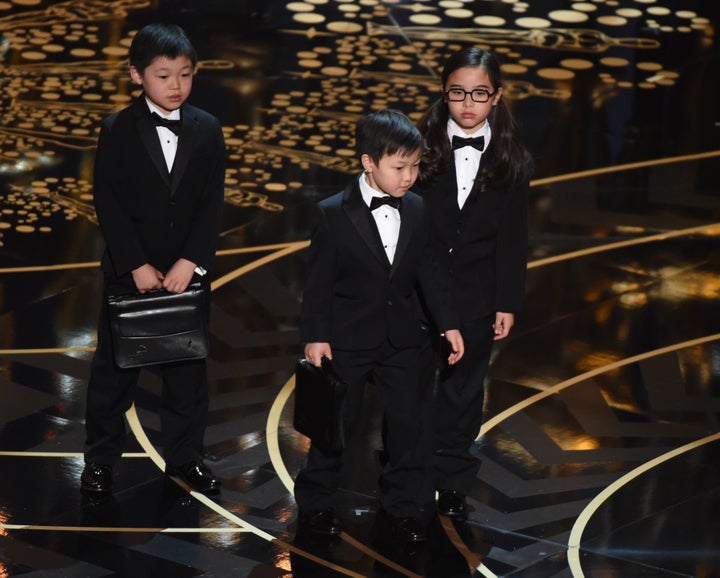 The comedian drew fire for the multiple jokes made at the expense of the Asian-American community during Sunday's ceremony, particularly the bit where he brought out three children on stage as "Oscars accountants." It's funny, because they're Asian. Get it?  
He then followed the gag with this charming footnote: "If anybody's upset about that joke, just tweet about it on your phone that was also made by these kids."
Making matters that much worse, it has recently come to light that the children and their parents were unaware of the content of the joke before the contracts were signed. In an interview with Public Radio International, Estie Kung, one of the kids involved, and her mother, Laura, reveal they were completely caught off guard when they heard the racist joke for the first time.  
In this case, it wasn't until the rehearsals, after Estie got her tux fitted and was already looking forward to the opportunity to be on the Oscars, that her parents heard the entirety of the joke for the first time. But they had already signed the contract and had to confront the very likely possibility that their daughter would be part of a racist joke that would cause an uproar. After talking to Estie, they ultimately decided to take the optimistic point of view, believing that an inappropriate Asian joke that might provoke a difficult public conversation may be preferable if the status-quo alternative was to have no Asian presence at all. So, they braced themselves.
The Kungs were under the impression that the joke would be similar to Rock's previous poking fun at the annual accounting segment, when he brought two tall black men out to present in 2005. 
"I did wonder, 'Why all Asians?'" Laura Kung said. "But I assumed there was a bigger picture, a more complex joke given all the emphasis placed on diversity at the Oscars this year."
After the ceremony, however, it became clear that the "bigger picture" was stereotyping the Asian community, while making light of the very real problem of child labor. 
"This was not OK and should never have happened," Kung added. "But the angrier people are and more people talk about it, the better it will be moving forward. Estie hopes to keep acting and we all hope for a time when she can be on that stage to honor her achievement."
We have no doubt that Estie will make it back to the Oscars, especially considering her hilarious guest spot on "The Late Late Show with James Corden."
Calling all HuffPost superfans!
Sign up for membership to become a founding member and help shape HuffPost's next chapter
BEFORE YOU GO
PHOTO GALLERY
Asian History At The Oscars