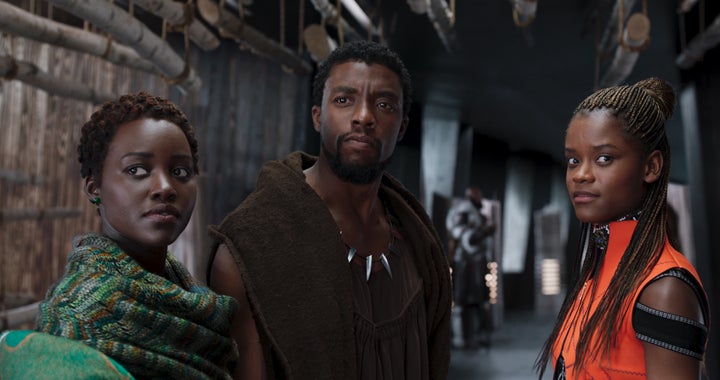 In an attempt to catch up with the rest of America, the Oscars just got dumb. 
Desperate to juice ratings after this year's telecast registered all-time low viewership, the Academy of Motion Picture Arts and Sciences announced Wednesday that it will introduce a new category at next year's Oscar ceremony honoring "outstanding achievement in popular film." 
What qualifies as "popular"? That's TBD.
How does the voting for such an award work? The academy hasn't said.
What does this really mean? It means that Hollywood's most prestigious organization is insulting everyone who makes movies and everyone who enjoys watching them ― all in an effort to give ABC an "entertaining show" worthy of a three-hour program.
The problem with the "popular film" category is baked into its conceit. It implies that anything nominated for, say, Best Picture ― the industry's ultimate emblem of prestige ― is unpopular or out of touch. But wait, you might say, didn't the most recent Best Picture winner, "The Shape of Water," make $195 million worldwide? Is that not a marker of popularity? 
Not in 2018, apparently. No, to be popular in 2018, a movie needs to make $500 million or $750 million or, if things go really well, $1 billion, because late capitalism has officially become an "Austin Powers" spoof. 
But the idea that the Oscars haven't rewarded prominent movies is false. For a long time, any given Best Picture winner was almost certain to rank among the year's highest-grossing movies. Academy-decorated adult dramas like "Forrest Gump," "Rain Man," "Out of Africa," "Terms of Endearment" and "Kramer vs. Kramer" were among the Top 5 releases of their respective years. And the titles with the most nominations in the Oscars' 90-year history ― "All About Eve," "Ben-Hur," "Titanic," "The Lord of the Rings: The Return of the King," "La La Land" ― are among the most famous films ever made. 
That trajectory shifted only when Hollywood's superhero glut kicked into high gear in the late 2000s, prompting an industry-wide reliance on never-ending franchises whose installments chase 10-figure grosses. If the Oscars telecast no longer appeals to certain mainstream moviegoers, it's not because the Oscars have changed. It's because Hollywood studios have changed. It's impossible for "The Shape of Water" or "12 Years a Slave" or "Argo" to stack up to those franchises, even though all of them made good money and were thereby categorically "popular." 
And then there are the smaller films that see huge boosts because of their Oscar plaudits. Studios sometimes greenlight less commercial movies precisely because they could become Best Picture contenders ― and now, that prize is being watered down so the academy can feed the public's attraction to blockbusters that employ the same tricks over and over. If there's a whole category dedicated to handing trophies to money-makers, what's the incentive to produce a movie that wasn't poised to make $100 million in the first place?
The academy is effectively excusing itself from deciding whether something like "Black Panther," which raised the bar for the superhero genre, is worth being the first comic-book adaptation nominated for Best Picture, one of the upcoming season's biggest questions.
Implying that the Oscars are too niche because they have yet to recognize the sort of Disney behemoth that's coated in VFX and flush with cash is a depressing reflection of American pop culture today. Instead of applauding itself for bringing attention to gems like "Moonlight" and "Spotlight," the academy is essentially expressing regret that it can't lure in viewers who would supposedly tune in if only "Jumanji: Welcome to the Jungle" was thrown a bone.
A more generous reading of the "best popular movie" premise aligns with the recurring gripe that the snobby academy doesn't treat escapist entertainment as art. But in reality, the move insults "Get Out," "Mad Max: Fury Road," "The Martian," "Gravity," "Zero Dark Thirty," "Avatar," "The Help" and a host of other recent movies that have racked up multiple nominations and hit No. 1 at the box office. It's disappointing to think of a landscape where everything is further adjudicated by currency. 
Moreover, the academy is effectively excusing itself from deciding whether something like "Black Panther," which raised the bar for the superhero genre, is worth being the first comic-book adaptation nominated for Best Picture, one of the upcoming season's biggest questions. Instead, voters can relegate it to the popularity contest and feel like they've done due diligence. 
If we want to encourage voters to recognize more mainstream fare ― like I did with Tiffany Haddish's "Girls Trip" performance, for example ― it shouldn't be done by bastardizing it with an A-for-effort sticker.
Overall, the academy's populist grasp for a phony sense of restored relevance is, frankly, some MAGA bullshit. How about this food for thought: The people who only care about superhero bombast and "The Fast and the Furious" aren't the Oscars' target audience. And that's OK! The show's declining ratings are less about the nominated movies' footprints and more about the fact that fewer and fewer households are watching linear primetime television ― especially the younger audiences the academy hopes to galvanize.
Instead of insulting our collective intelligence by creating a divide between what's "popular" and what's "good," maybe the academy could place a premium on its position as Hollywood's supreme tastemaker. Maybe it shouldn't encourage the idea that for movies to be significant they need revenue rivaling Oprah Winfrey's net worth. Maybe it shouldn't try to pander to folks who aren't interested in Oscar-caliber movies to begin with. Maybe it shouldn't dilute its brand at a time when intelligent cinema needs more care than ever before. 
And maybe it shouldn't assume we're all so damn dumb.
But hey, since the academy hasn't announced the category's guidelines yet, let me throw in a contender: As I've said before, the year's best "popular movie" is the surveillance footage of a couple robbing a Canadian convenience store. Entertainment sure is changing!
Calling all HuffPost superfans!
Sign up for membership to become a founding member and help shape HuffPost's next chapter