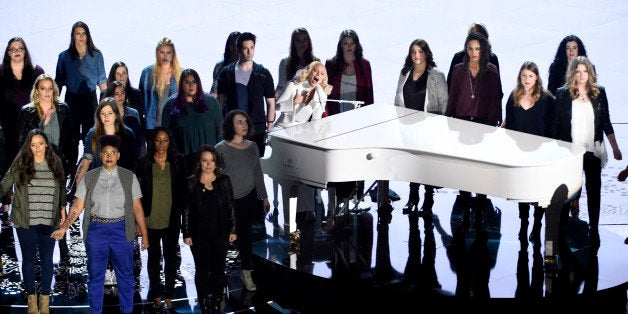 I would give it all back.
To those who follow me on snapchat or Facebook, my weekend probably seemed like a dream come true, both glamorous and monumental. I even received messages and phone calls that consisted of statements such as "OMG you are so lucky" or "can we trade lives right now?" While yes, it was absolutely jaw-dropping to not only be at the Oscars but to be shaking Leonardo DiCaprio's hand, meeting one of the most influential people in the world, Vice President Biden, and even holding Brie Larson's Oscar, I would still gladly give it all back.
Being a survivor of sexual assault has been the most exhausting process I have ever had to endure. From the sleepless nights, constant nightmares, and panic attacks to being diagnosed with anxiety, severe depression, and post traumatic stress disorder. While I would love to say that after this weekend I am healed and life is so good, I cannot.
But what did transpire this weekend is far greater than I ever imagined and it exceeded all my expectations because I met 51 of the most beautiful, courageous, inspiring, and resilient people. And that is why I am "so lucky."
When I first received the confidential email about an opportunity to stand with Lady Gaga at the Academy Awards, I had absolutely no idea the emotional roller coaster I was getting on. I walked into the Dolby Theatre excited and anxious, but not once thought about how it could affect me emotionally or mentally. But because I had Lady Gaga and these 50 inspirational people next to me I was able to push through it.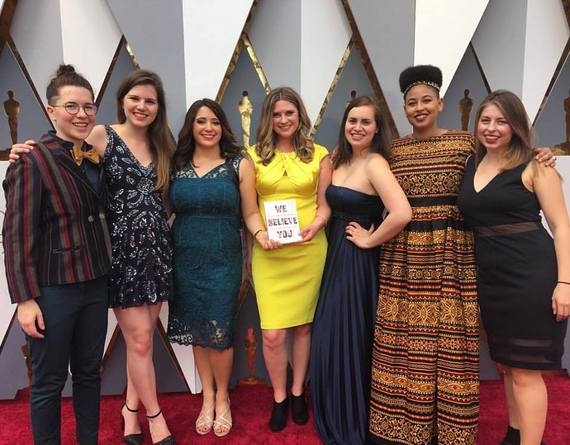 There was nothing more powerful than sharing this moment with them. I finally did not feel alone. I was able to sob my eyes out and be immediately understood, I was able to get my needs met without even having to ask. Because, while it is unfortunate that we had to meet under these circumstances, we all share one thing in common -- survivorship -- and this survivorship allows us to connect in the most unique way possible.
When we first went on stage after meeting the amazing Lady Gaga it quickly made me realize what I had signed up for. When we were all in formation, as soon as the keys and notes began to fill the theatre the person next to me and I began to cry hysterically . Without even knowing each other's name, where we were from, nothing, we embraced each other, squeezed a little tighter, and said "we are so strong." We immediately shared this bond that is almost unexplainable, that the best time it's been put into words has been through both Diane Warren and Lady Gaga.
This weekend did not change me. These brave men and women did. My last year as a senior in college has been the most difficult because I finally realized how bad I was doing mentally. I would constantly look in the mirror and say how much I hated myself. Some of my best days meant possibly showering and maybe grabbing a bowl of cereal, but not leaving my room more than twice -- not even if I had to go the bathroom. It meant constantly canceling on my friends because I just could not push through a night of having to fake how I am really doing. But this weekend was so powerful and it was the energy I needed to continue. To truly begin this four-year-overdue healing process because I now have the strongest support system. Thanks to these badass people that I met.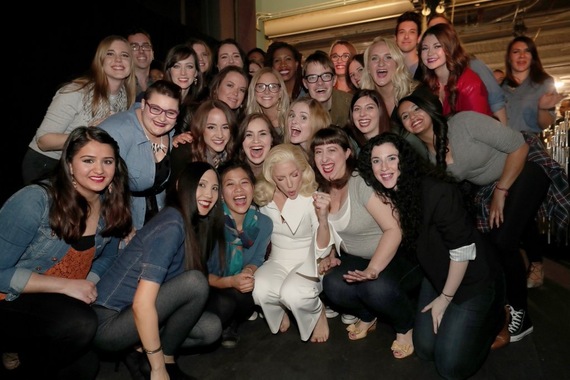 So would I give it all back? Yes, yes and no. Yes, because I cannot even begin to fathom how different my life would be, but no. No, because while we all may be survivors we are a hell of a lot more. We are all incredible individuals from different races, genders, and religions that have unique talents and an outstanding passion for self-giving.
Thank you to each and every single one of you. I can assure you that I learned something new from everyone and have been both transformed and inspired.
And for all survivors everywhere, I believe you.
Calling all HuffPost superfans!
Sign up for membership to become a founding member and help shape HuffPost's next chapter