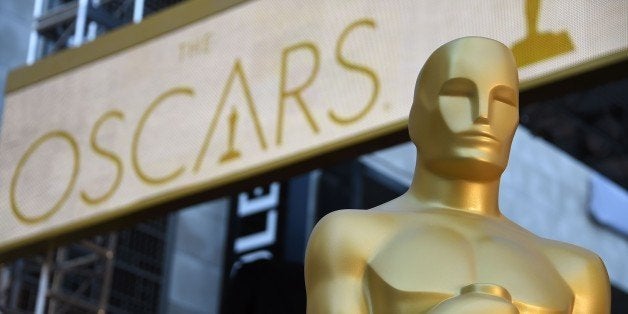 Straight Outta Compton was one of the best movies last year. However, it did not receive a nomination for Best Picture -- and that snub is among many this season sparking the color controversy for the most coveted prize in show business: The Oscar.
In my first year of life, my dad and uncle, the Sherman Brothers, who have written more scores for motion pictures than any team in history, each won two Academy Awards for Best Song and Best Score for their crowning achievement, Mary Poppins. Since that magical night, I've discovered what it means to complete a film, become eligible for a nomination, win an award or be entirely left out of the process.
Several prominent voices have vehemently protested this year's Oscars -- even boycotting the February 28th telecast -- based on the lack of diversity in the Motion Picture Academy. Who can argue against these numbers? The Academy of Motion Picture Arts and Sciences (A.M.P.A.S.), which is widely considered an extremely liberal Hollywood institution, has been under attack because its nearly six thousand voting members are over 94 percent Caucasian and 77 percent male. Despite this obvious discrepancy, the dearth of diversity among Oscar nominations is merely a reflection of the bigger issue: the studio system.
When a major motion picture studio commits tens of millions of dollars to shoot a film, it looks well beyond projected domestic sales. Straight Outta Compton was an enormous box office hit in the U.S. ($160 million and counting) but made a paltry 20 percent of that number -- collectively -- from every other country in the world. Contrast those lopsided figures with a modest flop, Disney's Tomorrowland, which featured two Sherman Brothers songs, one bankable white star, George Clooney, and poor domestic box office returns. Foreign sales of Tomorrowland were 11 percent more than domestic figures. And that bottom line is the bottom line.
Film sales is a global game. Established white male actors and young, hot, white female stars are proven international box office success. Studio heads do not care about black, white, brown, yellow or red when giving the green light -- the only color that matters to Sony, Paramount, Warner Brothers, Disney, Universal, etc. is box office gold.
Academy Award nominations are perpetually handcuffed by how many diverse members are involved in the making of films. Members of A.M.P.A.S. can obviously only consider what is screened in front of them. And that vetting process for a nomination is heavily nuanced for every voting branch. Most members, many of whom I've known my entire life, take their judicial duty quite seriously. For a person of color to garner an Oscar nomination, chances are infinitely more difficult due to the simple truth that non enough films are directed, scored, shot, costumed, edited, written or produced by minorities.
The Academy is comprised of 15 separate branches, who vote within their branch as to which films will be nominated. Actors, cinematographers, musicians, directors, editors, etc. are each provided a list of eligible films to nominate the best in their specific branch. Once they've chosen the nominees in their specific branch, ballots are issued to all members to vote in every category.
My father, composer/lyricist Richard M. Sherman, has served as an executive member of the Academy's Music Branch for over four decades and to this day consults on rules and regulations. The strict guidelines of eligibility which govern each category are continually evolving. For example, this year's Best Picture frontrunner, The Revenant was disqualified for a Best Score nomination because too many composers contributed to the final product. Great score, no nod.
In January, to stem the tide of hashtag anger, the Academy unanimously voted to overhaul its membership requirements. In their official announcement, this change was made in order to "make the Academy's membership, its governing bodies, and its voting members significantly more diverse. The Board's goal is to commit to doubling the number of women and diverse members of the Academy by 2020."
When the proposed measure moves forward, the Academy will force a substantial number of established elder members into non-voting emeritus status, inviting a new debate on ageism, and ultimately creating an unfortunate game of discrimination whack-a-mole. However, since Carl Reiner may be the only member who knows what the hell a Twitter is, no elderly social media storms are currently forecast.
The knee-jerk solution proposed by the Academy should help quell current discontent and will undoubtedly provide immediate benefit to many women and minorities, but until the larger problem of studio output is addressed, the membership maneuver may amount to nothing more than a properly chlorinated pool aboard an anchorless yacht, perpetually bobbing in the sea of discriminatory discontent. My hope is that new Academy members will regard Oscar voting as both an honor and privilege as did the elder members being forced out. However, if newly appointed Academy members feel compelled to vote along racial or gender lines -- as opposed to filmmaking achievement -- future Oscars run the risk of becoming fool's gold.
Popular in the Community