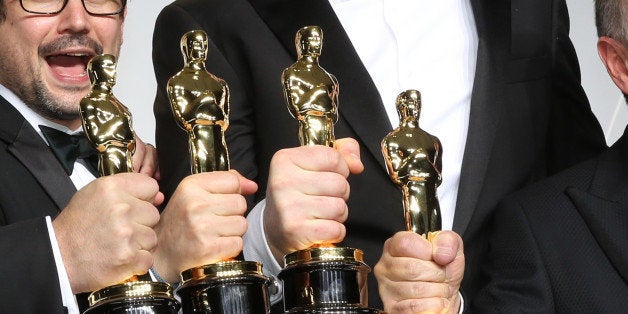 Those who stand in solidarity with Ms. Pinkett Smith, by boycotting the Awards, are also on solid moral ground. The Academy's nominations are morally troubling because they violate the rights of people of color in the industry to equal consideration and because film has a powerful influence on social norms and community well-being. Pinkett Smith points out that it is no longer necessary for people of color to seek respect and recognition from the white establishment. She calls on people of color to take responsibility for change. This is spot on.
Yet, as an ethicist and avid filmgoer, I cannot help but think that, regardless of skin color, all people have a responsibility to boycott the Oscars. Moral responsibility to address an injustice falls on those who are causally responsible for it. In this case, the Academy and the film industry share responsibility, but so do consumers of film.
Equal consideration is especially urgent for an industry that has as much influence on social norms as film does. As individuals, we benefit from diversity within the film industry regardless of our race, religion, sexual orientation, gender expression, or other identities.
Our world is intellectually and artistically richer when it is diverse than when it is homogenous. The community as a collective also benefits from a diverse film industry. Social trust and cohesion, both of which are necessary for social cooperation, are fostered when diverse people are treated with equal respect. Robert Putnam alludes to this in his lecture, "E Pluribus Unum: Diversity and Community in the 21st Century."
Tolerating discrimination in the film industry only perpetuates discrimination and bias against people of color within the industry and outside of it. The actions of movie viewers, those who buy tickets and support the film industry, can be as important for meaningful change as are the actions of people of color working within the industry.
When we tolerate an injustice, or sustain it by providing a market for the injustice, we are complicit in the wrongdoing and the harms that follow it. Complicity in a system that discriminates creates a responsibility for the harm that the system brings. Philosopher Iris Young calls this structural injustice. In view of our complicity, we have a responsibility to stand in solidarity with people of color in their call for equal treatment and respect by the Academy.
Solidarity asks us to carry the costs of others, to be willing to endure a cost for those with whom we share a common cause. Although refusing to watch the Academy Awards on February 28th is a relatively small cost to carry, it demonstrates solidarity, places the film industry on notice, and begins to address our role in perpetuating an injustice.
The Academy's swift move to acknowledge the problem, and to initiate modest change, is a good beginning, but may be inadequate as it stands. Whatever changes the Academy endorses, they will need to address two pervasive human characteristics: homophily, the tendency of people to prefer those who appear to be like them (which I describe in my book, Us before Me, pp. 59-61), and implicit bias, in which biased attitudes and behaviors result from unconscious cognitive processes unbeknownst to the biased person. Even those with the best intentions may be swayed by unconscious racism when they evaluate the quality of an artistic performance or project.
Solidarity asks us to join Jada Pinkett Smith in boycotting the Academy Awards on February 28th. I will not be watching them.
Popular in the Community