In In a Better World, Danish director Susanne Bier has the audacity to enter places where madness and inhumanity flourish. She looks at this world squarely as one world, and allows her actors to succeed in making sense of it. They forge ahead full speed even when the narrative feels underdeveloped.
Every character, adult and child, is tested and pushed to the limit on matters of love, loss, and morality. Bier and screenwriter Anders Thomas Jensen have composed an ambitious narrative that stretches from London to an idyllic town in Denmark to a refugee camp and field hospital in Africa, full of nightmares and occasional miracles.
In London, pre-teen Christian (William Johnk Nielsen) has lost his mother to cancer. His grief plays out as displaced anger towards Claus (Ulrich Thomsen), his father, whom he feels was relieved when his mother died. Christian was unprepared to let her go. Distant towards his father, he positively seethes at every authority figure and bully he encounters. Despite enormous patience, Claus cannot engage Christian emotionally.

They return to Denmark where Christian meets ten-year-old Elias (Markus Rygaard)--sweet, innocent, and a prime target for bullies. His parents--both physicians--live separately, teetering on divorce. His mother, Marianne (Trine Dyrholm), stays close to home working in the local hospital, while his father, Anton (Mikael Persbrandt), commutes to his physically demanding and emotionally shattering work in Africa alongside Najeeb (Wil Johnson).
Christian is broken from the loss of his mother, while Elias desperately misses his father and knows on some level that his humanitarian work puts him in constant danger. Both boys are in a constant state of fear, loneliness, and longing, which cements their bond.
Troubled Christian and noble Anton are at opposite ends of a wide spectrum of attempts at self- control. Christian is ready to decimate any bully he encounters, while Anton finds humanity in a grotesque, sociopathic warlord. With Anton's absences, Elias falls further under the spell of Christian, whose tactics grow ever more calamitous.
Bier unfolds a deeply complex story that attempts to parallel violence in Africa and Europe and bridge gaps between childhood and adulthood, forgiveness and revenge. She employs poetic restraint in avoiding clichés that might have disintegrated into melodrama.
There has been criticism that the attitudes in In a Better World are colonial and racist. A serious exploration of the nature of violence, revenge, and crimes against humanity dredges up many feelings and opinions. People will strongly disagree. This film uses an unidentified, fictionalized Africa just as much as the made-up Danish town to question the enormous limitations of personal and social control and outside intervention.
In an NPR interview, Bier revealed she tried to demonstrate that while an African refugee camp and a tony Denmark town couldn't be more different on the surface, their "actual human nature is so similar...the same story but in two different shapes." While this point may not have reached fruition, the lyrical work of the actors -- especially the boys, in their acting debuts -- keeps the film afloat.
In a Better World opens in NYC and LA on April 1.
Elizabeth Taylor: Actor and Activist
No one could decide whether her eyes were violet or lavender. Maybe they were periwinkle. Perhaps, they were a color that never existed before.

Then, there was her heart. Was there ever a bigger one? She was diagnosed with an enlarged heart, a hallmark of congestive heart disease, which eventually took her life.
She was vulnerable, fell in love many times, was a loyal friend, and was certainly no saint. Perhaps, her faults as well as her virtues were why people found her endlessly fascinating. Like her co-star and friend, Paul Newman, she lived a life that mattered--beyond the world of film.
She was Elizabeth Rosemond Taylor.

Also like Newman, she was a talented actor whose stunning looks sometimes overshadowed her abilities in the eyes of some critics.
For Taylor's second act, she began a humanitarian movement that altered the course of how we treated--and more importantly, how we felt--about HIV/AIDS. Some of the hate is still alive. Westboro Baptist Church (the despicable group that protested the funeral of a gay soldier) threatened to picket her funeral because of her AIDS activism. They failed in their attempt to disrupt the final goodbye from family and friends. In this mad, mad world, decency and respect triumphed -- if only for a day -- silencing the wing nuts, who seem to skulk everywhere.
In some of our darkest days, Taylor showed us how to rise above obstacles to rediscover our humanity. Combining a tribute to Elizabeth Taylor with a review of the 2011 Academy Award winner for best foreign film may, on the surface, seem odd. But if changing hearts and minds was a major mission in Taylor's life, it was also the theme in Bier's poignant film.

Taylor started out as an actress and then in some cosmic way became one of the auteurs of the HIV/AIDS movement. Her personal vision made us see things differently. We saw things through her violet (or were they lavender?) eyes. In the process, she saved lives -- from Hollywood to Africa.
Elizabeth Taylor deepened and further burnished her already unparalleled fame.
"If you hear of me getting married, slap me," Taylor pronounced during a Barbara Walters' interview. "Mr. President your policies [regarding HIV/AIDS policy and funding] are wrong. Dead wrong. And you know it!" she exclaimed as she stood resolute before a podium closing one of her early AMFAR speeches.
These remarks were aspects of Elizabeth Taylor's essence. While her humanitarian work is paramount, it would be unfair to forget how majestically she held her own with some of the greatest actors of our time: Paul Newman, Richard Burton, Shelley Winters, Sandy Dennis, Eva Marie Saint, Marlon Brando, Spencer Tracy, and the inimitable Montgomery Clift with whom she starred in three films, the best of which is George Stevens' A Place in the Sun.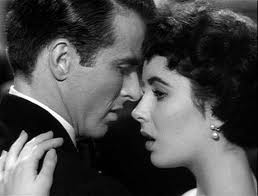 "Seems like we always spend the best part of our time just saying goodbye," Taylor's broken-hearted Angela laments to Clift's George Eastman with whom she is (still) hopelessly in love. Saying goodbye is one of the most difficult things to do onscreen or in real life. Her farewell scene with Montgomery Clift is as authentic as they come.
In all these ways, Elizabeth Taylor earned her place in the sun.
REAL LIFE. REAL NEWS. REAL VOICES.
Help us tell more of the stories that matter from voices that too often remain unheard.