 WASHINGTON -- An international body of election monitors said it intends to carry on with plans to observe U.S. elections on Tuesday, despite caustic warnings from a handful of mostly conservative American politicians.
The Organization for Security and Cooperation in Europe, a 56-nation body of which the U.S. is a founding member, came under fire two weeks ago when Texas Attorney General Greg Abbott publicly threatened to arrest foreign observers who attempt to enter voting places in violation of Texas law. Abbott said he suspects the organization is somehow allied with groups opposed to voter suppression.
"If OSCE members want to learn more about our election processes so they can improve their own democratic systems, we welcome the opportunity to discuss the measures Texas has implemented to protect the integrity of elections," Abbott wrote. "However, groups and individuals from outside the United States are not allowed to influence or interfere with the election process in Texas."
Thomas Rymer, a spokesman for the OSCE's monitoring mission, told The Huffington Post on Monday that the mission's 57 international monitors would continue with plans to observe U.S. polling places, but in ways that won't violate state laws.
"In keeping with our code of conduct for observers, observers adhere to local laws," Rymer said. "That means that in states where the legal situation to enter polling station and observe is not there, we will not even attempt to get into that polling station."
The OSCE has sent election observers without incident to witness U.S. elections since 2002, and had members stationed in San Antonio to observe the 2008 presidential vote. Under the group's auspices, the U.S. regularly sends observers to monitor and evaluate elections in foreign countries, including Russia and Ukraine.
The controversy this year has been inflamed in part by conservative groups and news outlets that view the monitoring as part of a larger plot to undermine voter-identification laws, or otherwise promote that notion that some elections have been impeded by voter-suppression dirty tricks.
In his letter, Abbott suggested that the OSCE mission was compromised because it had met with voter-suppression watchdog groups, including Project Vote.
"Project Vote, is closely affiliated with ACORN, which collapsed in disgrace after its role in a widespread voter-registration fraud scheme was uncovered," Abbott wrote.
Abbott was later joined by Rep. Connie Mack (R-Fla.) a Senate candidate who declared in response to the controversy that the U.N. should be "defunded," and "kicked off U.S. soil."
"The very idea that the United Nations -– the world body dedicated to diminishing America's role in the world -- would be allowed, if not encouraged, to install foreigners sympathetic to the likes of Castro, Chavez, Ahmadinejad and Putin to oversee our elections is nothing short of disgusting," Mack said in a statement.
The OSCE is not a U.N. organization and has no affiliation with the international body.
While Rymer said OSCE monitors have no intention of violating state laws against poll monitors, he noted that those laws violate U.S. commitments to hold open elections that may be monitored by international observers.
"The U.S. has made a commitment to invite international observers, and to allow them full access," said Rymer. "Where these [restrictive] laws are in place, they are out of line with U.S. commitments as an OSCE member nation. And we've noted this before in the past elections."
Victoria Nuland, a State Department spokeswoman, said during a recent press conference that OSCE observers would have immunity from Texas law and she was unconcerned that they would encounter legal problems.
"The OSCE has observed successfully in Texas in the past, has observed successfully in the United States since 2002, and we have every expectation it's going to go fine this time as well," Nuland said.
Before You Go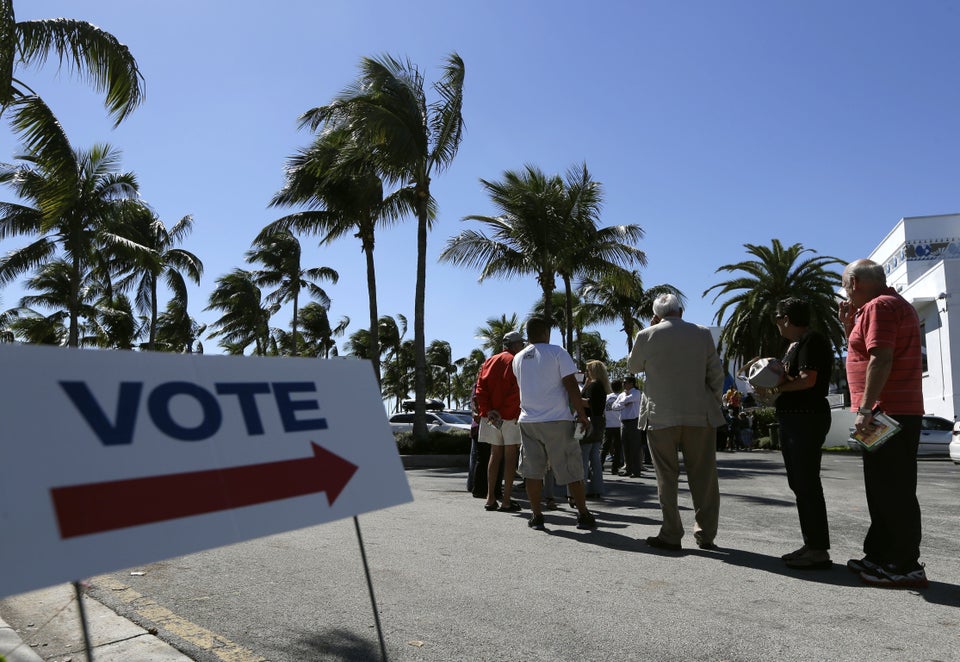 Long Lines For Miami Early Voting
Popular in the Community