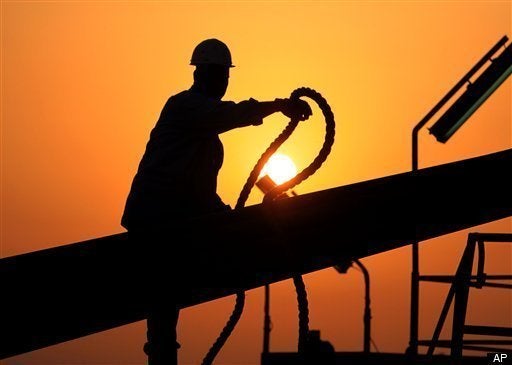 Oil and gas drilling groups are so upset over a new federal policy requiring workers to wear flame-resistant clothing on well-drilling rigs that they may sue the Occupational Safety and Health Administration.
The Association of Energy Service Companies, a large industry group that includes Halliburton and Key Energy, is weighing all its options -- including legal and political steps -- to fight OSHA on the issue, the group's executive director told The Huffington Post, arguing that the new requirement could cost the industry up to $50 million to implement and then $100 million annually after that.
"We're not going to rule anything out at this point," said Kenny Jordan, adding that AESC and other major oil industry groups, including the American Petroleum Institute and the International Association of Drilling Contractors, sent a letter to OSHA on September 2 to express their concerns about the enforcement memorandum. Jordan said that he plans to give OSHA on Thursday or Friday a deadline by which to respond to his group's concerns. (h/t BNA's Occupational Safety and Health Reporter)
The memo, issued on March 19, requires workers in oil and gas well drilling, servicing, and production-related operations to wear flame-resistant clothing to protect against flash fires, citing a 2005 fatality study that found 16 percent of deaths in oil fields were the result of fires and explosions.
Jordan argued that the memo's requirements are too extensive. The group is not opposed to the use of flame-resistant clothing, he said, but OSHA bypassed the rulemaking process in this instance.
"We believe we should keep our people safe and we do this on a daily basis," he said. "But we don't think that throwing a blanket over every situation is the right way to go about it. The people in the field, that own these companies, they're the ones who best know. Even the employees will tell us that they're hot and uncomfortable and don't like wearing them... We know that there are certain situations when they should be required but requiring them 100 percent of them is not the answer."
And Jordan and industry groups dispute the statistics cited by OSHA. "The stats they quoted are erroneous, we believe," Jordan said. A review by the International Association of Drilling Contractors concluded that none of the fatalities cited by OSHA were the result of drilling operations and two of them were not flash-fire explosions, BNA reported.
A union that represents some oil drilling workers in Alaska -- most oil drilling workers are not unionized -- was outraged at the industry's opposition.
"I think it is ridiculous that the oil industry say it's too expensive to have workers wear protective suits that could possibly save their lives," said Lynne Baker, communications director for United Steelworkers. "The industry is very lucrative, they've made billions of dollars and protecting workers should be first and foremost... It shows me they'd rather pay for a death than pay to prevent a death."
Jordan emphasized that he is most concerned about OSHA bypassing a long-established rulemaking process, which ordinarily would entail lengthy deliberations before the safety measures could be implemented.
"OSHA decided to issue the policy as an enforcement memo rather undergo a rulemaking because the latter could take years, and OSHA had received little cooperation from industry, agency officials told six associations at an Aug. 15 meeting," reports BNA.
Jordan said he worries about future regulations issued by the agency. "What's next, that is what really concerns us..." he said, "what's sliding under the door tomorrow?"
Popular in the Community