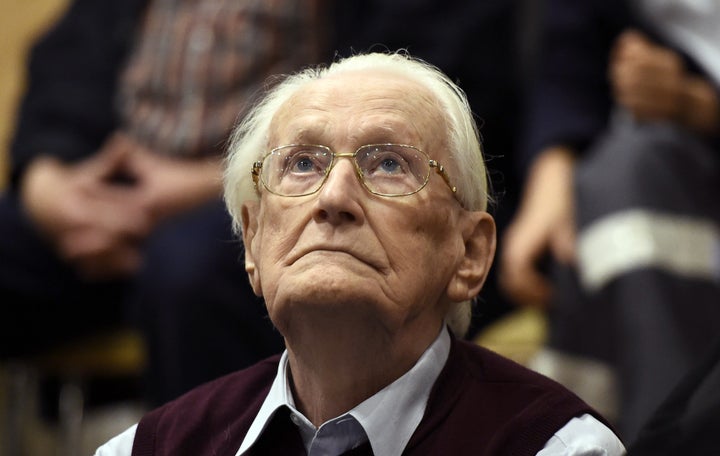 Oskar Groening, a former Nazi SS guard known as the "Bookkeeper of Auschwitz," has reportedly died at age 96 without serving a day of his four-year prison sentence for being an accessory to murder.
Groening, one of the last Nazi war criminals to face trial for the genocide of Europe's Jews during World War II, died in a hospital last week, German media reported.
As an Auschwitz guard, Groening had been tasked with sorting through banknotes and other belongings taken from arriving prisoners. He was convicted in 2015 for being an accessory to the murders of 300,000 people. His jail term was delayed, however, by bouts of ill health and appeals.
Groening's defense lawyers pleaded for clemency, given his advanced age, but prosecutors in Hanover last year deemed him "fit for prison."
"I ask for forgiveness," Groening told the judge during his trial. "I share morally in the guilt but whether I am guilty under criminal law, you will have to decide."
After WWII, Groening worked in a glass-making factory in Lower Saxony, reported BBC. Decades later, he decided to speak publicly about his experiences during the war — becoming one of a very small number of Nazi personnel to do so.
Legally and symbolically, Groening's trial had profound significance in Germany, where most Nazi officers were never prosecuted for crimes related to the Holocaust. Of the 6,500 former SS members who served at Auschwitz and survived the war, fewer than 50 were convicted.  
Groening's trial, noted the Guardian in 2015, went "to the heart of the question of whether people who were small cogs in the Nazi machinery, but did not actively participate in the killing of 6 million Jews during the Holocaust, were guilty of crimes."
Reacting to news of Groening's death this week, Efraim Zuroff, chief Nazi hunter at the Simon Wiesenthal Center, said it was "unfortunate, at least on a symbolic level" that Groening never served prison time. 
"Without at least symbolic justice, these trials ― as important as they are ― lose an important part of their significance," Zuroff told the BBC. "Their victims never had any appeals, nor did their tormentors have any mercy. Consequently these perpetrators don't deserve either."
"He testified about his experiences and validated my testimony," she wrote of Groening. "He said that he was sorry that he was part of Nazi regime ― that was important to denounce it!" 
Calling all HuffPost superfans!
Sign up for membership to become a founding member and help shape HuffPost's next chapter
BEFORE YOU GO