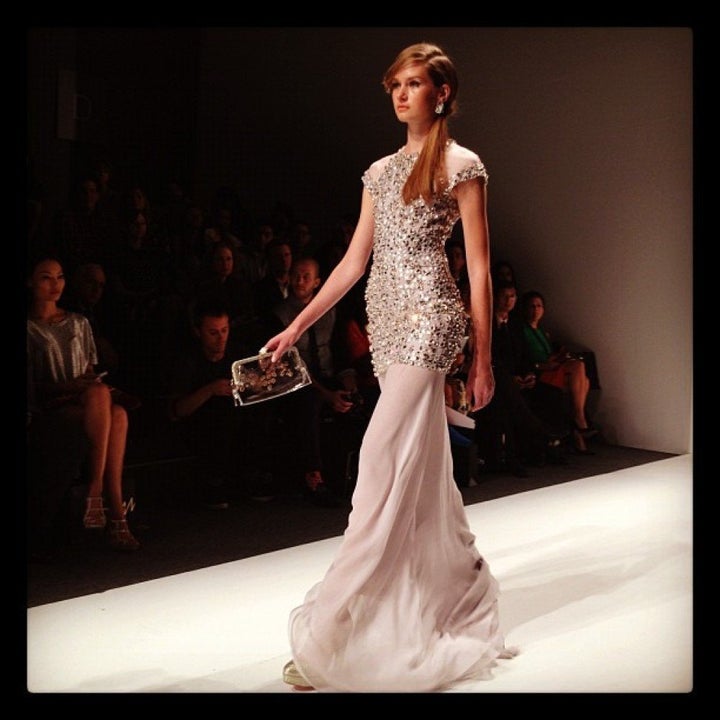 To be honest, I did not know much about Brazilian line, Osklen before attending their Spring 2013 show. But by the time the last look graced the runway of their NYFW debut, I was a fan. Designer Oskar Metsavaht called this Spring collection, Endless Summer, with his inspiration being "Brazilian soul meets California dream."
Beautiful landscapes of sunsets and palm trees graced streamlined silhouettes in burnt orange, red and charcoal grey. The line consisted of easy separates one could slip into after a day at the beach or if they just wanted to pretend they were there. Very fitting imagery since Metsavaht himself was a former surfer. Sheer fabric were seen on the front of shirts and also made for a delicate addition to sleeves. Standouts of the collection included a pretty pink sunrise jumper and a Rio landscape geometric top paired with a striking rose gold leather skirt. A sunset cape with a matching dress was also an audience favorite. Pointed toe flats were the perfect complement to the collection's easy aesthetic.
Overall, it was a cohesive and successful premiere to the New York scene. But Osklen is more than just a pretty face. Besides designing, Metsavaht is passionate about socioeconomic issues, which prompted him to create e-fabrics, an initiative whose goal is to promote sustainable fabrics and materials like the ecological silk and fish leather used in this Spring collection. Fashion with a heart. What's not to love?
Byron Lars Beauty Mark Mixes It Up
When viewing a Byron Lars Beauty Mark collection, one should always be prepared for the unexpected. Afterall, Lars has made a career of looking outside the box to create beautiful clothes that are equal parts wearable and whimsical.
For Spring 2013, Lars (who has been designing for over 20 years), took on an organic approach when it came to his initial inspiration. "It was really about mixing color and texture and ethnicities and themes and just making it all work together. I like to say it's a mashup of sensibilities. That really is what it was all about, just having fun and letting [the clothes] speak to you," Lars said when we spoke during his presentation. The outcome? A refreshing lineup of dresses and separates, each with Lars' trademark intricate detailing.
The color scheme was neutral, with army green, soft pinks and a dash of playful prints. What sets Lars apart from other designers is his wide range. There were long mixed print boho inspired dresses, chic daytime frocks and sophisticated cocktail options. Pants came in sheer cargo styles and suits took on a softer note with pretty eyelet details. Some standouts included a stunning pastel silk chiffon crocodile pattern trench coat. It was almost entirely see through, making it a chic choice come Spring. Another favorite was a silver sequined pencil skirt reminiscent of shiny fish scales. Pair this with Lars' collection of signature white shirts, and you have a fresh alternative for evening.
Other notable additions: a floral-tribal hybrid top with a bold silver embellished neckline and the designer's trademark flowy, A-line dresses. The beauty in Lars' designs is that it's more than what meets the eye. To fully appreciate each piece, you have to look deeper. There is always another detail to delight and get inspired by.
Calling all HuffPost superfans!
Sign up for membership to become a founding member and help shape HuffPost's next chapter