Thanks to clever thinking on my husband's part, we had the extraordinary chance to live in Milan, Italy for seven incredible years. We fell in love with Italy, with her joyous people, her incredible landscape, her fabulous monuments, churches, art, her history, her movies and movie stars, her language. What is there not to love about Italy? But culinarily, if I may coin a phrase, Italy is indeed a gem, and one has difficulty in separating her cuisine from the rest of her attributes. It is a cuisine based on ingredients that come straight from her own terra, truly seasonal and fresh, healthy and luxurious in the depth and richness of their flavors. Tomatoes and garlic, artichokes and asparagus, olives, olive oil and wine, tender veal and luscious prosciutto all lead to a multitude of fabulous meals. Followed, of course, by gelato or Tiramisu, cannoli or biscotti, all washed down by a smooth, rich grappa or nutty Amaretto. For most of us, Italian food stirs up images of pizza, pasta and risotto, but live in Italy for a while and you will discover a cornucopia of treasures: Saltimbocca, Carpaccio, Ribollita, Arancine, Olive all'Ascolane just to name a few.
And then there is Ossobuco alla Milanese; a classic dish of this northern Italian town, our city, Milan. The dish is named after the slice of veal shank with its center bone - the "ossobuco" or "the bone with a hole" - filled with tasty marrow (it usually arrives at your table with a spoon sticking out of the marrow, the better to scoop out and eat the flavorful, creamy smooth center). The veal shanks are long simmered in chicken stock and white wine, flavored with the traditional "soffritto" (chopped onion, carrot and celery, sautéed in olive oil or butter at the beginning of the cooking process), tomato and bouquet garni. Ossobuco's traditional partner and best friend is a creamy saffron-infused Risotto Milanese, sometimes dusted ever so lightly with freshly grated Parmesan.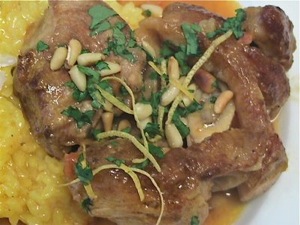 Warm, succulent and rich, Ossobuco is the perfect dish for this chilly, rainy season. The complexity of this classic Italian dish never ceases to delight and satisfy; meat so tender that it falls off of the bone and melts in the mouth, scooped up in all its glory with a spoonful of golden, creamy risotto, the slight tang of the tomato and the delicate crunch of a sprinkling of toasted pine nuts, the flavors lingering behind, bringing back the nostalgia of our Italian years.
Followed, of course, by the perfect Tiramisu...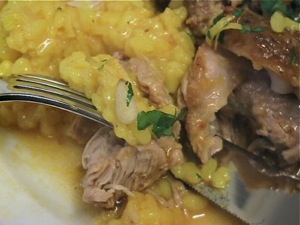 OSSOBUCO ALLA MILANESE

Serves 4 - 6

2 ½ lbs (1.2 kg) veal for ossobuco (sliced veal shank or, if unavailable, veal shoulder) 1 per person
4 - 4 Tbs olive oil
¾ - 1 cup (190 - 250 ml) dry white wine
1 Tbs tomato paste
1 onion, diced
1 carrot, diced
1 branch celery, trimmed and diced
Seasoned flour (salt & pepper), enough to dredge the slices of ossobuco
1 cup (250 ml) crushed tomatoes or tomato pulp (or 3 fresh, ripe tomatoes, peeled and crushed)
3 - 4 cups (750 ml - 1 liter) chicken stock or half stock, half water
Bouquet garni or a few bay leaves + a few branches of dried thyme
Salt and freshly ground black pepper
½ lemon for juice (optional)

Gremolata (garnish):
Zest of 1 lemon
2 Tbs pine nuts
¼ cup or 2 Tbs chopped fresh flat-leaf Italian parsley

Prepare the Gremolata :

Lightly toast the pine nuts in a skillet over medium heat with no fat, tossing and watching carefully so as to pull them off the heat immediately they are golden brown. Zest the lemon in long, curling threads. In a small bowl, toss together the toasted pine nuts, the lemon zest and the chopped parsley. Set aside until dinner. If there is long to wait, cover with plastic wrap to keep it from drying out.

Prepare the Ossobuco :

Trim and dice the carrot, onion and celery. Stir the tomato paste into the white wine to dissolve. Dredge the veal in the seasoned flour (salt and pepper) to coat both sides. Shake off the excess flour.

Heat about 4 Tbs olive oil in a deep, heavy, lidded pot over medium-high heat until hot and sizzling when a piece of onion is dropped in. Add the flour-dredged veal, making sure not to overcrowd - you may need to do this in 2 or even 3 batches. Allow to brown well on one side before carefully turning each piece to brown on the other side; this will take anywhere from 5 to 10 minutes per side, depending on the temperature of the oil. Remove the browned veal to a plate and continue with the next batch until all is done.

Once all the veal has been browned on both sides and removed to a plate, add a couple of additional tablespoons of olive oil into the pot if necessary. Add the chopped vegetables and, over medium heat, sauté the vegetables until soft and coloring golden brown around the edges, about 5 to 8 minutes. (This is what the Italians call soffritto. All great dishes and sauces start with this flavor base. The basic Southern Italian soffritto is prepared with olive oil, chopped onions and sometimes chopped garlic. In Northern Italy the most common soffritto is made with minced celery, carrot and onion.)

Add the wine/tomato paste to the cooked vegetables and cook for a minute, scraping up any brown bits stuck to the bottom of the pot. Add the veal back to the pot along with any meat juice that has accumulated in the plate, the crushed tomatoes, the bouquet garni and salt and a generous grinding of black pepper. Pour the chicken stock over it all until just barely covered with liquid. Reserve the rest of the stock in case too much boils away and you need to replenish. Cover the pot tightly with a lid and lower the heat, allowing the ossobuco to simmer for 1 ½ hours, checking once or twice on the level of the simmer and the liquid.

½ hour before the end of cooking, begin preparing the traditional Risotto alla Milanese (although the Ossobuco can very easily be made ahead of time, even the day before, and reheated beautifully).

When the Ossobuco is finished, taste and adjust seasonings. If you prefer, squeeze in half a lemon for a tangier, sharper flavor. Serve with the Risotto alla Milanese.

Jamie Schler lives, eats and writes in France. To read more of her work visit Life's a Feast.

Related