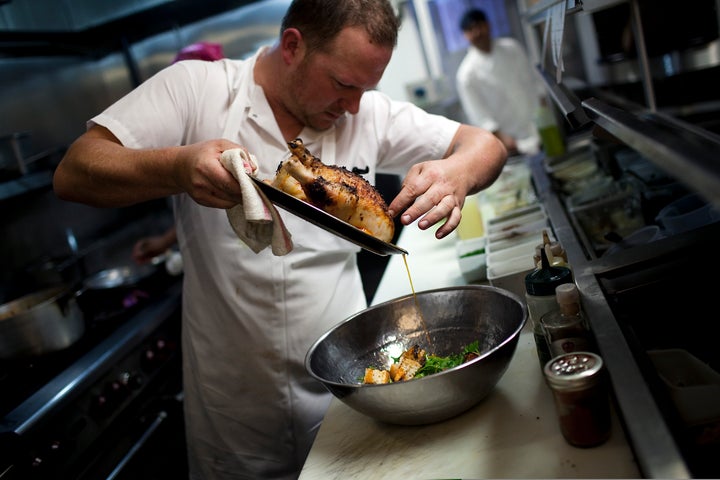 Current Neighborhood: Culver City
LA Transplant or Native Angeleno?
Orange County native but lived in NYC for a while.
How would you describe your LA?
My LA revolves around farmers' markets, backyard playtime, Disneyland, museums, Sunday family dinners, and movies.
As the transforming force behind Osteria La Buca, what inspiration have you found in LA?
I'm inspired every time I go to the market, I'm inspired all the time by such an abundance of product.
How does the proximity to Paramount Pictures, one of the most legendary studios in Hollywood, influence Osteria La Buca?
Well, Paramount people definitely know what they want. They are major part of our lunch crowd, so I tailored the lunch menu to be a little more salad and sandwich friendly, you know, things that move quickly. Our fresh-made pastas definitely keep them coming back, though.
If you could create a meal that evoked the spirit of Los Angeles, what ingredients would you make sure to include?
Avocado, citrus, crisp lettuces, strawberries, goat cheese, persimmons, figs and arugula.
Do you have a favorite farmers' market and/or any go-to vendors?
I like Coleman Family Farm and Windrose. Underwood family as well, and Gloria's. My favorite market is the one in Santa Monica on Saturdays off Pico and 28th, never crowded and there is a park to take the boy to play afterward.
You worked for numerous acclaimed chefs in the Big Apple. How does food culture differ between LA and NYC?
Not a lot of late diners here in LA. Offal is a little hard to move here as well, but both coasts truly love their pasta and pizza.
You began at Disneyland's secret club, Club 33, as a 16-year-old hoping for free admission to the theme park -- what was your job there?
I had a number of jobs at Disney. I started at the Blue Bayou peeling vegetables and I also worked at the French Market as a busboy.

What was the craziest thing you ever experienced there?
Seeing No Doubt play in front of A Small World at 3 in the morning for one of Disney's grad nights. This was way before anybody knew who they were.
And what is your favorite ride at Disneyland?
Star Tours.
What's your go-to drink and where is the best place to find it?
I'm partial to the Penny Arcade at Osteria La Buca, but if I'm out it's usually a Manhattan, made with rye, amaro, bitters and an orange twist, stirred. It's usually in the lobby bar of the Culver City Hotel.
What are some of your favorite restaurants?
Quinn [Hatfield] is awesome over at Hatfields, Tender Greens, Ari [Rosenson] is awesome over at Cut, there is a rib joint on Crenshaw that kills it. Kyochon in Koreatown kills it with the fried chicken.
How did you celebrate your Thanksgiving?
At grandma's down in Garden Grove, 25 people or so with a maple brined turkey.
Why do you hate Los Angeles?
I don't understand why there are no turn signals in this town -- that would solve a huge amount of traffic issues. I also don't understand why people almost come to a complete stop before turning right on a green light, and they never use their blinkers.
Why do you love Los Angeles?
In-N-Out Burger. And I'm able to play outside most days with my son.
Why LA?
The weather is king. Period. Plus, my family is here and the vegetables are great.
Calling all HuffPost superfans!
Sign up for membership to become a founding member and help shape HuffPost's next chapter
BEFORE YOU GO