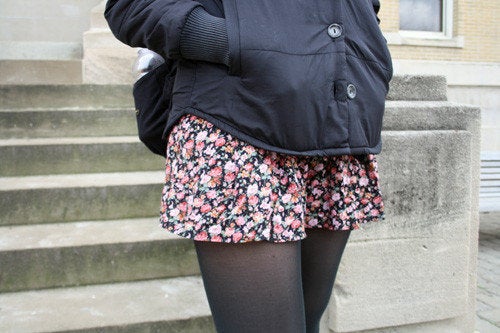 People say that culture is a telling indicator of the health of a community. If this is true, then fashion is one of its most obvious symptoms. Take a walk down the main drag of any city and you immediately get a feel for the pervading lifestyle. The hippie chic vibe of Fashionistas in Boulder, Colorado, for instance, reveals its eco-friendly emphasis. While the edgy and diverse fashions of New York City speak to its bold, no-nonsense attitude. So, what does a stroll down High Street reveal about fashion in Columbus, OH -- the land of the buckeyes?
Well, the answer to this question comes in the form of today's Fashionista. She is the ultimate example of buckeye fashion. Striking the perfect balance between utility and design, this Ohio State University Fashionista captures the relaxed and balanced mind-set of Columbus. Comfort is key to fashion in the Midwest and Columbus is no exception. But comfort doesn't always equate boredom, as today's example illustrates. Notice how she juxtaposes feminine, floral shorts with a sporty Nike jacket and rugged winter boots. This look is reflective of the current sportswear theme that has taken hold of all the latest street style blogs. It also speaks to the dominant sports culture at OSU. Walk around campus during any game day and you will understand that when it comes to football, buckeyes mean business. An overwhelming majority of students take our buckeye mascot to heart and literally go nuts for our sports programs. This is one facet of Columbus style not to be overlooked.
Another facet comes to light when studying this Fashionista's tights with shorts statement. Her black tights not only tie together her shorts and jacket but they also create a slimming silhouette. She accessorizes her outfit with a cozy pink scarf and quirky, skeleton earrings. These details enhance the playful persona of her ensemble. Even while showcasing current fashion trends, one thing remains clear about this Fashionista: she is at ease and prepared for a long day walking the sidewalks of OSU's large campus. Like most OSU students, she pays attention to current trends but never becomes their victim.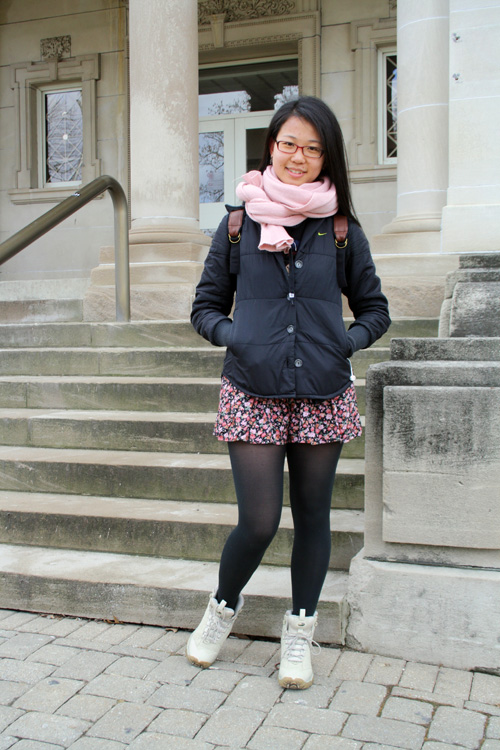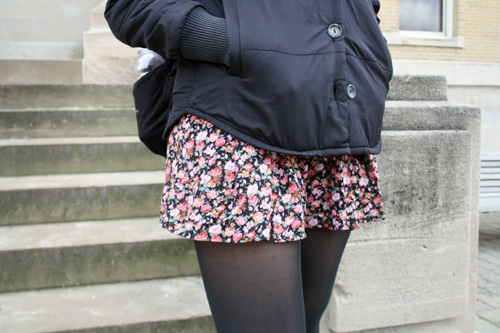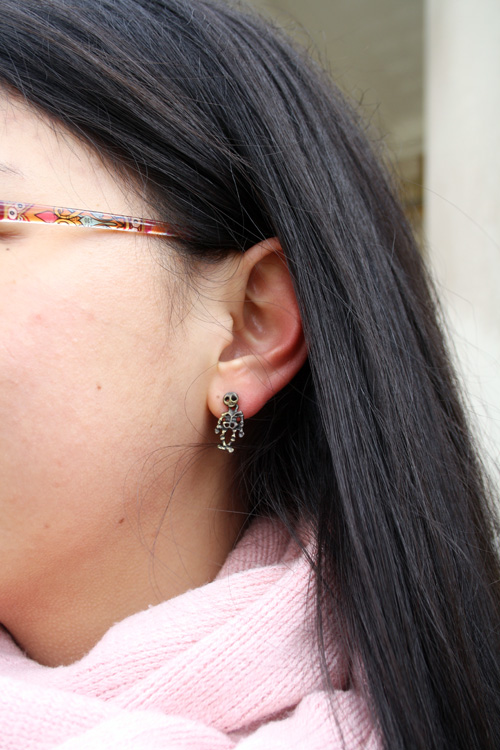 With a massive population of nearly 60,000, there is no denying that OSU has its fair share of sweat pant wearing, UGG-boot loving students. But interspersed, you will discover creative individuals of all backgrounds. It is difficult to describe a typical OSU Fashionista or Fashionisto because each fashion conscious student displays his or her own unique sensibility. There is no typical. Thick-framed hipster style meshes with fringed boho chic. Modern minimalists coexist with tattooed punks. Although you will find less radical style here than the more fashion-forward big-city pavements, the beauty of Columbus fashion comes in its broad appeal. Our state slogan says it well; we are at "the heart of it all." You can call us a style crossroads that blends many elements into a mild yet appealing mix.
This middle-of-the-road mentality can lead people to brush off Ohio fashion. But don't be fooled by the Midwest facade. When you dig underneath the surface, you will find a vibrant fashion scene that thrives on this versatility. If fashion is truly a symptom of culture, then it is safe to say that the buckeye spirit is a picture of health.
Elizabeth Sensky is a senior studying fashion merchandising at The Ohio State University. You can often find her baking tasty desserts, practicing power yoga and watching Ted Talks late into the evening. She is a strong believer in natural food and the healing powers of an all-night dance party. After graduation, she hopes to travel the globe before eventually finding her place within the world of sustainable fashion.