WASHINGTON ― A mysterious source contacted multiple news outlets this week to share emails between the influential ambassador of the United Arab Emirates, Yousef Al Otaiba, and top figures in the American foreign policy community, including former Defense Secretary Robert Gates.
In private correspondence, Otaiba ― an extremely powerful figure in Washington, D.C., who is reportedly in "in almost constant phone and email contact" with Jared Kushner, President Donald Trump's adviser and son-in-law ― is seen pushing for the U.S. to close down its military base in Qatar and otherwise poking at issues that could drive a wedge between the U.S. and that Arab nation. He also says that his country's de facto ruler is supportive of a wave of anti-Qatar criticism in the U.S. that the Gulf state last month called a smear campaign and that has prompted behind-the-scenes alarm inside the U.S. government.
The anonymous leakers told HuffPost they sought to expose the UAE's efforts to manipulate the U.S. government, and denied any allegiance to Qatar or any other government.
Regardless of the leakers' intent, the revelations promise to heighten tensions between the two U.S. partners. If the UAE succeeds in damaging America's decades-old relationship with Qatar, the result could dramatically undermine U.S. goals in the Middle East. The two American partners' escalating rivalry could worsen conflict in war zones where they support different proxy forces ― notably in Libya, which has become a haven for smugglers, warlords, and terrorists ― while distracting attention from bigger international priorities, like restoring stability in Syria and Iraq after the expected battlefield defeat of the Islamic State. And the UAE strategy could leave the U.S. more wedded to that government's whims, including its policy of maintaining brittle autocratic rule across the region instead of trying to secure long-term stability by having some level of popular participation.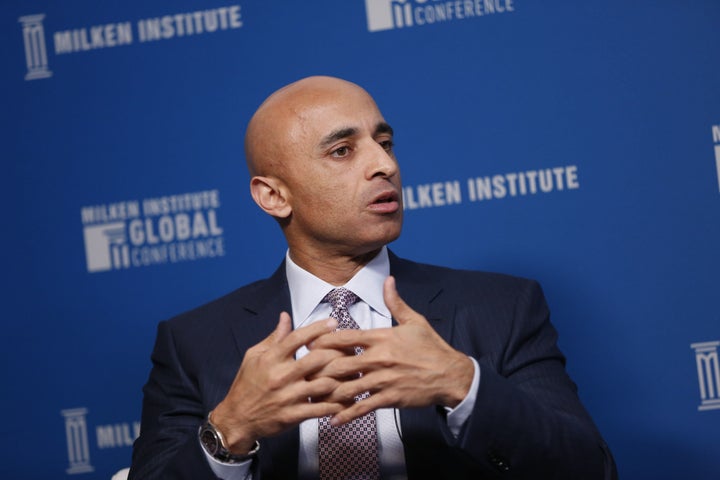 The UAE and Qatar have taken their rivalry public in recent days following a controversial report in Qatari media. Qatari authorities soon claimed that the May 23 story ― which suggested that the country's ruler, Sheikh Tamim bin Hamad Al Thani, gave a speech describing his respect for Iran, his support for the Palestinian militant group Hamas and his ties with Israel ― was a fake product of a hack. But news sources based in the UAE and Saudi Arabia still suggest that it exposed his true feelings.
Though Qatar and the Emirates are putative allies, they have drifted apart since 2011 because of their differing reactions to the Arab Spring protests that year. As the largely non-violent Muslim Brotherhood movement gained power across the region, Qatar supported it, seeing it as a vehicle for the Middle East's democratic aspirations. The UAE calls the group a terror front. With a new U.S. administration in power, the time is ripe for one or the other to push for American action in its own interests.
Otaiba, who has been the UAE's ambassador to the United States since 2008, is known as one of the best-connected diplomats in Washington, D.C. He makes frequent high-profile appearances around the city and the U.S. speaking circuit, and he's ensured that the Trump administration has already cozied up to the Emirates, which hosts a recently opened Trump golf course.
The leakers provided HuffPost with three batches of emails from Otaiba, some as recent as May and others from as far back as 2014, the last time the UAE supported a major effort to spread skepticism about Qatar in the United States. HuffPost contacted eight of the individuals who'd exchanged messages with the ambassador and shared the contents of those emails; none denied that the exchanges took place. Though Otaiba did not respond to repeated HuffPost requests for comment, a UAE Embassy spokeswoman confirmed to the Daily Beast that the Hotmail address used for the messages belongs to him.
Otaiba's emails show an effort to build alliances and a focus on Qatar.
The night before former U.S. Defense Secretary Robert Gates was scheduled to speak at a high-profile Washington conference on Qatar, for instance, Otaiba wrote him an artfully worded note. "The subject of the conference has been a neglected issue in U.S. foreign policy despite all the trouble it's causing," the diplomat wrote. "Coming from you, folks will listen carefully."
Gates emailed back that he thought he had "the chance to put some folks on notice."
Otaiba offered to buy the former Cabinet official lunch and passed along a message from his boss back home. "MBZ sends his best from Abu Dhabi," the ambassador wrote, using a nickname for UAE Crown Prince Muhammed bin Zayed. "He says 'give them hell tomorrow.'"
The next day, Gates offered a scathing assault on Qatar, excoriating its support for Islamists, at an event hosted by the hawkish Foundation for Defense of Democracies. "The United States military doesn't have any irreplaceable facility," he said. "Tell Qatar to choose sides or we will change the nature of the relationship, to include downscaling the base."
The incident worried U.S. officials. The American ambassador to Qatar, experienced career diplomat Dana Shell Smith, contacted many of the conference speakers beforehand to try to tone down the rhetoric. It appears that her attempt backfired: foundation officials have publicly criticized and questioned her efforts.
The powerful Washington-based foundation features heavily in the Otaiba emails. While many of those messages show the ambassador helping its analysts plan trips to the UAE, they also contain two of the most striking revelations about Otaiba: He explicitly advocated for moving the U.S. base out of Qatar ― something he hasn't done publicly ― and he discussed the idea of pressuring companies in U.S.-friendly countries to avoid business opportunities in Iran.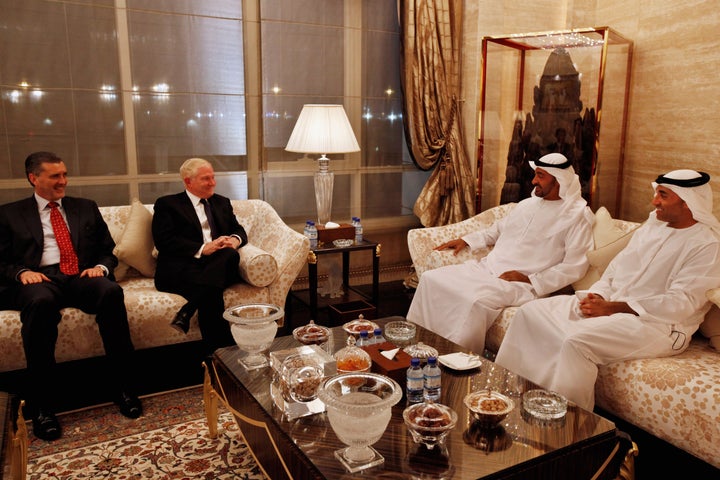 An Arab's Favorite Pro-Israel Group
The Foundation for Defense of Democracies spends much of its time trying to strengthen ties between Washington and conservative political forces in Israel. But despite the UAE's refusal to establish diplomatic ties with Israel, the think tank and others in the pro-Israel lobby have found common ground with the Emirates on two major issues: Both want to contain Iran and political Islam. Both suffered a high-profile defeat when the U.S. and other nations reached a nuclear deal with Iran in 2015. And for the past year or so, both have been pushing to make the future of U.S. relations with Qatar a debate in D.C.
Emirati critiques of Qatar often raise the same points the foundation's scholars bring up in their frequent appearances before Congress and in the media: The Qatari government provides, in the words of the U.S. Treasury Department, a "permissive jurisdiction" for fundraisers and donors hoping to aid violent Muslim extremists. In supporting the rights of protesters and democracy activists (at least compared to its neighbors), Qatar is accused of promoting Islamists who claim to be peaceful but really seek to impose brutal Shariah law. And it frequently offers a platform to hatemongers targeting Israel, Jews, the minority Shiite community within Islam, LGBTQ individuals and others ― generally on its marquee media property, the Arabic edition of Al-Jazeera.
But experts on the region note that Qatar's flaws as an American partner are not unique: Kuwait has also been called a "permissive jurisdiction," and Saudi Arabia and the UAE also host terror financiers and clerics who spread hate speech. The vendetta against Qatar, then, appears to be driven by more defensive concerns, namely the pro-Israel side's focus on Hamas and anyone who supports that group, and the UAE's worry that the Muslim Brotherhood could threaten its own ruling regime.
Otaiba made his views about the U.S. base in Qatar clear in an April 28 message this year to John Hannah, a senior counselor at the Foundation for Defense of Democracies and a former aide to Vice President Dick Cheney.
Hannah had emailed the ambassador a Forbes article noting that an Emirati-owned hotel would actually be hosting a Hamas conference in "Muslim Brotherhood-loving" Qatar. Otaiba appeared taken aback by the jab; the UAE is rarely criticized in Washington's policy community.
"Shouldn't we be trying to move the base?" he wrote. "I don't think it's fair to point the finger at an Emirati company on this one."
Hannah responded by saying he agreed about the military base. But he said criticism of the decision to host Hamas was fair no matter who owned the hotel. Otaiba snapped back that the UAE would move its hotel when the U.S. moved its base.
"Don't move the hotel," Hannah answered. "Just force Hamas to reschedule at a different venue not owned by Emiratis."
On Friday, Hannah told HuffPost that the communications were business as usual.
"As a leading Washington think tank, [the foundation] is engaged in policy discussions with a range of actors across the Middle East and elsewhere. My own relationship with Ambassador Otaiba goes back years, including both my time in government and out," he wrote in an email.
Mark Dubowitz, the foundation's CEO, lobbied Otaiba on a different issue in a March 10, 2017, email. Dubowitz provided Otaiba with a list of mainly Western companies that operate in the UAE and Saudi Arabia and that are looking to do business in Iran, following the lifting of some sanctions as a result of the nuclear deal.
"This is a target list for putting these companies to a choice, as we have discussed," Dubowitz wrote the ambassador. The group includes businesses based in Austria, France, Germany, Italy, the Netherlands, South Korea and the U.K.
"I have discussed this policy idea many times in public including in published pieces and reports," Dubowitz wrote in a Friday email. "I sent these public pieces, reports and the list of companies as an example to a number of people in Washington and abroad to get feedback on the idea."
On Saturday, Dubowitz issued a further clarification about the relationship on Twitter. While many think tanks in Washington have received funding from the UAE, the Foundation for Defense of Democracies is not one of them, he wrote.
Emails with another foundation associate show the level of warmth in interactions between the think tank and Otaiba ― and the way they frequently circled back to joint foe Qatar.
On May 24, Otaiba emailed nonresident fellow Mary Beth Long, a top former Pentagon and CIA official with ties to current Defense Secretary Jim Mattis. He appears to have shared an article critical of Zayed, the UAE prince.
"Isnt this the former Guardian hack who used to work for al Jazeera? I know it doesnt make MBZ feel better, but hes in pretty good company. Trump takes a beating here as well (but he always does)," Long wrote back.
Otaiba seemed to have expected more sympathy. "This site is paid for by Qatar!! How is donald trump the issue??" he wrote.
Long quickly concurred. "Darling, I KNOW," she wrote. "What I was trying to convey is that NO ONE takes this site seriously (although I know it is still really hurtful and annoying.) My point is that even for people who dont know that, their main writer is a well known HACK who has no credibility as he is former AJ and Guardian ― where HACKs live!! Its basically a blog of filth and could never pass for more."
Contacted about the exchange, Long stood by her comments in it and accused HuffPost of coordinating with hackers to obtain it. She threatened to sue if it was published.
"That is an accurate representation of the crap that the Qataris and others have been printing about the UAE leadership, and frankly, I was defending myself about some comments I had made," Long said. "I'm appalled with the Qatari use of media and Al Jazeera to attack its neighbors, and it is undermining US foreign policy. I was not as careful and articulate as I should have been, and I was attempting to make the ambassador feel better which was, it appalls me of what's been going on in the press, and in fact I have an editorial I've been writing that will make that all very, very clear."
Although the broader foreign policy conversation is only now noting the alignment of interests between pro-Israel hawks and anti-Iran, anti-Brotherhood forces in the Gulf, like the UAE, informed analysts have recognized it for years.
In a Feb. 5, 2014, email to Otaiba, lobbyist and former Clinton aide Rich Mintz directs him to note comments by former Obama administration official Dennis Ross at a public think tank event.
Ross, a former senior adviser to President Barack Obama, is well respected among Middle East policy-makers. In a summary prepared by Mintz's lobbying firm, Ross appeared to say that "as opposed to a few years ago, the talking points in the Gulf were almost identical to the ones he heard in speaking to Israeli officials."
(Mintz did not respond to a HuffPost request for comment; HuffPost was not able to independently confirm that exchange.)
In recent weeks, Ross has publicly joined the chorus of Qatar critics and Emirates boosters. "The Qataris should know we have alternatives and are prepared to develop them in the UAE and elsewhere unless Qatar is prepared to be a genuine partner and not a party that contributes to the very threats we need to counter," he wrote in USA Today on May 8.