More than 100 OffTheBus members have reported back on approximately 120 Platform Meetings in the last week (See a map depicting meeting locations here). The Platform Meetings are part of "Listening to America," a new initiative announced by the Obama campaign and the Democratic National Committee to elicit supporters' input for the Democratic Platform. Each party announces a platform of policy proposals at its convention prior to the general election, and this year the Obama campaign claims it will do it differently — just like Obama's planned speech in the 75,000-person stadium. There have been approximately 1300 of these meetings to date, according to the DNC.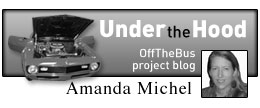 Now we're going to report back to our readers what we learned from these events, as well as a bit about our own process. Going forward, we'll blog out our investigations in real-time, occasionally keeping mum on our findings until we've got a story to publish.
Our most significant findings suggest that the Platform Meetings catered to a hefty number of "long-time" Obama supporters who are also recent additions to the Democratic Party. Obama's 2004 Convention speech rallied many of the Platform Meeting hosts to his side almost four years ago, according to phone interviews conducted by our Special Ops members. Less than a quarter — 22% — of the Platform Meeting hosts interviewed by OffTheBus members backed another Democratic candidate during the primary race. Nine percent previously supported Senator Hillary Clinton, 7 percent backed John Edwards, and approximately three percent supported either Kucinich or had remained undecided through the primaries. Several members reported vocal and high attendance by Clinton supporters, who told our citizen journalists they participated out of respect for the Senator's call that they unite the party. Most accounts describe mixed attendance — a handful of staunch and self-declared Democrats, some newcomers, and a slight majority of "long-time" Obama supporters. Madison, Wisconsin proved to be one exception. " I've been politically active my whole adult life in Madison and all of these people were new," reported Adam Young, a local activist who attended the meeting on OffTheBus' behalf.
Based on a sample of 120 platform meetings scattered across the country, an average of about 19-20 participants attended each event. The largest event we observed was hosted at a local D.C. bar and cafe, Busboys and Poets, where 115 people showed up. Just two people showed up at the smallest event. Evidently smaller meetings make consensus-building — and platform writing — a near impossibility…. When reason reached an impasse attendees asked our citizen journalists to weigh in.
Some progressive activists have openly questioned how much influence Platform Meeting attendees would have over the official Platform Committee. Meeting attendees disagreed. Acknowledging that such a review may pose a tremendous logistical challenge they fully expect the campaign and the DNC to read their submissions. The meetings themselves received high reviews from attendees, who sometimes struggled to reach consensus. Obama supporters consistently named withdrawal from Iraq, strengthening the economy, protecting the environment, and universal health care as their top four issues. The Israel-Palestinian crisis oftentimes came up in debate at Platform Meetings, but attendees generally agreed not to submit it as a top issue.
This is not the first time the Democratic Party has opened up the platform process. In the past the Democratic Party hosted townhalls in select locations around the country. With the help of the web, the "Listening to America" initiative opens up the submission process. It remains unclear how the campaign and Democratic National Committee will process peoples' ideas and ultimately fold them into the platform. To date no announcement has been made on what criteria will be used, and how the proposals will be weighed.
A lot of information came in from our Special Ops members, most of which we'll publish on this blog tomorrow and Friday. That includes — details on platform proposals, meeting videos and photos, event articles written by our members, plus a bit on how this initiative worked. And some more.
Everyone who participated — see the ongoing project byline below — deserves credit for their hard work and reporting….
Heather Alarcon, Constance Bair-Thompson, Fai Borowiec, Beth Borzone, Stuart Brann, Harmon Brody, Carol Anne Burger, Kellie Cameron, Betsy Cazden, Natasha Chen, Denise Chiang, Thomas Cochrane, Ed Cohen, Donna Corey, Bill Dagg, Peter Daly, Cathlyn Daly, Bruce Daniels, Victoria DePaul, Timothy Dillenbeck, Dr. Art Donart, Esther Drew, Patrick Duncan, Joan Easley, Natalie Elmore, Ataa Elnaccash, Maiko Emi Adachi, Chad Ernest, Robyn Ewing, Taye Foster Bradshaw, Suzana Frasheri, Deb Gianola, Lynne Glasner, Anton Goustin, Andrea Graham, Janice Guider, Franklin Gurganus, Sara Haile-Mariam, Janet Hamilton, Cathy Harned, Susan Hass, Bill Hay, Greg Hodur, M.E. Holden, Bette Holmes, Karen Hoving, Pamm Howard, LD Janakos, Cameron Johnson, Rosalyn Johnson, Christopher Johnston, Hazel Kahan, Mary Kenez, Saba Kennedy-Washington, Natasha Kotecki, Henryk Kowalczyk, Jonah Lalas, Chuck Lasker, Erik Lassi, Steve LeMay, Clara Listensprechen, Thyra Lowe, George Manos, Deanna Martin, Sandra Mayse, Nora McDonald, Jan McGirk, Darrell Miller, Sarah Moglewer, Browne Molyneux, Atia Moore, Greg Moran, Amanda Morris, MaryBeth Morrissey, Dean Mougianis, Jay Mucha, Sonya Myers, Marianna Nash, Trish Nater, Albert Nickerson, Daniel Nolte, Charmaine Nygaard, Michael O'Donnell, James O'Gallagher, Ahu Ozyurt, Roy Pearson, Brian Pendleton, Virgilio Perez Pascoe, Lisa Phelps, Marlene Phillips, Deborah Plummer, Rachel Port, Vidya Pradhan, Ted Radamaker, Daniel Raymond, Kristina Reaume, C Roebuck Reed, B.G. Rhule, Pax Riddle, Edward Rotchford, Nancy Ryle, Greg Schwartz, Merry Selk, Karen Sellars, Susana Short, Erica Slead, Rona Smith, Paul Solyn, Dr. Shauna Springer, Jeff Stepper, Jensea Storie, Ruth Stroud, Gale Teschendorf, Crystal Thompson, Garland Thompson Jr., R. Trecker, Sandra VanderVen, Craig Vaughan, John Walsh, Teddiye Walton, Theresa Weathers, Marie Weingarten, Kathleen Wells, Mary Ann West, Joan Wile, Adrienne Williams, Kim Womantree, Jaime Yarbrough, Adam Young.
Read more at OffTheBus Project Director Amanda Michel's "Under the Hood" ground report blog. Under the Hood serves up round-ups of on-the-ground intelligence and dispatches from inside and around the presidential campaign as provided by our OffTheBus Special Ops members. It's election campaign raw material. Read Amanda's introduction here.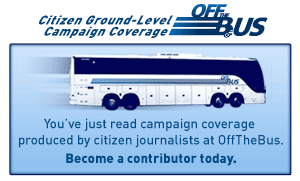 Popular in the Community