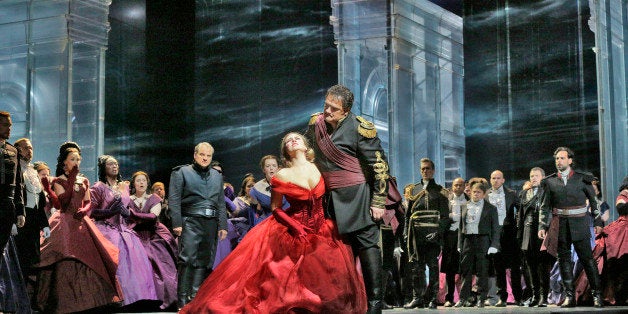 The glitter belonged strictly to New York's glitterati last night as the Metropolitan Opera opened its season with a stark and simple yet often powerful new production of Otello, Verdi's passionate and masterful rendering of one of Shakespeare's greatest plays.
While the Met Opera lobby was packed with New York's bejeweled social elite in evening gowns and black tie alongside a music-loving public in workday attire, the stage was occupied by a cast and chorus clad mostly in varying shades of gray and black in Bartlett Sher's spare vision that focuses on the unfolding tragedy.
With a solid cast featuring the Latvian tenor Aleksandrs Antonenko in the title role, the enchanting Bulgarian soprano Sonya Yoncheva as Desdemona, and the excellent Serbian baritone Zeljko Lucic as Iago, the new Otello will be available to audiences around the world on Oct. 17 when a matinee performance is aired as part of the Met's Live in HD series to more than 2,000 theater in 70 countries.
Sher, whose Il Barbiere di Siviglia for the Met has become an audience favorite, says his Otello is set in the late 19th century, though the opening storm scene uses video projections of waves on the scrim and a backdrop to create a stormy sea and strobe lights blink on and off for flashes of lightning. Sky-scraping, stair-width, see-through walls are rolled onstage and keep multiplying to form a sort of mobile Plexiglas palazzo that serves for most of the sets.
The concept works better in some scenes than in others. It allows the action to flow fluidly from scene to scene almost without pause. But it sometimes creates distractions. In the third act, for example, when Iago tricks Otello into eavesdropping on what he believes is Cassio admitting an affair with Desdemona, the three singers wander from one wall to another like they were playing hide-and-seek. And for some reason Sher has moved the confrontation between Otello and Iago that results in their magnificent oath duet from a hall in the castle to what appears to be Otello's bedroom.
The bed, of course, will show up again in the final act, and the staging of that scene illustrates how Sher's Otello works best when it is kept simple. With only a bed, a prie-dieu, and a nightstand with a lit candle, he creates a chilling tableau that portends the tragedy that follows. After Desdemona sings her moving "Willow Song" and "Ave Maria" and falls asleep on the bed, Otello enters. He snuffs the candle, picks up a pillow and stares down at his wife. It is almost painful to watch.
Verdi was living in comfortable retirement when the music publisher Giulio Ricordi and the librettist Arrigo Boito finally convinced him to tackle Shakespeare's great tragedy. Verdi and Boito decided to skip Shakespeare's opening scene in Venice and begin the opera on Cyprus with Otello, already wed to Desdemona, returning from defeating the Turks in a violent storm.
Otello contains some of the most passionate and beautiful music Verdi ever wrote, from the haunting "Bacio" theme to the stirring "Addio" and chilling "Credo" arias to rousing choruses and a tender love duet. It is a score that examines both the force and the frailty of love and the evil that can prey on human weakness. Under the baton of the Canadian conductor Yannick Nezet-Seguin the splendid Met orchestra brings out every nuance, and the great Met chorus makes the third act finale one of the production's highlights.
Yoncheva, singing her first Desdemona, has a thrilling voice, rich and luscious in timbre. It is a voice that conveys strength and control, which fits the role for the first three acts, but could perhaps find a shade more fateful resignation for the finale. Still, she delivered a lovely and wistful "Willow Song" and "Ave Maria."
Antonenko has a solid tenor that is a bit thin and tentative in the upper register. He is stronger in Otello's fits of rage, though the opening act love duet with Yoncheva is convincing. He makes the Moor's incipient madness more visceral and credible than most Otellos, and his "Addio" in the second act is stirring.
Lucic is superb as Iago, a chilling and malevolent portrait of evil personified, cold and calculating, like a cat playing with a mouse before devouring it. He has a sturdy baritone that is comfortable through the entire range and his second act "Credo" is at once dark and furious, his eyes fixed on the audience as he reminds that after all the mockery there is only death and asks, "And then? And then?"
The final act of Otello is one of the most heart-rending in all opera. Some years ago I saw Renee Fleming and Placido Domingo sing a concert version of just that final scene in Spoleto, Italy, at a birthday celebration for Gian Carlo Menotti, the composer and founder of the Festival of Two Worlds. Nothing can ever quite match that performance for me. But Yoncheva and Antonenka deliver a touching duet.
Related
Popular in the Community