It's not hard to understand why Jon Robin Baitz's Other Desert Cities is such an effective play. This award-winning compact family drama addresses the notions of deception, trust, loyalty, privacy and integrity using a deliciously straightforward setup: a strong-willed novelist daughter returns home to declare to her well-bred and respected republican family that her next book, set to publish in a few short months, is actually a tell-all memoir uncovering some carefully concealed family secrets -- secrets that would unceremoniously topple this family to the ground.
Upon hearing this revelation, matriarch Polly Wyeth (the fragile, yet deceptively fierce, Deanna Dunagan coiffed like a 21st century Nancy Reagan) is the most vocal in her disdain for our daughter's disregard for privacy and tact. But Brooke (a defensively wry Tracy Michelle Arnold) feels this book isn't only necessary, it's essential. She'd rather die than sacrifice her artistic obligation, which is to tell her truth via mass-produced, for-profit print.
Ok. Honestly, I have a hard time relating to Brooke. I mean, she drops this stink bomb right before Christmas Eve dinner and is then surprised by her family's reaction. She's insufferable, stubborn and more than a touch self-centered.
But, unlike steely Polly, she's folded -- grandly. We learn that not too long ago, a broken Brooke was holed up in a hospital with crippling depression. And her mother and father nursed her back to fighting form. To repay them, she wrote a tell-all expose, casting them as a pair of "right-wing sociopaths" who caused (semi-spoiler alert) her brother to off himself.
Brooke's lone advocates are her brother, Trip (John Hoogenakker), who just wants his family to reconcile their differences and move on, and her aunt Silda (the deadpan Linda Kimbrough), a recovering alcoholic who has a vested interest in realizing this memoir.
And then there's Brooke's father, Lyman (Chelcie Ross), who deeply loves his daughter, but realizes that, even for him, there are limits to that love. And when his heart breaks, the truth bursts forth.
Sure, I have my share of problems with Baitz's play. A late act reveal might make for compelling drama, but makes less and less logic as you ponder it post-show. At times the actors sound like they're spouting debate talking points than actual dialogue. And none of these weaknesses are helped by Henry Wishcamper's flat direction, which, despite the best efforts of his outstanding cast, seems to barely skim the emotional surface of this wry and wickedly observant play.
All that said, it's still a supremely entertaining and thought-provoking 2 hours and 20 minutes of theatre.

"Other Desert Cities" plays through February 17 at The Goodman Theatre. More info here >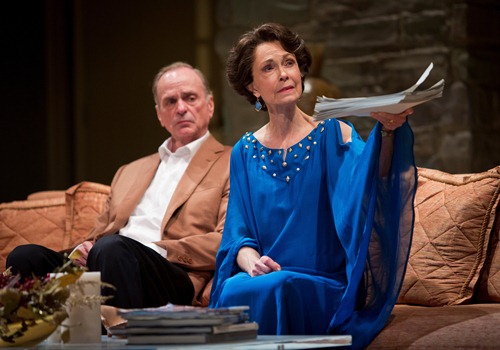 Chelcie Ross and Deanna Dunagan in Goodman's "Other Desert Cities."