2015 may well go down in history as the year that traditional family values (which frequently hide behind the purported threat of an imaginary "War Against Christians") finally got exposed for the perversions of its loudest proponents' hypocrisy.
An increasing number of homophobic religious leaders and politicians have been exposed in their pursuit of gay sex. In Michigan, Reverend Matthew Makela of St. John's Lutheran Church in Midland (who reportedly urged a gay teenager to kill himself) resigned from his post after being outed when another man recognized his picture in Makela's member profile on Grindr.
The former Speaker of the House of Representatives, Dennis Hastert, was exposed as the victim of a blackmail scheme by a former student who claimed he had been molested by Hastert (who was then the school's wrestling coach).
After the shit hit the fan with news that Josh Duggar (formerly Executive Director of the lobbying arm of the viciously anti-gay Family Research Council) had allegedly molested five young girls -- including four of his sisters -- TLC stopped broadcasting episodes of the Duggar family's reality television show, 19 Kids and Counting.
Several women who had been raised in Evangelical families went public with descriptions of how some religious homeschooling programs foster a climate of rape based on the theory that "If it bleeds, it breeds."
Christian Evangelist scumbag Franklin Graham pulled his organization's funds from Wells Fargo Bank after viewing its gay-positive commercial on television and transferred them to BB&T (another bank which also supports the LGBT community).
Although a recent, provocative article in The New York Times entitled Schools Fear Impact of Gay Marriage Ruling on Tax Status pondered the results of the Supreme Court's decision on same-sex marriage, it contained no mention of the numerous LGBT teachers, coaches, and school administrators who have lost their jobs at Catholic schools because their lifestyles clashed with school policy. Nor did it ask if those parties might be able to sue their former employers for lost wages.
California Superior Court Judge Raymond Cadei ruled that a proposed initiative by seemingly homophobic attorney Matt McLaughlin entitled the The Sodomite Suppression Act (which would have mandated the execution of all homosexuals) is patently unconstitutional on its face.
Franklin Graham consistently rages against having the so-called gay agenda crammed down his throat. But as a life-long atheist, I wonder how Graham would react if confronted with the number of Americans who are sick and tired of having Christianity crammed down their throats.
World cinema often provides a startling contrast to America's pathological religious hysteria by simply removing Christianity from the equation or letting its characters act like true Christians. Two recent screenings for Bay area audiences were remarkable for demonstrating the humanity of true family values (as practiced in other cultures) in ways that American conservatives might find difficult to comprehend.
In 2013, filmmaker Josh Kim's 10-minute short entitled Draft Day was screened as part of the Frameline Film Festival. Kim returned to San Francisco for Frameline 39 with an expanded version of his short, an 80-minute full-length feature entitled How To Win At Checkers (Every Time). Kim's new movie (his debut as the director of a full-length feature film) is based on two short stories (At The Café Lovely and Draft Day) from Sightseeing by Rattawut Lapcharoensap.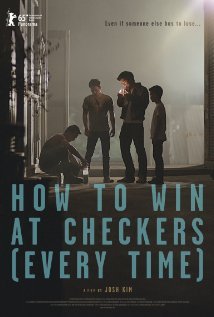 Poster art for How To Win At Checkers (Every Time)
Unlike the United States Armed Forces, in Thailand all men who turn 21 must participate in an annual draft lottery which determines whether or not they will be inducted into the military. The young man who draws a red card is required to serve for two years; anyone who draws a black card is exempted from military service. As the filmmaker explains:

"Before coming to Thailand, I had never actually seen this process before. And while I was writing, it was still unclear what the rules were regarding MTF transgenders. So in 2013, I made a short documentary called Draft Day which followed two transgender women on the day of their own draft. This research helped immensely and provided a strong reference for our team as we had to recreate our own draft for the film."
Kim's new film begins on the morning of the lottery as 21-year-old Oat (Toni Rakkaen) remembers how, as a child, he had tried to save his older brother, Ek (Thira "Um" Chutikul), from being drafted. Ek helped to support himself, his younger brother (Ingkarat "Ryu" Damrongsakkul), his stepsister Kwan (Warattha Kaew-on), and the Auntie (Vatanya "Jim" Thamdee) who helped to raise the two brothers after they had been orphaned.
Ek's two closest companions are Kitty (Natarat "Nut" Lakha), a smart and sexy ladyboy, and Jai (Arthur "Jin" Navarat), a lighter-skinned young man from an upper middle class family. Ek's boyfriend since high school, Jai has always been welcomed as a member of Ek's family whenever he is invited to stay for dinner.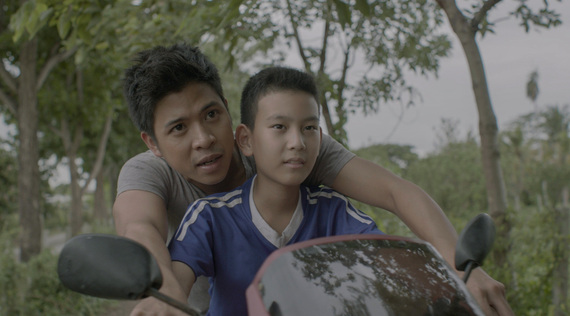 Ek (Thira "Um" Chutikul) lets Oat (Ingkarat "Ryu" Damrongsakkul)
drive his motorcycle in How To Win At Checkers (Every Time)
Like many youngsters, Oat idolized his older brother and (even though his feet could barely reach the pedals) longed for the day when Ek would let him drive his motorcycle. On Oat's birthday, when Ek treats his kid brother to the exotic treat of a cheeseburger at a fast food restaurant (bad choice), it is the first time that Oat encounters Junior (Anawat "Boat" Patanawanichkul), the bratty son of a local drug lord.
In his child-like innocence, Oat has no way of knowing that his older brother earns the money that supports their family by working in a brothel run by Junior's father. That discovery proves to be a powerful coming-of-age moment for the little boy. In his director's statement, Kim writes that:
"The relationship between siblings, more so even than that between parents and children, is one of the most important and long-lasting relationships that a person could have in his or her lifetime. The stories in the book Sightseeing (by Rattawut Lapcharoensap) exposed me to a world that I had never experienced. Yet, the characters were people that I could easily relate to -- especially the two brothers in the short story At the Café Lovely. The dynamic between the siblings deepened my understanding of how poverty, politics, and the loss of innocence can make or break such a precious bond. And while my brother never took me on a night out like the one in the story did, maybe this was for the better -- for the things I never saw and the desperate things I never learned to do -- at such a young age."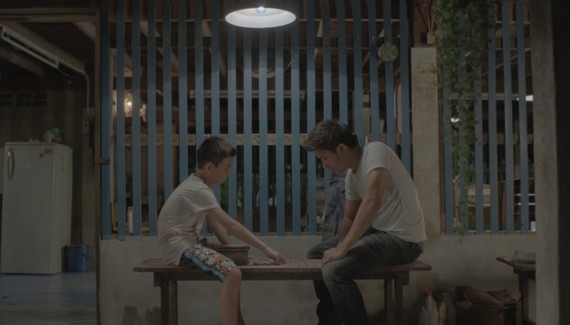 Oat (Ingkarat "Ryu" Damrongsakkul) and his older brother Ek
(Thira "Um" Chutikul) in How To Win At Checkers (Every Time)
The other conflict at the heart of Kim's film is the fact that, coming from a poor family, Ek has no options available to him when facing the draft lottery. His boyfriend, Jai, on the other hand, has a wealthy father who is able to bribe Junior's father so that Jai be exempted from military service. What that does to the intense level of trust between Ek, Jai, and Oat lies at the crux of How To Win At Checkers (Every Time).
What happens to Ek after he enters the military provides the harshest coming-of-age lesson for his 11-year-old brother. Ingkarat "Ryu" Damrongsakkul delivers a remarkable performance for such a young actor. Here's the trailer:
A child's aggrieved frustrations (and his need to learn the importance of forgiveness) lie at the core of 1925's Visages d'Enfants, which was shown at the 2015 San Francisco Silent Film Festival with live accompaniment by Stephen Horne on piano, flute, and accordion. Directed by Jacques Feyder, the story takes place in the small village of Saint-Luc in the Haut-Valais region of the Swiss Alps (where differences in social class don't seem to exist and people are more concerned with the real challenges of their day-to-day lives).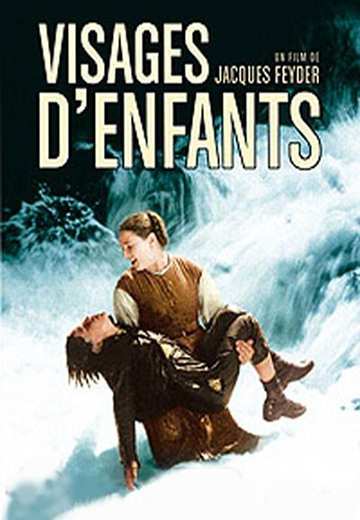 Poster art for Visages d'Enfants
Early in the film, the villagers are seen attending the funeral of the Mayor's wife (Suzy Vernon), who has left behind two confused children: 10-year-old Jean (Jean Forest), and his five-year-old sister, Pierrette (Pierrette Houyez). Their grief-stricken father, Pierre Amsler (Victor Vina), suddenly finds himself without a partner to care for his two children.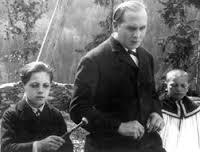 Jean (Jean Forest) and his father (Victor Vina) visit
his mother's grave in a scene from Visages d'Enfants
After a reasonable period of mourning, Pierre decides to marry a local widow named Jeanne Dutois (Rachel Devirys), whose daughter, Arlette (Arlette Peyran), will add another child to his family. But it becomes obvious that Jean is having adjustment problems following his mother 's death. The boy's sullen behavior prompts his father to send him on a trip with the local priest, Canon Taillier (Henri Duval), who is also Jean's godfather.
While they are away, the priest explains to Jean that his father will be getting married to another woman. Upon their return home, Jean finds Jeanne and Arlette comfortably settled in his home. To add insult to injury, he learns that Arlette and Pierrette have taken over his old bedroom and he has been forced to move into a smaller room.
Jean (Jean Forest) and Arlette (Arlette Peyran)
glare at each other in a scene from Visages d'Enfants
Jean's increasingly hostile behavior is not limited to the "You're not my real mother and you never will be" variety. He and Arlette quickly become bitter enemies. Jean refuses to let Arlette join in the fun when he and Pierrette are playing games. When his stepmother uses the material from one of his deceased mother's favorite dresses to make new clothes for the two girls, Jean takes out a pair of scissors and destroys what's left of his mother's dress.
And the boy certainly knows how to hold a grudge. On a cold, winter day, when the family is traveling across the snow on a sled, Jean seizes an opportunity to throw Arlette's favorite doll into a snowdrift. That night he tells Arlette that she should go out and try to find the missing doll.
After becoming lost in the snow, Arlette seeks refuge in a small chapel on the mountain. When an avalanche buries the chapel and Arlette fails to return home, a rescue party is formed by the villagers.
After the young girl is found, Jean's guilt and self-loathing continue to fester. Having apologized to his father, he writes a letter informing the family that he is leaving their village and heads for a nearby stream, intent on drowning himself.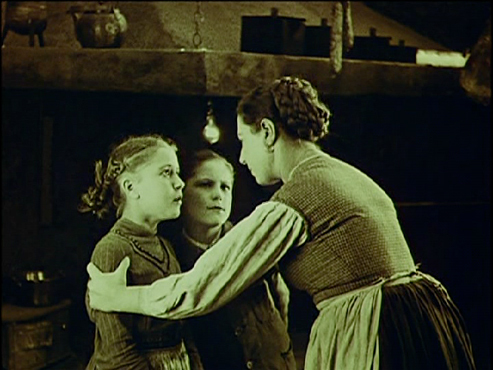 Jeanne (Rachel Devirys) talks to her daughter and
stepdaughter in a scene from Visages d'Enfants
When Arlette and Pierrette inform Jeanne of Jean's departure, she rushes down to the stream and manages to save her stepson's life in the nick of time. Realizing that Jeanne really does care for him, Jean finally stops trying to sabotage his father's second marriage and starts to grow up.
During the 2013 San Francisco Silent Film Festival, Jean Forest made quite an impression during a screening of 1926's Gribiche. Although precious little footage from Visages d'Enfants is available online, this brief clip gives viewers a sample of his intensity and his ability to communicate internal thoughts.
Calling all HuffPost superfans!
Sign up for membership to become a founding member and help shape HuffPost's next chapter