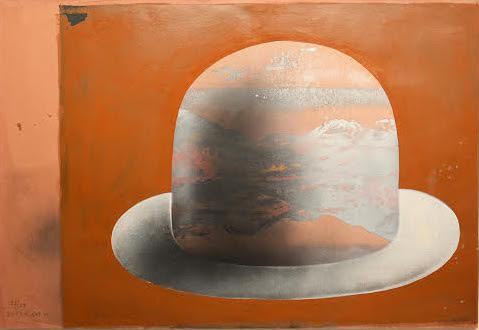 Curated by Ingibjörg Jóhannsdóttir, a master print-maker and school headmaster (in Reykjavík), and Pari Stave, a museum administrator for the Modern and Contemporary department at the MET and freelance curator.
I would sooner call this glimpse at Icelandic printmaking "Plentiful Hats" (as opposed to Other Hats), since many, if not most of these visual storytellers do other things to make a living. Printmaking is something all those included in this IPCNY show seem to sparkle at doing, but with a population of 332,529 in Iceland, it's not a workable way to make a living. Unlike New York's Vesuvius affair with art, where hordes of collectors and doyens of culture spend their dollars to own it or have a decisive devotion to it. That is not to say there isn't a hungry audience for it in Reykjavik…It is just small. There are no grand auction houses, yet there is a very vibrant and original art community unadapted at pretension and not influenced by bigness,(as far as I know) and that's what I love about it, aside from its beauty and famous northern lights, its cultural humor and by extension their multi hatted artists intimate point of view.
International Print Center New York is a great place to explore the very special art form of printmaking. A print is no less unique, or shall I say, lends itself to sometimes a subtle or dynamic change based on an original piece of art. It does what a painting cannot do, it adds variable possibilities and with Judy Hecker helming this small but impressive hub, it is very smartly presented with regular talks and events. IPCNY is a small enough venue to create familiarity, add insight and yet large enough to present a holistic artistic dining experience.
For "OTHER HATS" Hecker tells me that she got a crash course in how to pronounce Icelandic names. "Fortunately, they all like to be called by their first names only. Not just because it's a small population but also because their last names are some permutation of "Son of," or "Daughter of," so we address everyone on a first name basis.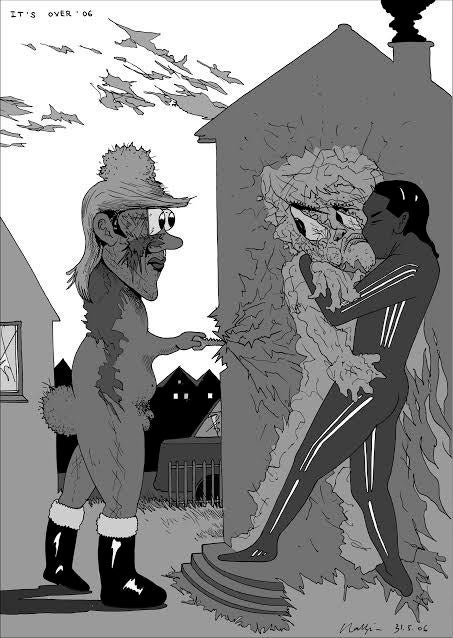 Both curators are very plugged into the art & culture scene in Reykjavik and beyond and Ingibjörg is also a master printer and has printed with a lot of these artists. This is not a complete survey, but a really, really great and very thoughtful slice of contemporary Icelandic printmaking."
Hecker went on to tell me about one of several events that she and her team coordinated with the show. "So the first one we had is in the back gallery, it was a sort of performance workshop. I took young print makers who teach printmaking and also take their shop and their theory on the road. And they came here and spent a week working with students and working with the public. We had a big public event after the opening where people could come in, watch them make prints, collaborate, buy prints for $10, $20. It's a little bit tongue and cheek, you'll see when you go in. Their price point is meant to be an antidote to the art inflated "regular" art market." It was a wonderful addition to the prints in the main gallery since it was tangible and interactive. Lots of fun!
There was a great deal to look at, I enjoyed the distinctive 3D piece by Hrafnhildur Arnardottir aka Shoplifter, Raw Nerves II. A unique canny piece of printing which looks like hairy coral, thus true to its name it favorably conveys raw nerves and gladly I am pleased to say it is encased.
We circled through the gallery viewing many beautiful works which were innovative and exciting; a children's book by Björk; moving prints by Birgir Andrésson of paintings in words by the sighted son of blind parents; a charming, colorful mural of dozens of offset prints of 8 x 10 paper based on 6 floral offset plates boldly installed in a corner of the gallery in a V, along with many more inviting images. Hecker pointed to the famous Dieter Roth print of a bowler hat with landscape explaining, "So this is a kind of self-portrait. It's a very rare thing. There are only twenty of these and all unique variants. He'd planned on doing fifty, but you can see them around, the MET has one the MOMA owns one. And so it's a bowler hat, it's a kind of stand in a self-portrait that is stenciled, sprayed—hand stenciled and then there's hand painting. So it's like a print, mono-type, drawing over a blown up mechanical reproduction, a postcard, of an Icelandic landscape. And so for him, it's a sort of a self-portrait and a reference to the time there. So, each one is really different.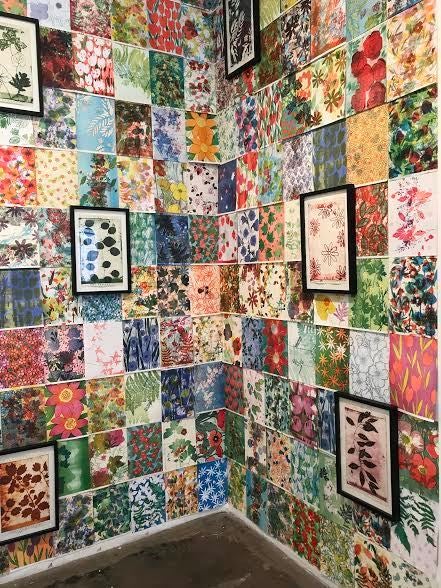 Close by is a jewel box of multiple metal rings by Roth which is superb. All of them are unique and fabulous – precious in the best sense of the word. They are all different hats from the bowler to a top hat. Six unique, beautiful, cunning tiny hat rings placed in a magical little wizardly hat box.
Another memorable work which was very comical and so very true in its depiction, are a couple in the process of divorce. They are illustrations translated into prints by Hallgrímur Helgason. He's got that George Condo thing going on, only no one looks normal. The couple in the picture are anything but, as they go through manifestations of a crumbling marriage at the velocity of a cyclone in full swing.
Other Hats is a very fine show. They have one of their great events coming up, so take a peek. You won't be disappointed.
On June Thursday, June 1st, 6-8p, IPCNY is hosting a live interview with humorist and columnist (The New York Times, New Yorker) Randy Cohen who brings his dynamic interview show Person, Place, Thing spotlighting Icelandic artist and illustrator Hallgrímur Helgason. Don't miss it! Not only will you get some chuckle stuff in but you will see a great print show!
IPCNY, 508 West 26th Street, 5th Floor
Transcription of interview segment by Allison Simon
REAL LIFE. REAL NEWS. REAL VOICES.
Help us tell more of the stories that matter from voices that too often remain unheard.
This post was published on the now-closed HuffPost Contributor platform. Contributors control their own work and posted freely to our site. If you need to flag this entry as abusive,
send us an email
.