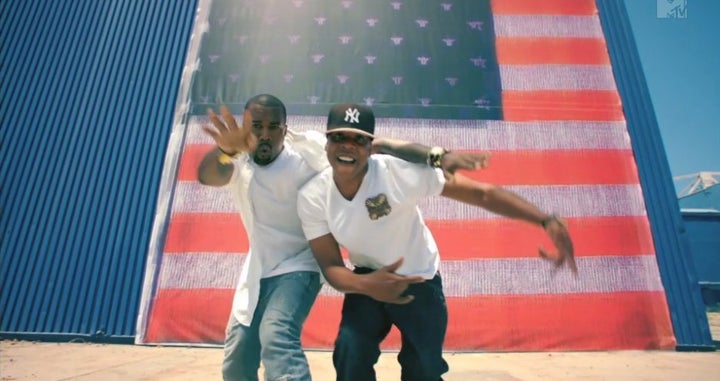 With Watch the Throne's hugely buzzed-about Monday morning release on iTunes, its wide release today, and now the premiere of their first music video off the album, this can probably officially go down in history as Watch the Throne Week.
Jay-Z and Kanye West dropped the Spike Jonze-directed video for their single, "Otis," on five different outlets Thursday at 8:56 p.m. EST (it arrived three minutes late, for the record, but who's refreshing their screen every two seconds?): MTV, MTV2, mtvU, MTV.com and BET got the exclusive -- but really its two outlets, since four of them are pretty much the same.
The video begins in crisp colors (a far cry from the grainy black and white in the teaser trailer) with the duo torching a Maybach in a large, empty warehouse yard. They tear that car apart and create some sort of makeshift convertible, which they then drive around the lot aimlessly in circles, with four young girls riding high in the back.
The video has a real light, soft quality to it. Jay and Kanye amble around almost in slow-motion, talking down to the camera all giddy-like. It climaxes with the duo laughing maniacally as sparks shoot up all around them. It makes you think, as Spike Jonze always does, this is what a music video should be.
Also of note: a young man in a suit and sunglasses -- none other than actor/comedian Aziz Ansari -- makes a few cameos, driving the car, dancing around and acting awkwardly cool with them standing next to the car. Ansari and West have been friends ever since Ansari asked West for permission to name his standup comedy tour the "Glow in the Dark" tour, after West's tour of the same name. And the rest is history.
WATCH the video for "Otis":
Related
Popular in the Community