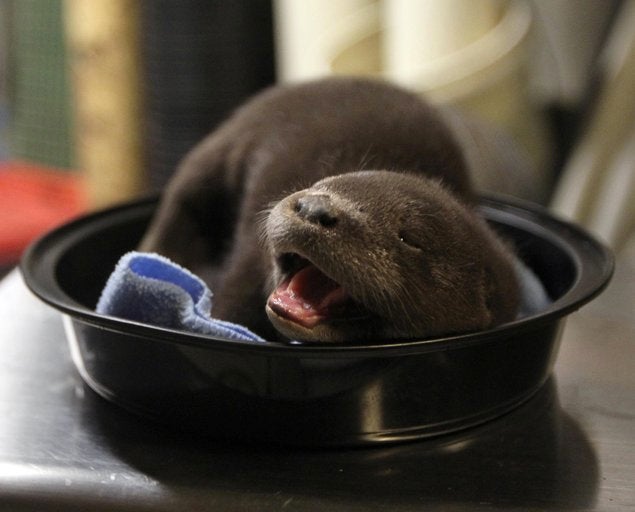 When I showed my daughters the trailer for the film Otter 501, I knew exactly what I was going to hear. I call it the puppy voice. In a pitch almost high enough that only dogs can hear it, my girls will say things like, "That's so cute. Oh, look at that little baby. That is the cutest thing ever." I usually cringe and walk away while they exclaim over a cat video on YouTube. But the baby otter in Otter 501 is a helpless little piece of fuzz that needs rescuing and it actually could qualify as the cutest thing ever.
In watching Otter 501, we learn a lot about otters, but for all the facts presented, the film isn't a documentary. It just feels like one and captures the northern California coastline beautifully. Otter 501 is the 501st otter rescued with the Sea Otter Research and Conservation program (SORAC). Through this program, otters are rescued, nurtured back to health, taught to survive in the wild and released. We learn about the program through Katie, a biology student taking some time off, until she discovers Otter 501 and a whole new world of opportunity opens up. I spoke with Katie Pofahl about her role in the film.
"I made the film and was part of the production team, doing on-camera work. Kind of consulting on scripting for my character's role.The thing that I think is so awesome about it is that these are documentarians to the core and they're going to try to make everything as close to reality as possible. In a sense, the animal's life in the film is straight documentary. My life is fictionalized because I never found an otter. You have to fudge a little bit to make the story compelling. In another sense, it's really true. I recognize that person on camera. I like her. The person I'm growing into and the person I want to be -- I see those elements in her."

Katie tells the story of finding the baby otter through video Facebook updates. I wasn't sure if I liked this technique at first, but it turned out to be an effective way to show how the lives of the girl and the otter weave together. We follow the recovery of Otter 501 and the progress of Katie as she falls in love with the Monterey Bay area and marine biology. Katie filled me in on the film's social mission as well.
"We did a lot of our filming in Elkhorn Slough. It's a wetland, a marsh area. It's not what sea otters typically choose for their habitat. As the sea otters have repopulated the California coast, they've moved into this slough and done really well there. They release all the otters that have been reared at the aquarium there and it's a great place for them. Many of the wild otters choose to go there.

There's a phenomenon that some people refer to as the boy's club. These animals are not really that social. They usually spend like 90 percent of their time alone. The males are generally very territorial. In the slough it's like all bets are off. The males all get together. They float around, they play, they kind of wrestle, they haul out onto the beach. It's kind of a magical place. The otters are very easy to find there. They're very relaxed compared to the kelp forest. There's a lot more interaction in the slough between otters and people.

There are two marinas, kayak shops. It's quite an urbanized area, for being this wilderness space. You have all these human-animal interactions. The way sea otters are, they're kind of living on the edge of what is metabolically possible for animals. They're able to feel comfortable to haul out onto the beach to conserve energy. That area is particularly vulnerable and those animals are vulnerable to being disturbed by humans. There's not really a lot of awareness about that. While we were filming, we'd see kayakers come up to them far too close. One of the things we wanted to do for that area is create a little bit of an educational campaign for these animals. Most kayakers don't know that you aren't supposed to approach these animals. So we put together a draft for a sign and when we screened the film locally, we asked everyone to contribute to a sign campaign. We got a lot of support. We just got it funded. It's been really cool to see how many people that issue resonates with. "
Aside from the beautiful camera work, Otter 501 was a pleasure to watch. It brought together three elements that grab my attention -- animal shows, new use for social media and social action. By highlighting the plight of the sea otters, we learn about sea otters and their habitat, food, habits and needs. We also learn ways to help them. And finally, we have Katie making her direct address to the audience through her Facebook updates. It's a really interesting use of the different media. Check out the Otter 501 Facebook page for more on the film, personal updates from Katie and short videos.
Otter 501 is being released in selected theaters on May 11th and will travel around the country hopefully coming to a theater near you. I'm imagining a whole theater filled with girls mock whispering, "Oh my god, that is the cutest thing ever." Just see if you don't agree.
Calling all HuffPost superfans!
Sign up for membership to become a founding member and help shape HuffPost's next chapter