Otto Warmbier, the former University of Virginia student who returned home to the U.S. last week after spending more than a year imprisoned in North Korea, died on Monday afternoon surrounded by his family.
"Unfortunately, the awful torturous mistreatment our son received at the hands of the North Koreans ensured that no other outcome was possible beyond the sad one we experienced today," his parents said in a statement.
Warmbier landed in the U.S. on June 13 unable to speak, see or react to verbal commands, the statement added. Doctors at the University of Cincinnati Medical Center characterized his state as one of "unresponsive wakefulness," they said on Thursday.
"Although we would never hear his voice again, within a day the countenance of his face changed – he was at peace," his parents said. "He was home and we believe he could sense that."
North Korea also sent MRI images of Warmbier's brain, dated April 2016. The photos indicated his injury likely occurred before the scans were taken ― meaning he had been suffering since the beginning of his imprisonment.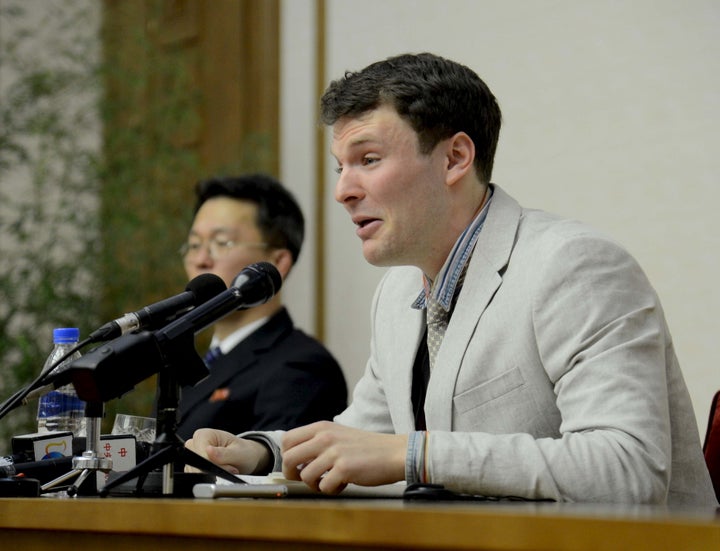 The Wyoming, Ohio, native was in North Korea with a tour group when he was detained for allegedly stealing a propaganda poster from a hotel. He was sentenced to 15 years of hard labor in March of 2016 after a tear-filled confession on camera in a North Korean courtroom. The White House and human rights groups condemned Warmbier's imprisonment, calling for his immediate release.
"Otto's a young, thrill-seeking, great kid who was going to be in that part of the world for a college experience," his father, Fred Warmbier, told the Associated Press.
"This is very difficult news for the entire community," Danica White, Warmbier's high school English teacher, told HuffPost. "Otto will be dearly missed."
"Otto had the biggest heart of anyone I knew. I never saw him in a bad mood. He is the epitome of the kind of student [you'd want] in a classroom."
Warmbier would have been in UVA's 2017 graduating class had he returned from North Korea safely. "UVA will not forget one of our own," university President Teresa Sullivan tweeted.
Intelligence reports suggested Warmbier had been beaten so badly while in custody that there were fears he had died, a U.S. intelligence official told The New York Times.
President Donald Trump directed the State Department to secure Warmbier's release, Secretary of State Rex Tillerson said last week.
"Otto's fate deepens my Administration's determination to prevent such tragedies from befalling innocent people at the hands of regimes that do not respect the rule of law or basic human decency," Trump said Monday in a statement. Vice President Mike Pence lamented the pariah regime's tragic "disregard for human life."
"We hold North Korea accountable for Otto Warmbier's unjust imprisonment," Tillerson said in a statement. He also called on Pyongyang to release three other Americans still detained in the country.
North Korea said it released Warmbier for "humanitarian reasons."
Human rights groups said Warmbier's death further highlights the reprehensible rights abuses that North Korea inflicts on both foreigners and its own citizens. The incident also puts the focus on North Korea's tactic of detaining foreign citizens in order to extract diplomatic concessions, according to Human Rights Watch Deputy Asia Director Phil Robertson.
"In past cases we have seen North Korea hold these people as political bargaining chips," Robertson said. "In this case, clearly something went wrong."
Young Pioneer Tours, the tour company with which Warmbier traveled to North Korea, said Monday that it would no longer take American tourists to the country.
"The devastating loss of Otto Warmbier's life has led us to reconsider our position on accepting American tourists. There had not been any previous detainment in North Korea that has ended with such tragic finality and we have bene struggling to process the result," the company said in a statement. "Now, the assessment of risk for Americans visiting North Korea has become too high."
North Korea is still holding at least three U.S. citizens, two of whom were detained in 2017. Both Tony Kim and Kim Hak-song had spent time working at the Pyongyang University of Science and Technology before they were arrested this year, while businessman Kim Dong-chul was detained on charges of espionage in 2015.
Nick Robins-Early contributed reporting.
This article has been updated with comments from Danica White, Tillerson and Young Pioneer Tours.