Those who knew Otto Warmbier, who died Monday following a 17-month imprisonment in North Korea, remember the former University of Virginia student as a man with a big heart and an even bigger spirit of adventure, according to comments from friends, family and former teachers.
"I never saw him in a bad mood," Danica White, Warmbier's high school English teacher in Wyoming, Ohio, told HuffPost. "He is the epitome of the kind of student wanted in a classroom."
"Otto had the biggest heart of anyone I knew," she continued, saying her former pupil would be "dearly missed."
Sallee Ann Ruibal, a former classmate of Warmbier's who graduated with him from Wyoming High School, wrote about his "nondiscriminatory friendliness" and "unending charisma." She said Warmbier felt like "everyone's friend," a man who would go out of his way to be kind.
"He was a person who deserved to be talked about in the same exuberant, personal way he talked about others," Ruibal said. "It saddens me that a terrible regime damaged an essential part of Otto ― his brain."
On Monday afternoon, Warmbier's parents, Fred and Cindy, announced their 22-year-old son had died just days after he was released by the North Korean government and flown back to the United States in a state of "unresponsive wakefulness" following a severe brain injury.
Warmbier was serving a 15-year sentence of hard labor after he was arrested for stealing a propaganda poster on a group tour in early 2016.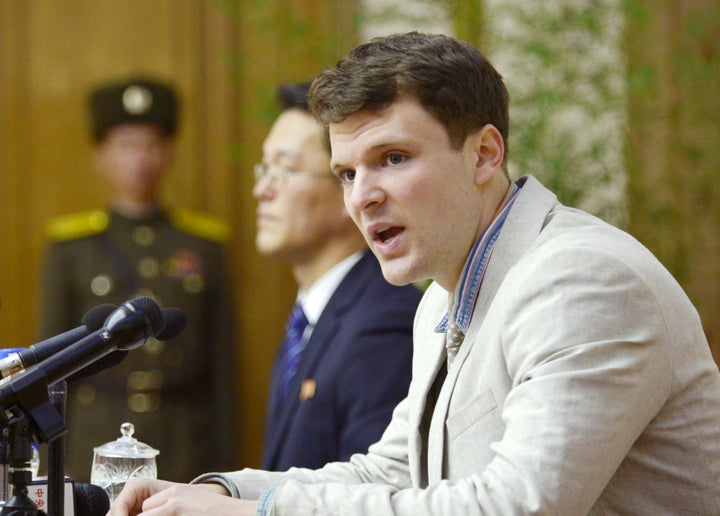 Doctors and diplomats have said they are unsure what happened to the student inside the reclusive nation, although one official has said Warmbier may have been subject to brutal beatings (doctors, however, have found no sign of broken bones). North Korea has said his injury was the result of a mix of sleeping pills and a case of botulism and not ill treatment, although doctors have also said there was no evidence of that either.
The Warmbiers described their son in a statement following his death as a "warm, engaging, brilliant young man whose curiosity and enthusiasm for life knew no bounds."
"We choose to focus on the time we were given to be with this remarkable person," they said. "You can tell from the outpouring of emotion from the communities that he touched ― Wyoming, Ohio, and the University of Virginia, to name just two ― that the love for Otto went well beyond his immediate family."
The University of Virginia, where Warmbier was student when he was arrested, said he would be "missed by all those who knew him."
"In particular, I know that Otto's classmates and faculty feel a tremendous sense of loss, and he will always be an important member of the McIntire Class of 2017," Carl Zeithaml, dean of UVA's McIntire School of Commerce, said in a statement. "Our thoughts and prayers are with his family and all who knew this wonderful young man."
In his high school salutatorian speech in 2013, Warmbier spoke about his affinity for the TV sitcom "The Office" and described living in a small town where everyone knew everyone else and their "deep secrets and failed relationships." But to the 123 students he spoke to, he also described a community where friendship was paramount and reruns of good times spent together would carry them through the future.
"We know where everyone is going next year, we know where everyone has come from ... we know each other's family, we know each other's friends, we know each other's siblings," Warmbier said. "We know when someone is struggling, and we come together as a class to make things better."
REAL LIFE. REAL NEWS. REAL VOICES.
Help us tell more of the stories that matter from voices that too often remain unheard.
BEFORE YOU GO
PHOTO GALLERY
Otto Warmbier