The parents of Otto Warmbier ― the 22-year-old college student who spent more than a year imprisoned in North Korea and died days after returning home with a severe brain injury ― say the world must recognize the rogue nation as a state sponsor of terror.
Fred and Cindy Warmbier spoke out Tuesday for the first time since Otto Warmbier's death during an interview with "Fox & Friends," condemning Pyongyang officials over the brutal mistreatment of their son.
"It was astounding to Cindy and I to discover that North Korea is not listed as a state sponsor of terror," Fred Warmbier said. "We owe it to the world to list North Korea as a state sponsor of terror."
Roughly three months after Otto Warmbier's death, a verbal war continues to escalate between President Donald Trump and North Korean dictator Kim Jong Un. The two leaders have exchanged personal insults and threats of military action as the Kim regime continues to test missiles and advance nuclear capabilities.
"Now we see North Korea claiming to be a victim and that the world is picking on them," Fred Warmbier said. "And we're here to tell you North Korea is not a victim. They're terrorists. They kidnapped Otto. They tortured him." 
The Warmbiers also opened up about seeing their son for the first time after his release from North Korean custody, offering new ― and, at times, disturbing ― details about his condition.
Fred Warmbier described a "howling, involuntary, inhuman sound" as he and his family walked up the steps of the plane that transported their son back to the U.S. from North Korea.
"Otto was on the stretcher ... and he was jerking violently, making these inhuman sounds," Warmbier said. "Otto had a shaved head. He had a feeding tube coming out of his nose. He was staring blankly into space ... He was blind. He was deaf. ... It looked like someone had taken a pair of pliers and rearranged his bottom teeth."
Warmbier said his son also had a high fever and a "large scar" on his right foot.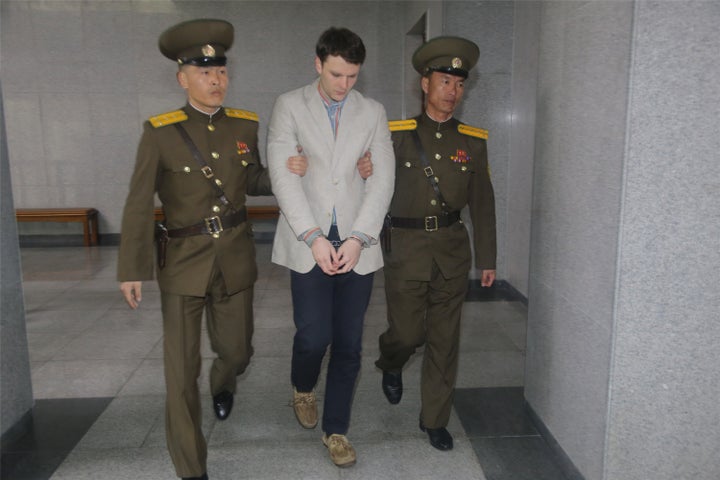 "They destroyed him," Cindy Warmbier added. "No mother, no parent, should ever have gone through what we went through. And the fact that Otto was alone all that time, with no one to comfort him, is inexcusable."
Otto Warmbier, a former University of Virginia student, was touring North Korea with a group in January 2016 when he was accused of stealing a propaganda poster from a hotel. He made a tearful courtroom confession and was sentenced to 15 years of hard labor. North Korean officials claim Warmbier wasn't tortured, but U.S. intelligence reports say he was badly beaten in custody.
Calling all HuffPost superfans!
Sign up for membership to become a founding member and help shape HuffPost's next chapter