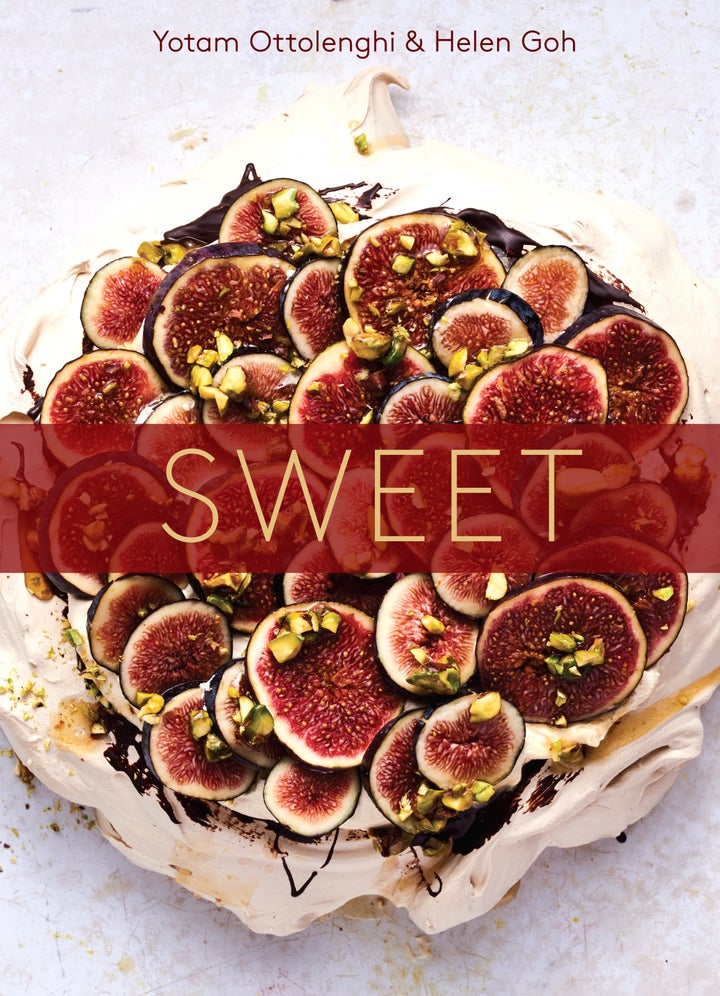 Anyone who is familiar with Yotam Ottolenghi's line of cookbooks probably assumes this chef would choose salty over sweet if given the choice. But it turns out, they'd be wrong. And he admits as much in his newest tome, Sweet.
"I rarely go a day without a slice or bite or square of something sweet," shared Ottolenghi in his press release for the new book. In fact, the chef who brought vegetables back to the spotlight with his books Plenty and Plenty More started off as a pastry chef. It's sweets, not salty, that brought Ottolenghi into the kitchen. And while it might not be what kept him there, his love for desserts is clear in this beautiful new cookbook.
The cookbook, which he wrote with longtime collaborator Helen Goh, is an ode to desserts. And it has arrived just in time for fall when we start to crave sweet, comfy things that bake in a warm oven.
Before you run out and buy the one-of-a-kind book, we have a recipe to share from it. It's a cake, jam and coconut meringue dessert that will quickly make you wonder why you don't eat more meringue ― and it'll also give you a taste of how the recipes in this book add a new twist to classic desserts.
Check out this beautiful sweet treat: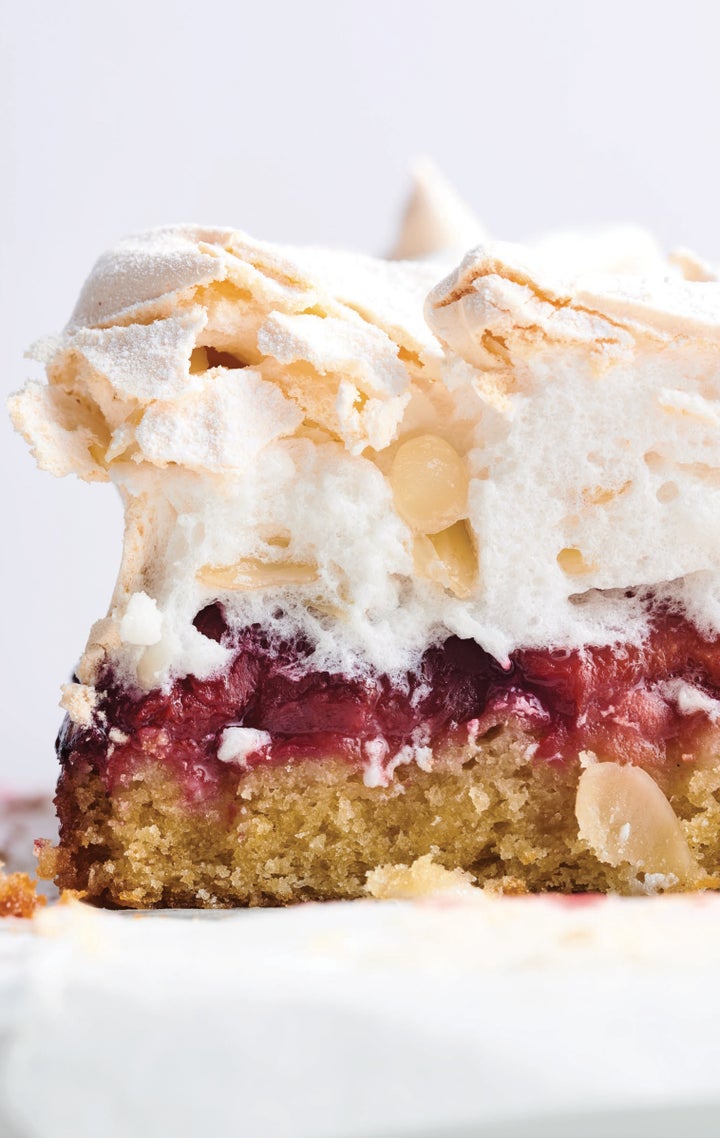 Reprinted with permission from Sweet: Desserts from London's Ottolenghi by Yotam Ottolenghi and Helen Goh, copyright © 2017. Published by Ten Speed Press, an imprint of Penguin Random House LLC.
Louise Cake with Plum and Coconut
This is inspired by (but completely different to!) the Louise cake: a hugely popular teatime treat in New Zealand. More of a slice than a cake, it's traditionally made with a thin cakey bottom, a spread of raspberry jam in the middle and a thin layer of coconut meringue on top. We've kept the layers but made a lot of changes.
We sell this in our shops as a "summer slice," using the best stone fruits, from plums to peaches to apricots to cherries, depending on what's in season. Whichever fruit you use, it needs to be ripe but not too soft.
1/2 cup plus 1 tbsp/125 g unsalted butter, at room temperature, cut into 3/4-inch/2-cm cubes
1/2 cup/100 g granulated sugar
Finely grated zest of 1 lemon (1 tsp)
3 large egg yolks
1 cup/125 g all-purpose flour
1 1/2 tsp baking powder
1/4 tsp salt
3 tbsp/20 g finely shredded coconut
1/3 cup/80 ml whole milk
1 tsp vanilla extract
5 dark red plums, ripe but firm (1 lb/450 g), or peaches, apricots, cherries, and so on
1/2 cup/50 g sliced almonds
5 oz/140 g egg whites (from 3 1/2 large eggs)
1/8 tsp salt
3/4 cup plus 3 tbsp/185 g granulated sugar
1 tsp vanilla extract
1 tsp white wine vinegar
1 tsp cornstarch
1. Preheat the oven to 350°F/170°C.
2. Spread out the sliced almonds for the meringue on a baking sheet and roast for 10 minutes, until they are a light golden brown. Remove from the oven and set aside to cool.
3. Increase the oven temperature to 375°F/185°C. Line the base and sides of a high-sided 8-inch/20-cm square or a 9-inch/23-cm round springform pan with parchment paper.
4. Place the butter, sugar and lemon zest in the bowl of an electric mixer with the paddle attachment in place. Beat on medium-high speed, until light and creamy. Add the egg yolks, one at a time, and beat until combined. Sift the flour, baking powder and salt together into a bowl. Add the coconut and stir to combine. With the machine running on a low speed, gradually add the dry ingredients to the butter mixture, alternating with the milk and vanilla extract. Scrape the batter into the prepared pan ― it will rise only about a fifth of the way up the sides ― and smooth the top evenly. Place in the oven and bake for 25 minutes, until the cake is fully cooked and a skewer inserted into the center comes out clean.
5. Meanwhile, slice each plum vertically in half. Discard the pits and slice each half into four segments so that you have eight segments per plum and forty segments in total. If you start with a larger quantity of smaller plums or another smaller stone fruit like cherries, then just quarter each fruit.
6. When the cake is cooked, remove it from the oven and lower the oven temperature to 350°F/180°C. Gently lay the plum segments on top of the cake, close together and cut side down. Don't overlap the fruit, though, as this will make the middle layer too watery.
7. To make the meringue, place the egg whites and salt in the clean bowl of an electric mixer with the whisk attachment in place. Beat on medium-high speed for about 1 minute until soft peaks form. Add the sugar, a tablespoon at a time, and continue to beat on high speed until the egg whites are stiff and glossy. Add the vanilla extract, vinegar and cornstarch and whisk again until combined. Finally, fold in the toasted sliced almonds.
8. Scrape the meringue into the cake pan, on top of the plums, and spread out evenly over the fruit. Swirl the meringue around so you get rough waves and peaks, then place in the oven and bake for 35 minutes, or until the meringue has formed a hard crust and is just beginning to brown. Remove from the oven and allow to cool in the cake pan for 30 minutes before pushing up the removable base (or removing the sides) to release the cake. Peel away the parchment paper, place on a platter, and serve.
Traditionally, Louise cakes are baked in rectangular pans and cut into fairly thin squares. We've made ours in a high-sided 8-inch/20-cm square pan with a removable base. The resulting slices are about three times the height of the original. We love the height ― it makes everyone feel like a kid when presented with a slice ― but you can also make it in a 9-inch/23-cm round springform pan instead, if necessary. Wedges are not as neat to cut as squares, but the cake will still work well.
The cake is at its best on the day it's made, but is absolutely fine kept for up to two days in an airtight container in the fridge. The plum juice will make the base a bit soggy after day one, but this won't affect the taste.
Before You Go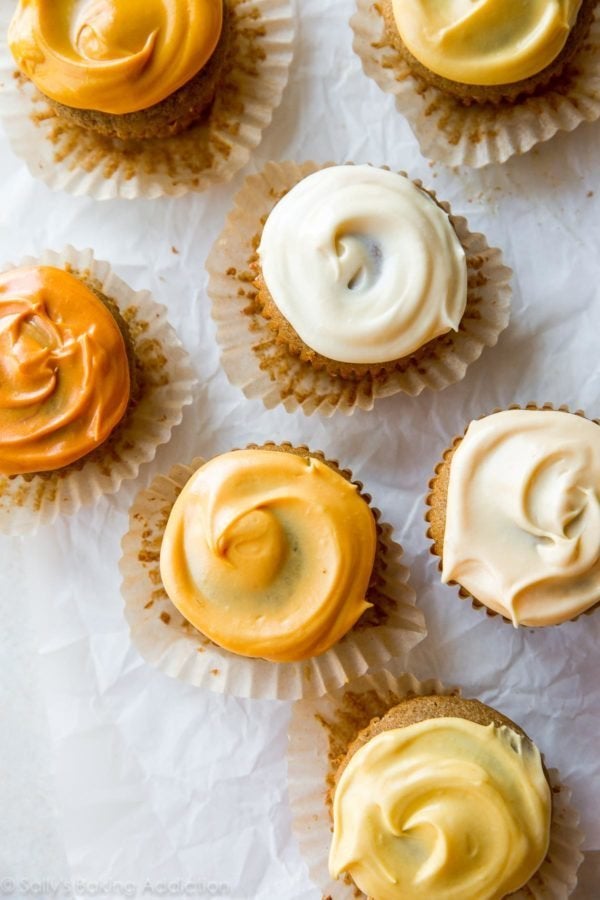 Fall's Best Baking
Popular in the Community